Corey St. Peter's 1966 Chevelle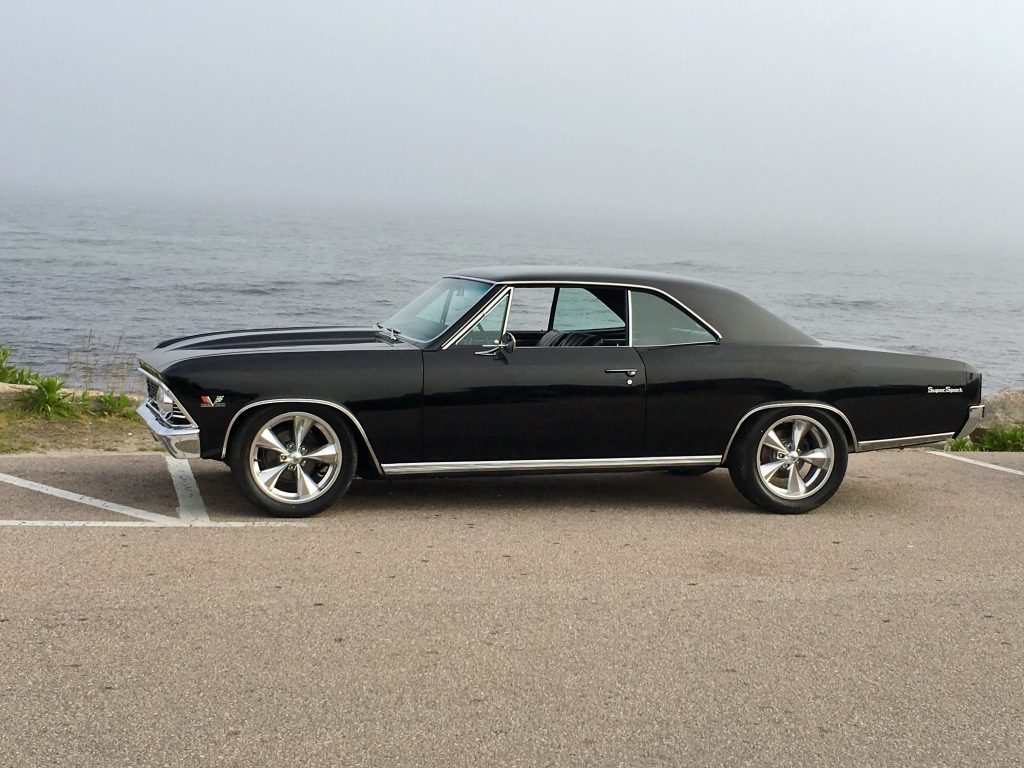 Corey St. Peter's 1966 Chevelle – One Nice 1966 Chevelle Cruiser
Corey St. Peter bought this 1966 Chevelle in the fall of 2011 and finished it towards the end of June 2019. Corey decided to purchase this 1966 Chevelle due to the smooth lines of the car and the desire to build something that would eventually be a nice cruiser.
While Corey kept some things factory to 1966 in his Chevelle he changed a bunch of little things to match Corey's own tastes/style. For the drivetrain, Corey decided to equip the 1966 Chevelle with a balanced 355 motor producing a whopping 400 horsepower coupled to a Saginaw 4-speed transmission. With all this power in Corey's 1966 Chevelle, he decided to upgrade his braking system to a 4-wheel disc brake kit to keep the Chevelle under control.
For the interior, Corey upgraded quite a few items to fit the needs and wants of his soon to be finished Chevelle cruiser. Corey started by restoring the interior with brand new reproduction parts from Ground Up SS396.com for everything except the steering wheel. All the interior trim, carpet, instruments, etc. were replaced to give the car its factory appeal. From there Corey started upgrading some of the items he deemed fit. For starters, Corey replaced the dated factory A/C system with a brand new Vintage Air system to keep Corey cool and comfortable out cruising. Next Corey brought the cars gauge cluster into the 21st-century with a complete set of new Auto Meter gauge setup and to avoid those annoying outdated window cranks Corey decided to go with a NuRelics power window kit.  Lastly, Corey decked out the interior with brand new Super Sport badging to provide the car with that classic muscle car feel! Corey says;
"It's been a long project, but I'm happy to finally have the 66′ together! Ground Up SS396.com was great!! They helped me with a lot of parts and have been helpful with any issues I had along the way. It was definitely a plus living close enough to drive down to Ground Up for all my parts and technical questions I had."
Great story Corey and might we say this is a pretty serious ride you have here! -Team Ground Up 
---
Check out these photos taken by Corey!
---

1966 Chevelle Radiator Support

Ground Up Part #: RRS-66R

Price: $124.95 (Save 29% buying this kit)
---
1964-1967 Chevelle Front End Fastener Kit

Ground Up Part #: BFE-8001

Price: $45.95
---
1966 Chevelle Front Inner Fenderwell Kit

Ground Up Part #: RIF-66AK

Price: $197.91 (Save 10% buying this kit)
---
1966-1967 Chevelle Fender Patch Right Hand

Ground Up Part #: RFP-66R

Price: $44.95 (Save 17% buying this kit)
---
1966-1967 Chevelle Fender Patch Left Hand

Ground Up Part #: RFP-66L

Price: $44.95 (Save 17% buying this kit)
---
1966-1967 Chevelle Door Skin Right Side

Ground Up Part #: RDS-66AR

Price: $144.95 (Save 22% buying this kit)
---
1966-1967 Chevelle Door Skin Left Side

Ground Up Part #: RDS-66AL

Price: $144.95 (Save 22% buying this kit)
---
1964-1977 Chevelle Pypes Exhaust System 2.5 Inch X-Change w/ Race Pro Mufflers

Ground Up Part #: SGA11R

Price: $650.99 (Save 19% buying this kit)
---
1966 Chevelle Wheel Opening Molding Set

Ground Up Part #: KWO-66K

Price: $109.95 (Save 2% buying this kit)
---
1966-1967 Chevelle Coupe Complete Glass Kit 8 Piece

Ground Up Part #: GL-66AK

Price: $560.99 (Save 20% buying this kit)
---

---