Brian's 1969 Chevelle Super Sport – Customer Car Of The Month October
A fortunate few can say that their first car at age sixteen was a Big Block 1969 Chevelle, and an even smaller number can claim that they built that first car in their home garage with their oldest friend by their side. On top of all that, factor in that this story takes place over thirty years after the Muscle Car era ended, and you have a pretty unique October 2019 Car of the Month.
As a young gearhead, Brian Puchalski lived a charmed "Chevrolet childhood", and it's hard to argue with that since, both his parents and three grandparents are retired General Motors employees. In fact, when Brian was born in March of 1987, General Motors cut the Puchalski's a check for the hospital bill and on the memo line, it said "Delivery" So, saying he was born into a GM family is an understatement, to say the least.
Brian inherited his love of GM muscle cars from his father Paul Puchalski. Paul was a Quality Control Engineer for Electro-Motive, and together the father and son team began restoring a 1956 Chevy Bel Air (Triple Black Car) as well as a 1971 El Camino SS 402 (Triple black, Stripe Delete). From bodywork, suspension, engine and interior work, Paul was sure to include Brian in everything. "Growing up and building cars with my Dad, proved to be a great atmosphere. Every night in the garage was an opportunity to learn and spend time together." When other kids were bringing baseball cards in for show-and-tell, Brian was bringing Solid Lifters and Big Block Rocker Arms. Brian goes on to mention
"I tore down and rebuilt my first Big Block in third grade."
With an elementary education like that, it was only a matter of time before Brian began thinking of what his first project car would be. A few years before his 16th birthday, Brian and his father started looking. The pair originally had their sights set on a numbers matching Barrier Blue 1966 GTO they found in a garage in Aurora, Illinois, but after several visits and a good bit of back and forth, a deal could not be reached.
Over the next year, the hunt continued, and in that time, Brian became captivated with the fender stripes on the 1969 Chevelle SS. He remembers thinking,
"It looked mean from any angle, like a shark cruising through the water."
Then, in June of 2003, just a few weeks after receiving his license, they finally found a 1969 Chevelle SS396 Convertible in upstate New York. Brian and his Dad had the car shipped sight-unseen to the family home in the South Suburbs of Chicago with the hopes of quickly getting it running in order to enjoy it as-is for a few years until it was time to buckle down and begin the restoration.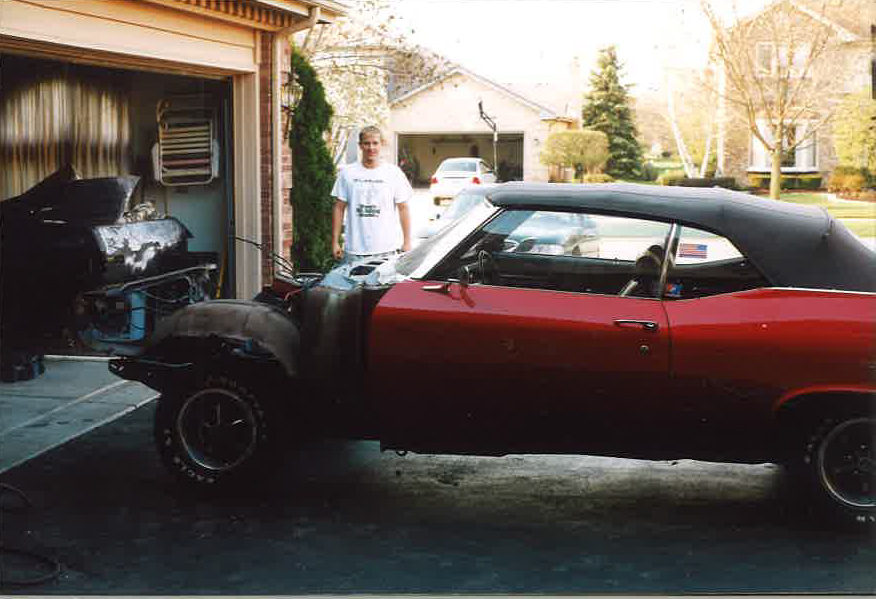 As the trailer pulled up, Brian's initial excitement of being the only 16-year-old in the neighborhood with a 1969 Chevelle SS396 Convertible quickly faded, in the words of Brian;
"It was a complete basket case."
Brian distinctly remembers turning to his father and letting out a few expletives. The car was in worse shape than the seller had let on and the photos had missed some critical problem areas. A quick once-over of the car and they both agreed that they were looking down the barrel of a complete restoration. Despite their initial disappointment, they were both in love and had a clear vision of exactly what the 1969 Chevelle could be once completed. As the restoration started to take shape, new questions began to form.
With a bit of detective work, Brian was able to surmise that his 1969 Chevelle was originally ordered from Dick Wickstrom Chevrolet in Roselle, IL in the fall of 1968. The 1969 Chevelle stayed local for the first few years, eventually making its way to New York and Florida before returning home to Illinois. The car is a very early production example from the Baltimore assembly plant. According to the cowl tag the 1969 Chevelle was built in the 3rd week of October 1968. This early build date made restoring the car rather difficult as all casting numbers for parts had to be dated 1968, but reflect the design and styling changes of the 1969 model year. The car originally came from the factory with the L34 396/350hp big block, turbo 400, power steering, power brakes, 12 bolt rear end with 3:07(CX) gears, power convertible top, bucket seats, tilt steering wheel, rear seat speaker and an Automatic Console.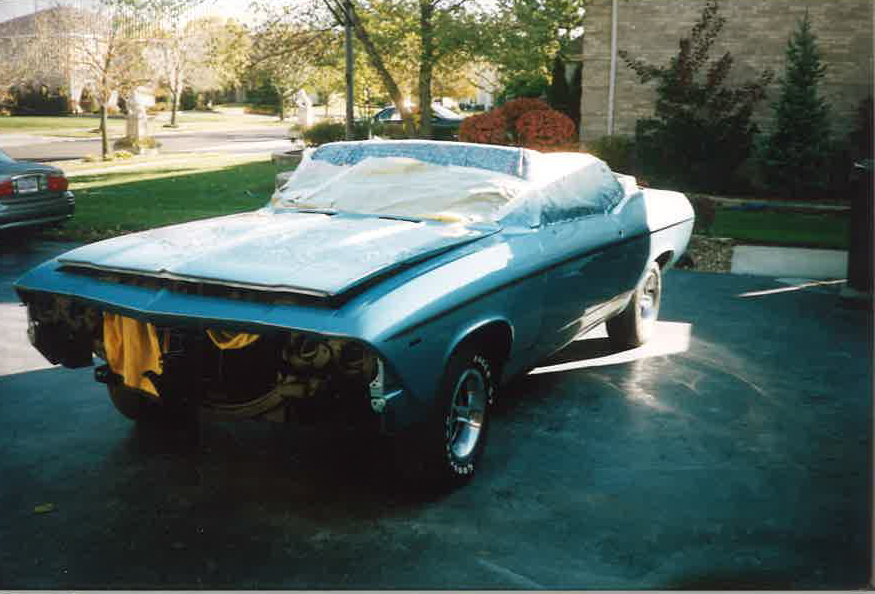 What followed over the next two years was an intensive restoration that saw every inch of the car worked over. Brian took the body down to bare metal and began reworking the tired old panels. They were able to retain all the original sheet metal, floor and trunk pans, only needing to replace the Header Bow, SS hood and inner fender wells. For a car that spent a portion of its life on the East Coast, it was in remarkably good shape. Brian chose to paint the car in its original color of code #55 Azure Turquoise but opted to outperform the factory level finish by painting the distinct SS side stripes under the clearcoat. When it came time to spray the car, Brian and Paul did what any logical person would do… They converted their garage into a paint booth. Brian recalls,
"The day I painted my 1969 Chevelle, was the only day my Dad let me call in sick to school."
Next, the engine was pulled and sent to Borowski Racing in Joliet, IL for machining. Upon its return, they assembled and detailed the now .30 over 396 Block. The goal was always to keep the 1969 Chevelle's factory-correct appearance while maintaining modern reliability with an extra kick in the pants. This led them to only deviate from a stock appearance by way of an MSD ignition, headers, Edelbrock aluminum intake Manifold and 850 CFM carburetor. Turning their attention to the interior, Brian and Paul were able to salvage all the original seat frames, console, instrument cluster, and dash pad. They installed new seat foams, seat covers, door cards, carpet, instrument clusters, and convertible top.
After a two-year restoration, Brian's goal of driving his 1969 Chevelle to his high school prom was achieved, although he was unable to finish upholstering the passenger bucket in time for the big night. This forced his date to have to buckle up in the back seat. That was 2005, It's been nearly 15 years and Brian, and his Dad has only added more to their collection including an original 1969 El Camino SS396 Survivor.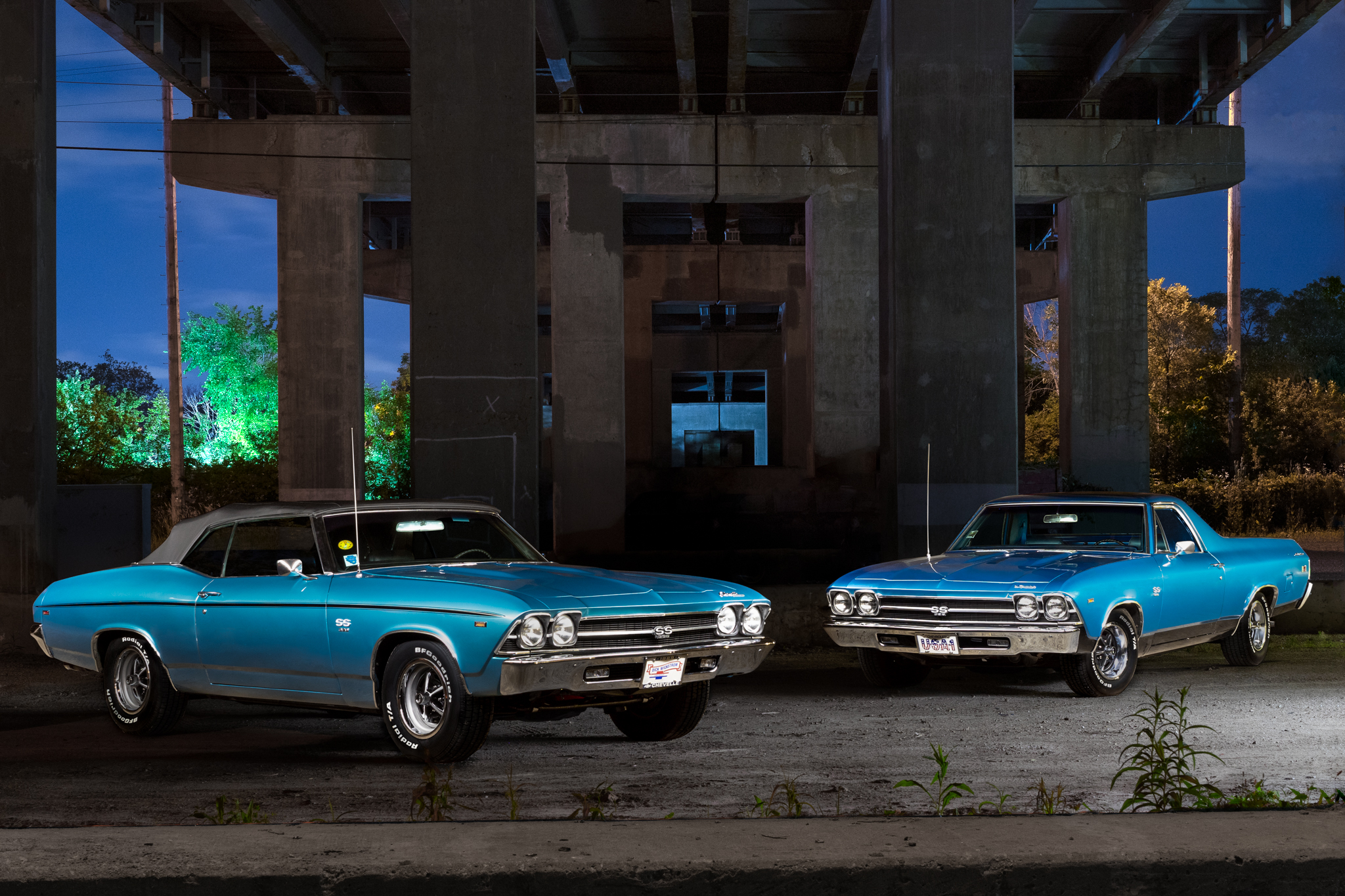 Last March, Brian's father suffered a stroke at 63. The prognosis was not good, and Doctors told the family that he was going to pass on four separate occasions. As the weeks went by and Paul continued to improve the question of his quality of life became the focus. Medical staff now felt confident that Paul would live but in a completely dependent state. Saying he would most likely not be able to regain the ability to walk, talk or maintain any sort of independence.
Fortunately, Brian is happy to report that the family just celebrated Paul's 64th birthday this past Sunday, and he is slated to take his driving exam next week. Brian shared that Paul single-handedly did a complete brake job a few weeks ago and that he is slowly finding his way around the garage again. Like Brian says,
"I guess my Dad has a few more things left to teach me"
You can follow along with Brian, his 1969 Chevelle, and his other muscle cars on his Instagram page @Bpooch396.
---