November's Customer Car Of The Month – Sean Lemire's 1972 Chevy Nova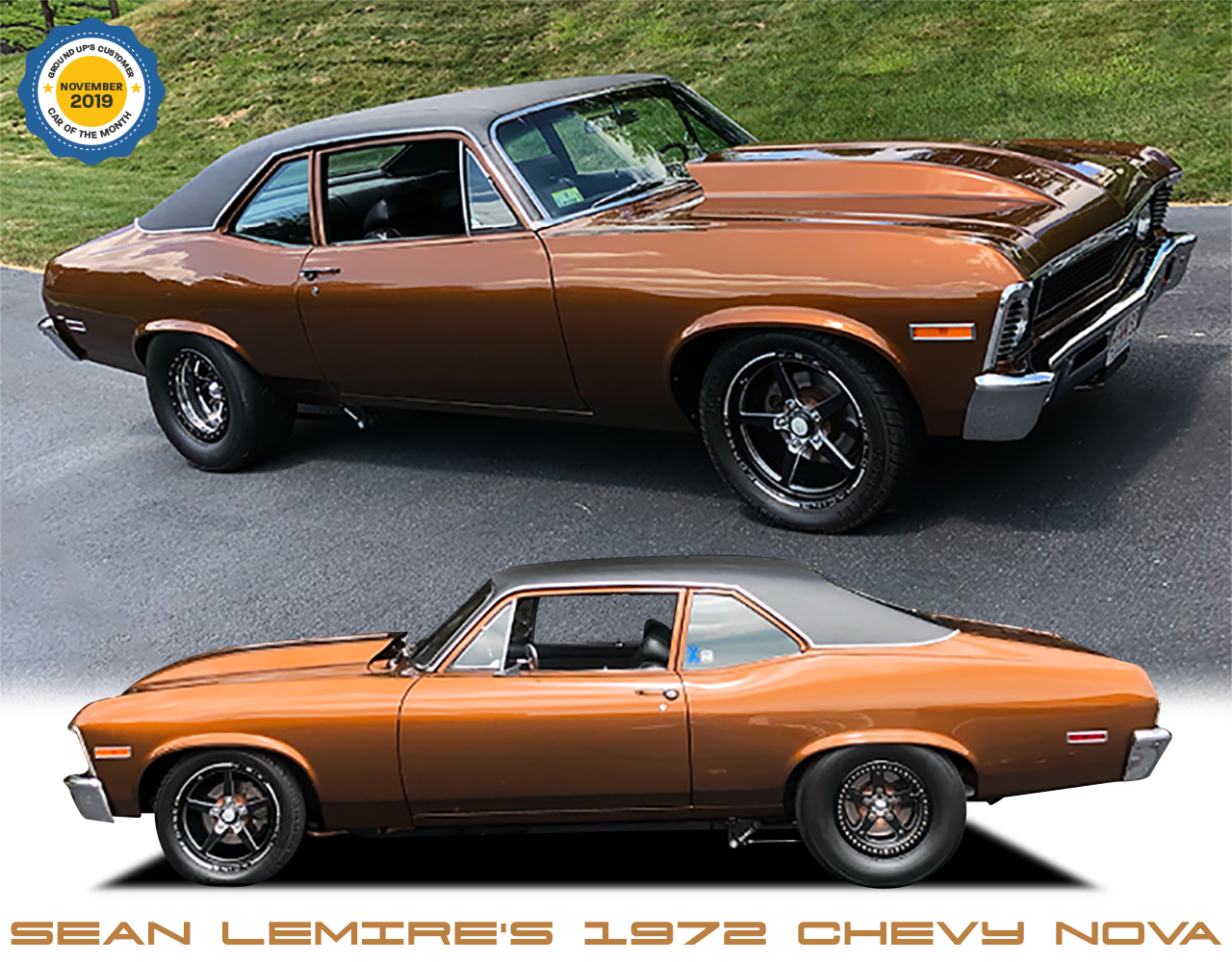 Sean Lemire's 1972 Chevy Nova – Grocery Getter To Racecar!
Sean was able to find this beautiful 1972 Chevrolet Nova by feverishly searching the web for the perfect car. He ended up going with a Chevy Nova as that was his first car when he was a teenager that like most classics got away from him.
When Sean eventually stumbled across the 1972 Nova you see above he jumped on the opportunity making sure another Nova didn't slip through his grips. Sean took delivery of the car in 2017 and it was in notably good shape from the start. Seans 72 Nova started its life with him as a very reliable cruiser great for getting around town and making it out to the local cruise nights. But, this wasn't exactly what Sean had in mind for his 1972 Chevy Nova.
Today, Sean has owned this stunning 1972 Chevy Nova for a little over 2 years and has made several changes that make this 1972 Nova more fitting for Sean's wants and needs. With a little elbow grease, a sizable amount of time, and some help from Ground Up SS396.com this 1972 Nova has transformed from a run of the mill cruiser to an all-out street crushing race car.
Parts and accessories such as the 4-inch cowl hood, traction bars, Weld Beadlock high-performance wheels, and slicks on the rear make this 1972 Nova stand out among the herd and lets you know this car means business. Driving this car sits a Big Block Chevy motor coupled to a Turbo 400 3-speed automatic transmission suited to blow the doors off its competitors on and off the street. But this car isn't all racecar, on the interior of this 1972 remains the original styling true to a Nova of the time. Featuring a factory-correct front bench seat, sill plates with riveted Body By Fischer logos, and a near original looking dash and gauge cluster. When asked what his plans are for this car going forward and what his favorite part about this car was, his answer was simple;
"I plan to enjoy the car as much as I possibly can and getting thumbs up while driving the car on the weekends never fails at bringing a smile to my face."
---
Check out these photos taken by Sean!
---

1968-1972 Nova Door Shell Right Side

Ground Up Part #: RSH-X68R

Price: $329.95 (Save 20% buying this kit)
---
1968-1972 Nova Door Shell Left Side

Ground Up Part #: RSH-X68L

Price: $329.95 (Save 20% buying this kit)
---
1970-1974 Nova Fender Right Side

Ground Up Part #: RFX-1617A

Price: $259.95 (Save 14% buying this kit)
---
1970-1974 Nova Fender Left Side

Ground Up Part #: RFX-1617B

Price: $259.95 (Save 14% buying this kit)
---
1971-1972 Nova Front Bench Seat Foam Set

Ground Up Part #: ISF-A71B

Price: $203.99 (Save 9% buying this kit)
---
1968-79 Nova Door Hinge Kit

Ground Up Part #: RDH-69FX-K

Price: $163.03 (Save 15% buying this kit)
---
1968-1979 Nova Carpet Sill Plate Kit with Rivets

Ground Up Part #: ICM-68RK

Price: $84.58 (Save 10% buying this kit)
---
1968-1972 Nova 8 Piece Door Frame Molding Set

Ground Up Part #: KMF-1606

Price: $249.95 (Save 14% buying this kit)
*Due to increased costs of manufacturing, materials, etc., prices can change. For current pricing please visit our web site, or contact a Ground Up sales representative*
---

---