1967 Beaumont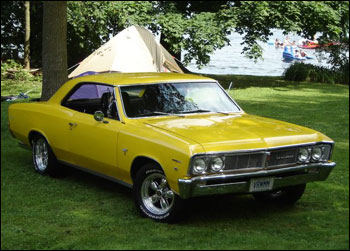 AND NOW FOR SOMETHING COMPLETELY DIFFERENT:
Paul's 1967 Beaumont
We've all seen plenty of 1967 Chevelles, GTO's, and other A-Bodies around town and at the car shows, but here is something a little different!
Some people think of the Beaumont as the "Northern cousin" of the Chevelle and GTO. GM manufactured these unique cars only in Canada at the Oshawa plant between 1962 and 1969. They used Chevy drive trains and body components, certain interior parts from the GTO, and had their own unique grilles, tail lights, trim, and emblems. Paul's Beaumont resembles the Chevelle from the same year, but the production was much lower at only 3,452 sports coupes according to the GM history sheets.
Paul's 67' is equipped with a 327 powerplant that pumps out 350 HP, 4-speed M20 tranny, 3:55 gears with Eaton posi, bucket seats w/headrests, console, new complete black interior and a hand made dash with Auto Meter gauges & Kenwood tunes!
He says, "Restoration took me about 4 years to complete and is a blast to drive! It's one of those cars that you really have to hang on to! It is also a head turner at cruise nights and car shows."
The car is finished in PPG Ferrari Yellow and has claimed 2 first place finishes at car shows. Hopefully we'll see Paul at our own 3rd annual Ground Up car show in July, 2007!
Send your pictures with a story to:
graphics@ss396.com