His story starts in 1975 when he bought a 1969 Chevelle sedan from his then Mother-in-law, with 8,000 miles on the car.
He had dreams of turning it into a real street rod as he had been racing and driving other street rods for several years. But it was not to be as life, mortgages, and children took priority. Also, because the car had not been driven for years, all the rubber on the car, from the tires to the fan belt, had rotted and needed replacement. He had to get rid of the car.
In 2015, he was semi-retired and worked as a part-time project manager in a fabrication facility in York, Pennsylvania. The owner knew about Chuck's car background and asked him to help him get into the car repair business. He wanted him to find a "project car" and promised to help restore it. He would also let him store the car in his factory, work on it whenever he had the time, and purchase most of the heavy equipment needed – starting with a lift.
He found a car for sale in Carlisle, Pennsylvania (just 45 minutes from the shop) and the project began. It was a 1969 Chevelle 300 Greenbriar that had been built in the Baltimore plant and delivered to the Mueller Chevrolet dealership in Slatington, PA that had since gone out of business. It was a 6 cylinder with an automatic transmission and a 10 bolt 3:31 Positraction rear.
The original color was Mint Frost Green (A light metallic green). The original owner, after having it for decades, sold it to a young man who planned to restore it. He had several buddies who promised to help, but they did not follow through. They gutted the interior, put mag wheels on the car, painted the door panels, and then the car sat.
After inspecting the car, they decided that this would be a good project. He wanted a 1969 coupe but decided that this car had very good "bones" and would need very little sheet metal work. He paid $2,200 for the car, drove it onto the trailer, and off they went.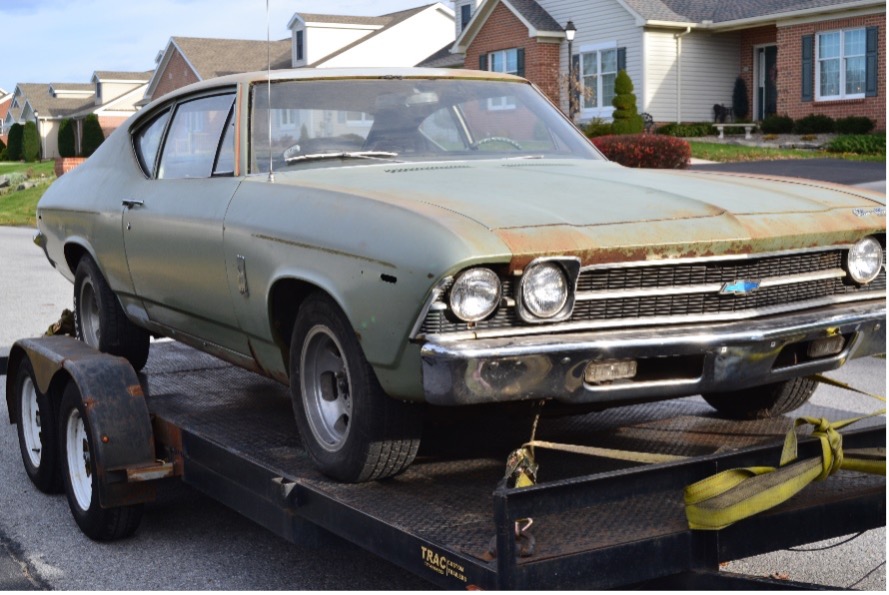 He decided right away that he wanted to make this car a daily driver, with a medium amount of performance upgrades, and as many handling and modernization additions as he could afford. So, the main idea was "resto-mod on a budget". The friend/owner of the fabrication facility proved to be invaluable in starting the project.
Dis-assembly began, and he was able to sell most of the original items for around $2,000 (engine, power-glide, wheels, etc.).  They stripped the car down to the frame, keeping track of everything removed, taking hundreds of pictures, and separating everything into sell, repair, or scrap categories.
The first thing they did was work on the frame. It was shot blasted and inspected for cracks or areas that needed repair. They then "boxed" the frame – welding plates into most of the entire frame to change it from a "C" channel to a box. Boxed frames were standard on the SuperSport and the convertible but not on the 300. This allows for better handling and less "sway" when turning. After finishing the welding, it was sent out for powder coating – Satin Black – and will now last for another 50 years.
He then put the frame on jack stands and spend the next year installing all the components of the drive train whenever he had the money to buy another component. He had the luxury of storing all the components and the frame in the fab shop and working on the project when time permitted. Drive train includes new 3/8" stainless fuel lines, a stainless brake line system with Right Stuff disc brakes on the front and back, shocks and springs (1" lower) designed for a Chevy Impala, boxed rear control arms, almost new front control arms from a 1969 SuperSport, front and rear stabilizer bars, and Pypes 3" stainless performance exhaust system.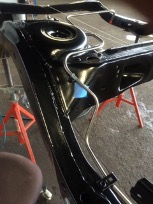 While he was doing this work, He decided (now 2016) that he needed help in some of the details of the restoration and history of Chevelle's. He found the Maryland (he's a Maryland native, born and bred) Chevelle Club and became a member. Many of the decisions that were made during this process were a result of conversations he had with Tom and Fred.
At one of the first meetings, he attended he met Bob. They discussed what kind of motor he would be installing, and he told him a small block 350. He said he had a "long block" that he had taken out of his 1969 Chevelle and would sell it to him for $150. It was a great deal and he brought it up to York the next day. He took the motor apart (it was very clean and had recently been bored) and put it back together (with help from his wife's cousin's husband Vinny). A longtime friend that is more like his nephew. Between 2016 and 2017 they installed the motor, added all the performance upgrades, and completed the drive train.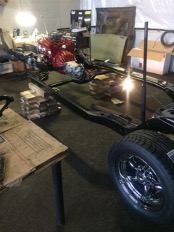 While this was happening, he went looking for a rotisserie and found drawings and material specs for one online. He purchased the material, fabricated, and welded the parts together, and put the car shell on the rotisserie for the next phase. Most of 2017 was spent working on the body, replacing some of the worn-out areas, putting in a new floor, and removing all rust areas. When all the metalwork was completed, he painted all the bottom surfaces from the firewall to the trunk with POR 15 (Heavy duty professional rust preventative) and then sprayed undercoating over it all. After a "medium" amount of sheet metal replacement and some Bondo work, the shell was sanded, sealed, and spray painted with primer.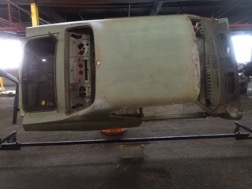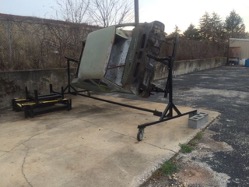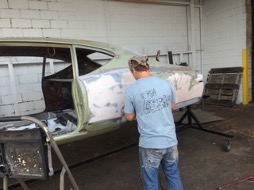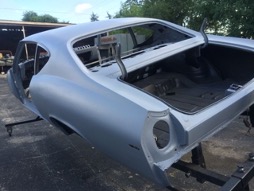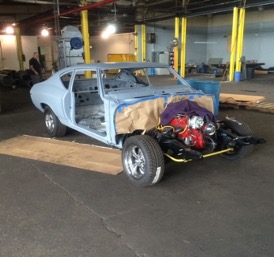 At this point, it was time to put the shell back on the new rolling chassis. He had subsequently purchased brand new 16" Torque Thrust wheels and tires. As they mated the car back together, it was time to find a real mechanic
The work that needed to be completed at this point needed an experienced automotive technician and he found one in Red Lion, PA (Gregg, K). He was in the process of completing his own 1969 Chevelle and agreed to complete the needed work on mine. He was the ideal person since he had just solved all kinds of problems on the exact same build. He is a master mechanic, CNC repair technician by trade and works on cars in his spare time. They decided to move the car from the existing factory space and put it next to Gregg's garage. But to do this they would have to create a storage facility. So, he bought the materials, and Gregg built a Quonset style, fully insulated and heated, storage facility on his property.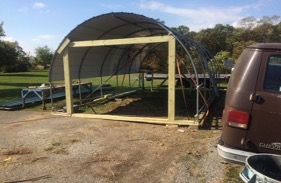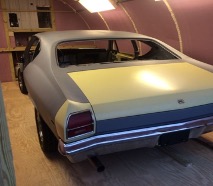 Again, this was a budget build and Gregg worked full time. So, when his hours and Chuck's wallet matched, work would get done. For the next 2.5 years, he completed work on the body and fender areas, aligning the doors, hood, fenders, and trunk lid.  He was very dissatisfied with some of the earlier body and paintwork, so he re-worked a good portion, including replacing the driver-side quarter panel. Then he installed a clutch and transmission and made sure everything lined up with the original rear.
At this point both he and Chuck spent countless hours getting the body ready for paint. Gregg did almost all the prep sanding/painting work and Chuck's time was spent getting the inside of the shell ready for the interior. The worst of this was scraping the insulation off the interior sections of the roof. Every square inch of the interior doors, floor, roof as well as the hood, deck lid, and quarter panels were covered with Fat Mat sound deadening material. The floor also has extra thick heat insulation material under the carpet. The back seat (original) and bucket seats (from a 69 Oldsmobile) were disassembled. The brackets/springs were stripped and coated with a rust preventative, then re-assembled with new foam and vinyl.
At this point a motor problem surfaced. The motor that he had purchased had only been running minutes at a time to move the car around the shop. Probably a total of 2 hours over the past two years. In 2018, while moving the car, they heard valve tapping and soon discovered that somehow a cam lobe had been wiped! No Bueno!!! A major decision at this point was needed.
A. Buy a new crate motor and have it installed
B. Buy a cam package and have it installed in the existing motor
C. Buy a used (newer) motor (with roller lifters) and have it installed
He chose option C because used SBC motors are plentiful in the area. They luckily found someone getting ready to pull an SBC 350, originally from a 93 Chevy van, out of his Suburban. The motor was still in the car, so they were able to fully inspect it while it was running. It had 50,000 miles on it, and he bought it for $500, including the serpentine system and air compressor. They picked up the motor and Gregg removed the original motor and installed the new motor over a weekend. He sold the original motor, Gen I long block, to a local hot rod shop for $100.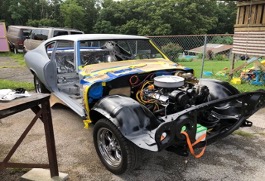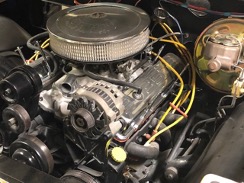 Now they were finally ready for Paint!
After several failed attempts trying to work with two of the area's well-known hot rod painters, he found an experienced painter working at Maaco in York. The manager agreed to let him work on a custom paint job on a special work order that they agreed on, letting him inspect the car in several of the stages prior to continuing to the next stage. It really worked out well and he got the three coats of base color and two clear coats that he felt were needed. Black accent stripes and panels were finished exactly as he wanted. The result was everything that he had hoped it would be – and most people can't believe it when he tell them the car was painted at Maaco.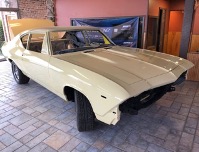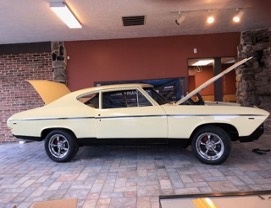 It was, however, a striking amount of yellow even though the Butternut is a subdued tone. They added some striping and a black accent stripe on the bottom. There is also a black panel on the back, and he blacked out the entire front grille. He also decided to have a vinyl top put on the car. There was a hot rod upholstery shop in York with one of the few remaining experts around that was able to install it. He believes that decision makes the car 100% better looking.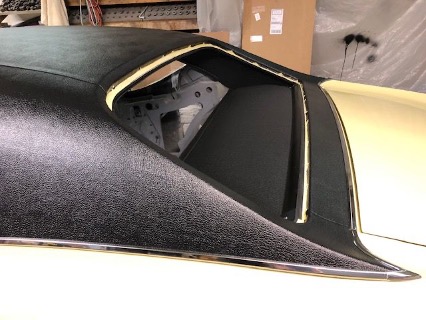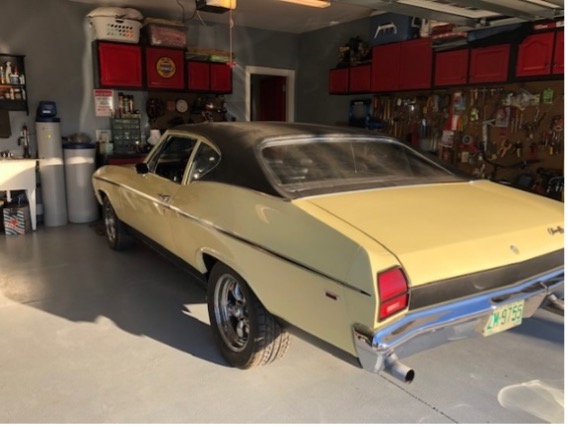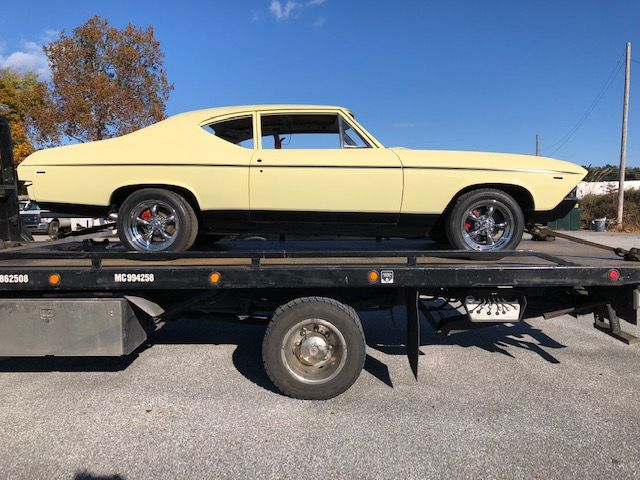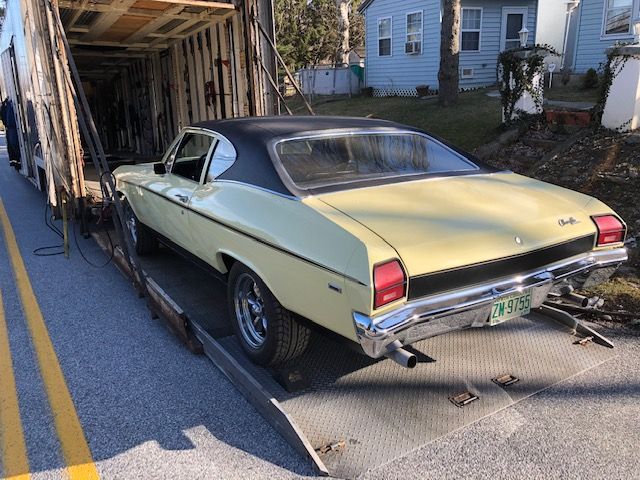 After painting, they completed all the additions to the engine compartment, installed a new gauge panel with period correct Auto Meter gauges, and were working on the installation of an American Auto Wire complete harness, with a Vintage Air AC system. He decided not to put the original radio antenna back on the car and instead purchase an upscale radio that had Bluetooth capability. Thus, he would be able to play anything he wanted, including the satellite radio app from his phone. Gregg then installed high-end speakers in the front and rear deck.
Unfortunately, he had moved to North Carolina in 2018. Traveling back and forth, communicating long distances, and not being always on hand made things difficult to proceed. So, all through 2019 very little was completed. He brought the car to North Carolina late in 2019 and began the search again for a mechanic to finish the wiring and install the AC.
Again, he was lucky to find a real expert (Mitch) who has a great deal of experience with classic car maintenance and repair. He was able to complete the wiring connections to the gauge panel as well as complete the electrical installation of the Vintage Air system. In trying to tune the engine he had to replace the flex fan and the aftermarket HEI distributor that they had installed, with an Accel version that really solved some problems.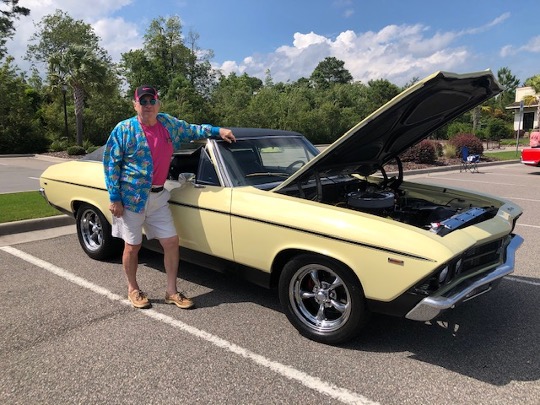 Chuck hopes everyone likes the story as he has relayed it. (This was "Flamingo Day" in the community, so please forgive the outfit). There is a good deal more drama and detail that would probably make this more boring, so he left much of those stories out. There is a "story" with every nut, bolt, spring, bearing, bracket, and piece on the car. This was a major endeavor in the field of problem-solving, behavioral science, and mountains of patience. He has great memories of how each of those pieces came together and will remember this experience with fondness each time he looks at "her".
His 1969 Chevelle even has a name, Carlotta. Carlotta currently has 650 miles on her speedometer and is driven several times a week. She is running extremely well and is clearly tuned for street driving. She is a joy to drive, is smooth handling, and he expects her to last another 50 years.
Specs On Chucks 1969 Chevelle
Engine – 350 c.i. Small Block Chevy. Approx. 300 hp
Accessories Include Hooker Headers, Edelbrock "Dual Plane" intake manifold, Edelbrock 650 cfm Carburetor, Vintage Air Conditioning System, Pypes Performance Exhaust System, big-block Chevy aluminum radiator, Gauge Panel, Autometer gauges, Hurst Shifter, Muncie M20 fours speed transmission, all new LED light bulbs on brakes, and turn signals, Original T-3 headlights, new windshield glass
Right Stuff Disc brakes on all four wheels
3/8" stainless fuel lines
3/8" stainless brake lines
Wheels – 16" Torque Thrust II by American Racing
Tires – 275×16 7" wide (front), 325×16 8" wide (back) – Firestone