Vintage Air – The Inventors Of Performance Air Conditioning
---
Ground Up carries the full line of Vintage Air products for a range of applications covering Camaro, Chevelle, El Camino, Nova, & A/G-body models. Since 1976, Vintage Air is owned and operated by experienced street rodders who have been involved in the sport for over thirty years. Vintage Air offer you the most comprehensive line of high performance air conditioning components available on the market. Every Vintage Air product incorporates the very latest technology available and offers you the greatest efficiency and reliability available!
Vintage Air has your car's Heating and Air Conditioning covered. Their goal is to help you cool your specialty vehicle in a more informed way with parts specially designed for street rods, sport trucks and performance cars. Vintage Air and Ground Up SS396.com want to supply you what you really need to get the job done right! Therefore, we are always interested in your air conditioning questions and we welcome technical inquiries. SS396.com stocks Surefit Complete kits for Camaro, Chevelle, El Camino, Nova, & A/G-body models with or without factory A/C. Whatever car you need high performance heating and cooling for Ground Up SS396.com has you covered with prices that can't be beat!
---

---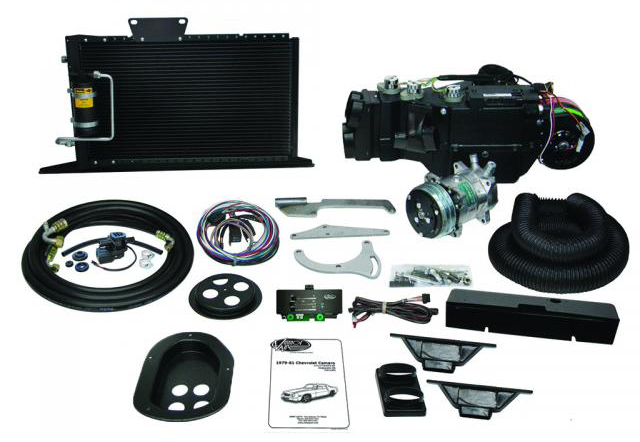 Vintage Air SureFit kits are the most complete, bolt-in climate control systems available for classic and late model muscle cars, restomods, and trucks. SureFit kits install easily and utilize most of the factory sheet metal and body features, and are engineered as "vehicle specific" complete systems. With the ever-increasing value of classic cars and trucks, particularly Corvettes, "pony cars," and muscle cars of the '60s, we have engineered these kits to be installed using as many of the factory-drilled holes and brackets as possible to maintain the vehicle's value. In some cases, very minor adjustments or an extra hole may be required. This is because all auto manufacturers made changes to their vehicle assembly designs during production runs. SureFit kits also offer the most complete and straightforward installations available anywhere. Our award-winning instruction booklets and carefully engineered system packages should make your SureFit installation job simple, fun and very cool!
Our SureFit kits are designed to place the evaporator case and air duct hoses behind the dash for a factory-clean look. In most cases, the SureFit system will be controlled by your stock dash controls using our exclusive patented "Cable Converters." In some applications, a new "factory" look control panel is included with the kit. Some early truck kits must use additional switches.
All SureFit systems provide full OEM-style operations including air conditioning, floor or vent exit heating and a powerful dehumidified defroster. To retain a true factory look, the A/C air exits through the factory dash louvers, if originally equipped in your car's dash.
---

Consider these benefits:
SureFits cost about the same as replacing only an original compressor/evaporator on most cars.
Gen IV systems incorporate modern technology. No balky control cables or sticking vacuum doors
You get a full 3-year warranty and a system designed to outperform your original system. Uses R-12 or environmentally friendly HFC 134a refrigerant.
SureFit systems retain the factory look inside your vehicle, yet improve the under hood appearance by eliminating the heavy factory equipment.
Optional ProLine Series components are compatible with most SureFit systems.
Some 1960s and many 1970s cars cannot be calibrated to work optimally with 134a refrigerant.
---

---
---