Upgrading Suspension: Rubber, Poly, or Tubular?
You've finally purchased your dream classic car and went for a cruise, only to realize it handles terribly! As you start researching upgrading suspension, you quickly realize there are a ton of options. What's the best way to go about upgrading your suspension? Where do you start? 
There are rubber bushings, polyurethane bushings, tubular suspension, and even complete frame replacements! This can be really overwhelming and we are here to help you figure out which option is best for you. 
To start, you need to look at your budget and goals. Then go out and perform a visual inspection. Is there anything broken, worn out, or missing? Look for "witness marks," which are signs of fresh metal rubbing together. Grab onto pieces and move them with your hands – should they be moving? A simple inspection like this can reveal a lot of issues. Your very first step should be to fix those items. Safety is of the utmost concern and we don't want any accidents from a worn out suspension part! 
If you're going budget-friendly and want to rebuild your factory suspension – we can help! There are two different options here and both have their pros and cons. In factory control arms we offer rubber bushings and polyurethane bushings. 
All these classic cars came with rubber bushings from the factory. They provide a smooth ride as they "give" when you hit a bump in the road. The downside is that because they are soft when you hit a bump and the bushings deflect, they cause the alignment to be off even if just for a millisecond. The end result is a car that can be unpredictable at speed or when pushing the car hard. 
The alternative is a set of performance polyurethane bushings. These will fit in place of the factory rubber bushings without modification to either the suspension or the bushing. They are stiffer so they won't deflect nearly as much under a hard bump or load, leading to a more predictable feel. The downside is they stiffen up the ride a bit compared to rubber. One thing to note is the days of squeaky polyurethane bushings are gone – we now offer poly bushings that have been impregnated with graphite for a squeak-free ride.  
Either rubber or poly is a great starting point to restoring your car. They will provide years of trouble-free service. The downside to both of these which should be heavily considered though is that they aren't changing any suspension geometry which can make a night and day difference in the way it rides and drives. 
Upgrading Suspension: Going Totally Tubular
There's a ton of reasons to upgrade these old classics with modern tubular suspension. We will go over them, but let's start with probably the most important and the biggest improvement: geometry changes. 
In the last half-century, there have been some massive improvements in suspension geometry. One of those comes from simply going from an old-school bias ply to a modern radial tire. When these cars rolled off the assembly line they had bias ply tires which love negative caster. With a modern radial tire that we all run, the suspension should have a positive caster. Running a modern radial-ply tire with a negative caster will mean the car won't handle very well.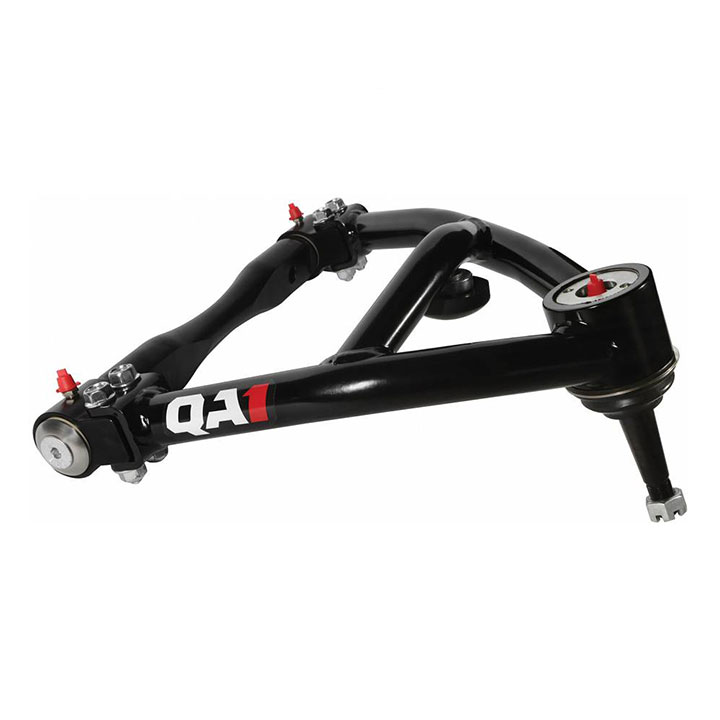 What is caster anyways? Put on your thinking cap and imagine a line going through the top ball joint and down through the bottom ball joint. If you were starting at the driver's front wheel, the negative caster would have that upper ball joint in front of the lower ball joint. In a positive caster the upper ball joint behind the lower ball joint. With tubular control arms, they fix this issue. This one change makes a drastic difference in how the car handles, feels, and tracks going down the road.
Manufactures, such as QA1, also correct the camber curve that's never right on these cars from the factory. Now imagine driving down the road and you take a left turn. On your right side passenger wheel, you want to lean into the turn in order to keep the tire planted to the ground. With stock arms, it actually leans away from the car causing less traction! A scary thought especially when at speed. Modern tubular control arms fix this issue as well.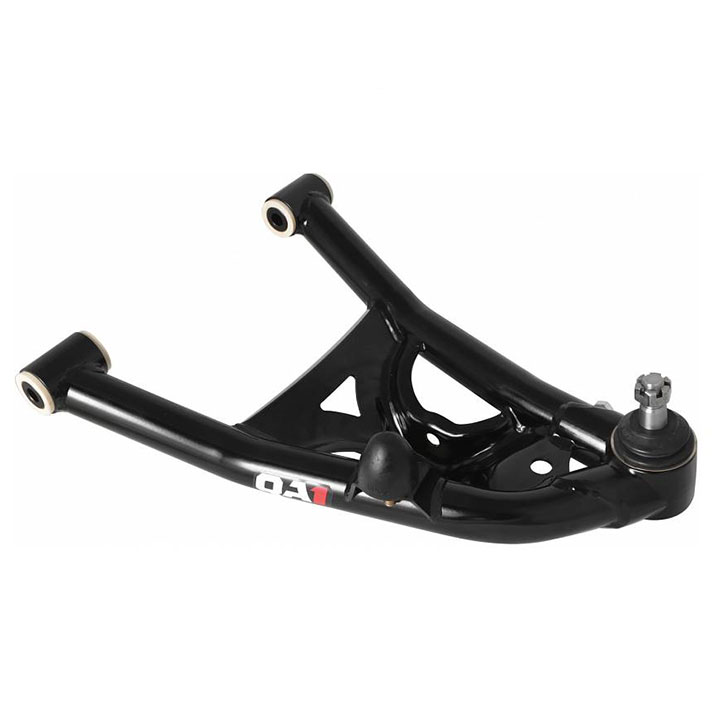 Another improvement is that the arms are stronger. For example, on  Chevelle lower control arms they are prone to cracking where the ball joint mounts. Modern tubular arms are reinforced in all areas to ensure maximum strength. They offer upgraded bushings and ball joints to provide smooth operation as well. In the rear,  suspension trailing arms can be ordered as adjustable – meaning you can dial in your pinion angle after changing the ride height for a smooth ride. They also offer rod end joints to free up the triangulated four-link suspension. 
Lastly and maybe the most important for a lot of gearheads, they just flat out look great! You get rid of those stamped steel control arms and trailing arms in favor of slick powder-coated arms that weigh less than their factory counterparts. Tubular arms have provisions for grease zerks as well where the factory ones do not. 
Depending on the manufacture, these tubular arms can be purchased with polyurethane bushings for a smooth ride, or even Delrin bushings all the way to rod ends. Delrin bushings are in between a poly bushing and a rod end where they have the articulation and precision like a rod end but have to give in them like a poly bushing. 
As you can see there is no right or wrong way to rebuild the suspension on your car. If you're just cruising to the local burger joint then rebuilding the stock suspension with rubber bushings is great! If you want to hit some back roads or tackle some autocross then you might want to look at tubular suspension!
No matter what you choose, we are here to help! Give us a call at (866) 358-2277
Shop Suspension Parts Below