Stephen purchased this 1970 Oldsmobile Cutlass W-31 in October 1993 and enjoyed it as a stock muscle car for a couple of years until it was modified to be a street/strip small block pounder.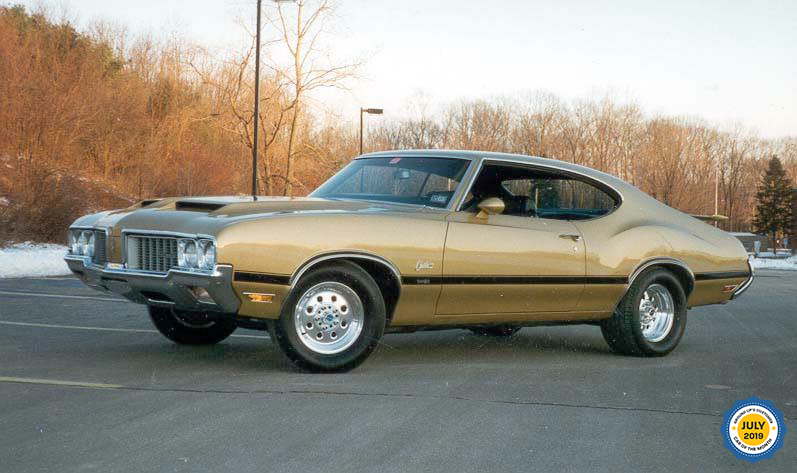 At that time some of the stock drivetrain was removed and replaced. It had a warmed-over 350 Oldsmobile engine with .030 over TRW flattop forged pistons, balanced & blueprinted bottom end assembly, Crower camshaft, Ported heads with 455 valves, Harland Sharp roller rockers, Holley Street Dominator aluminum intake and a 750 double pumper Holley carb. It had FlowMaster 2 ½ inch mandrel bent exhaust with Hooker super comp headers, numbers matching original M-21 transmission and a Hayes street & strip 10 ½ inch diameter clutch. The rear end was a stock Chevy 12 bolt posi-traction with 4:88 gears.
The car was a blast to drive on the street and at the drags; dumping the clutch at 6500 it ran 12:30's @ 108 MPH at Lebanon Drag-way in New York. The car has been off the road and apart since 2001 but has recently been restored to completely stock in 2018 by Garner Customs & Restorations in Sarasota, Florida, with Stephen consulting the restoration.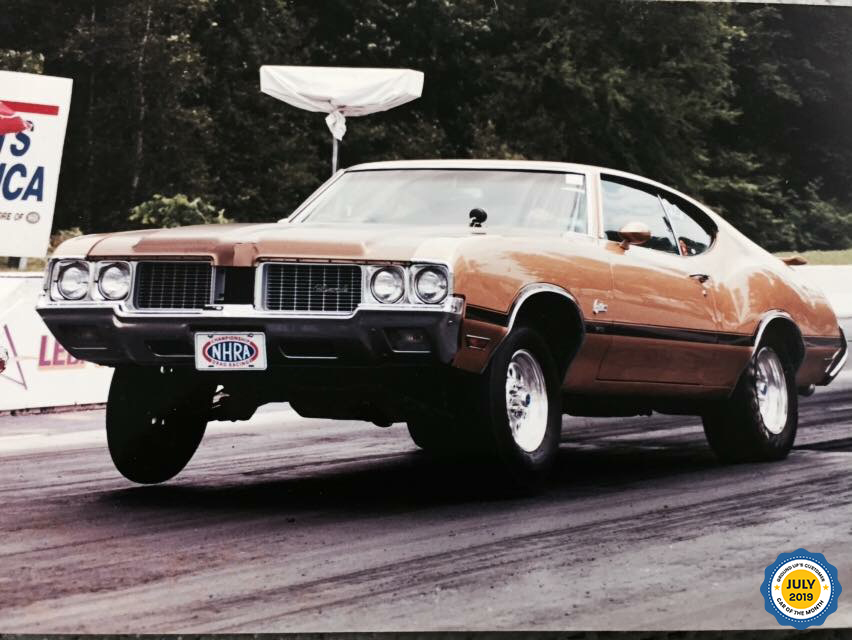 The car has only driven 300 miles since the restoration was completed. The frame-off rotisserie restoration was unveiled at the 2018 Muscle Car and Corvette Nationals in Rosemont, Illinois. It earned a Concourse Gold award and was showcased in the W-31 invitational, which was the largest gathering of W-31's ever under one roof (around 20). It has also won Best Oldsmobile at Muscle Palooza in Spring 2019.
This car is 1 of 1029 Holiday coupes built-in 1970 with the W31 option. It still has the dealer delivery sheet and protect-o-plate. Other options include a factory AM radio, factory console, and manual disc brakes. The Paint code is 55 Galleon Gold.
Many NOS parts were used on the restoration that Stephen have been collecting for years such as;
Front Grilles
Front Hood Chrome
Front Fender Chrome
Horn Relay
Voltage Regulator
Fan Shroud
Windshield Washer Reservoir
Gas Cap
Sport Steering Wheel
Rear Taillight Lenses
Reverse Lenses
External Door Felts
And every single external emblem including W-31 fender emblems!
This 1970 Oldsmobile Cutlass still has the original shifter ball from when Steve raced the car and a concourse Gardner exhaust system to top it off. Steve's 1970 Oldsmobile Cutlass W-31 retains it's stock W31 engine, the period-correct block, with #6 W-31 large valve heads, and a special W-31 only harmonic balancer. It also has a factory Aluminum W-350 intake, 1970 W-30 4-speed Camshaft (Steve opted to install this stock grind as it has .475 lift, 328 duration instead of the stock .474 308 duration W-31 cam). Original 7040255 Q-jet carburetor, original numbers matching M-21 transmission with the original "TO" code 3:91 12 bolt Olds positraction rear.
Detailed description of the W-31 options On Stephen's 1970 Oldsmobile Cutlass:
A01 – Windows, Soft-Ray Tinted (includes A02, windshield, Soft-Ray Tinted)
D35 – Sport styled outside rearview mirrors (part of W31 package)
D55 – Console, Sports – With manual transmission
G80 – Axle, Anti-Spin Rear
G90 – Axle Package, 3:91 to 1 Performance Rear
M21 – Transmission, Fully Synchronized 4-speed Floor-Shift Close Ratio-includes Hurst Shifter
N34 – Steering Wheel, Custom Sport
N66 – Wheels, Super Stock II
PK5 – Tires, G-70 x 14" Blackwall Goodyear Polyglas Bias-Belted-With raised white letters.
T44 – Hood Lock, Interior-Operated
U35 – Clock, Electric
U63 – Radio, Deluxe Pushbutton
Y60 – Lamps and Mirrors, Convenience
W31 – W-Machine package
Check out these photos of the 1970 Oldsmobile Cutlass taken by Ground Up & Stephen!