Identifying Small Block Chevy Engines
The Small Block Chevrolet engine is one of, if not the most successful engines of all times. Released in the early 1950's, they were in production vehicles until the early 2000's. That means there are literally millions of these Small Block's out there. Over the course of 50 years there were many different versions made. Some had better heads, more compression, or even more cubic inches. 
Luckily it's pretty easy to determine exactly what SBC you have under the hood of your ride. There are two sets of numbers that will help determine this. The first is a set of Casting Numbers, the second is a set of Stamped Numbers. 
As the names imply, Casting Numbers are cast into the block when it was made. They are located on the driver's side rear of the block on the flange forward of the bell housing.
These will tell you general information about the engine. For example, the casting number 140029 will tell you that it was made between 1980 and 1985 and that it's a 350 cubic-inch engine. If you want more specific information, you have to look at the Stamped Numbers. 
Stamped Numbers are a set of numbers literally stamped into the block. These numbers are stamped into a machined pad in front of the passenger side cylinder head – more than not it's covered up by the alternator. These numbers will tell you where the engine was assembled, production date, and the suffix code.
These numbers are often machined off when they deck a block. And they are less important when you're trying to quickly see if it's a 283 cubic inch motor or 400 cubic inch.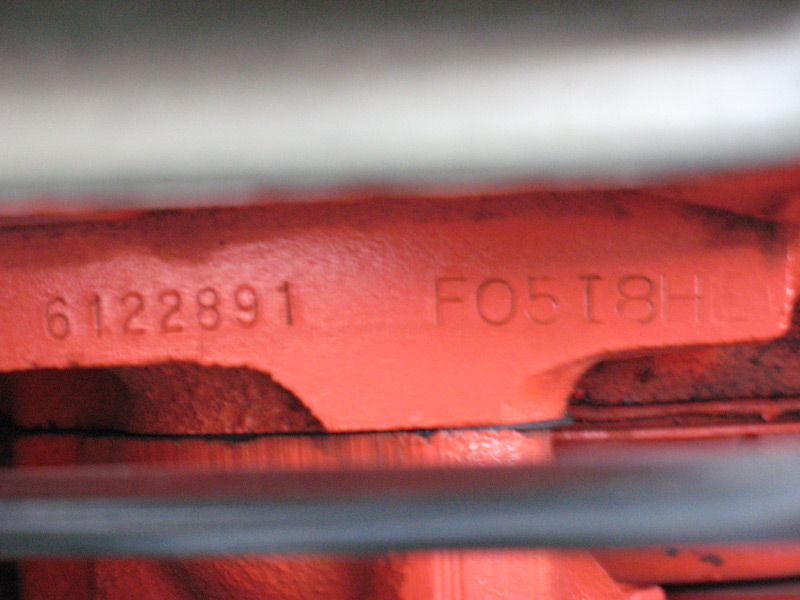 Small Block Chevy Stamping Numbers
The prefix portion of the ID code tells you the engine assembly plant code, and the engine's assembly date (for example, 0701 = July 1st….no year is indicated). The suffix portion tells you the original application, vehicle model, engine RPO/ transmission / horsepower, etc… (for example, CTY = 1970 396 Camaro, 375 hp, 11.0:1, TH400).
The engine assembly date must precede the car build date (often by a few days), otherwise something is amiss. Some engine machining operations (decking) will obliterate the engine ID.
Engine ID Code Example: V0101CLJ- (V = Plant, 01 = Month, 01 = Day, CLJ = Engine Suffix Code)
Another example: T0830CTY – (T = Tonawanda, 08 = August, 30 = 30th day, CTY = 1970 396 Camaro, 375 hp, 11.0:1, TH400)
Code
Engine Plant
 
Code
Engine Plant
F
Flint (Motor)
 
S
Saginaw Service
H
Hydramatic
 
T
Tonawanda
K
St. Catherines, Ontario
 
V
Flint (Engine)
 
(McKinnon Industries Canada)
M
GM of Mexico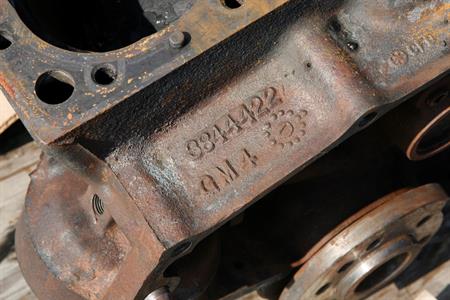 Small Block Chevy Casting Numbers
Small block casting date is located on driver side rear of block on flange forward of bellhousing. Big block on the right side of engine above the oil pan rails.
Casting Date Example: E038 – (E = Month, 03 = Day, 8 = Last digit of model year (1978)).
Month: A = Jan, B = Feb, C = Mar, D = Apr, E = May, F = Jun, G = July, H = Aug, I = Sep, J = Oct, K = Nov, L = Dec
 
Years
Casting
CID
Low Power
High Power
Main Caps
1980-85
140029
350
–
–
2
car
1973-80
330817
400
150
180
2
car, truck
1975
355909
262
110
110
2
car, truck
1976-85
355909
305
–
–
2
A
1975
360851
262
–
–
2
Monza
1976-79
361979
305
–
–
2
car, truck
1978-86
366245
350
–
–
–
car
1982-86
366286
350
–
–
4
Chevrolet, siamese
1982
366299
350
–
–
4
Chevrolet, aluminium
1956-67
383810
283
–
–
2
–
1967-68
389257
302
–
–
2
Z-28
1968-73
391436
307
–
–
2
–
1965-67
393288
283
–
–
2
car, truck
1976-79
460776
305
–
–
2
car, truck
1976-79
460777
305
–
–
2
car
1978-79
460778
305
–
–
2
car, truck
1979-82
471511
267
–
–
2
car, truck
1976-85
581671
305
–
–
2
A
1985-94
1489363
350
–
–
2
–
1979-82
2135412
267
–
–
2
–
1979-82
2404929
267
–
–
2
1973-76
3030817
400
–
–
2
car, truck
1958-61
3556519
283
–
–
2
car, truck
1955
3703524
265
195
_
2
car, no filter
1955-56
3720991
265
195
225
2
car, truck
1957
3731548
283
220
283
2
–
1956-67
3736935
283
–
–
2
–
1957-59
3737739
283
220
290
2
car, truck
1958-62
3756519
283
170
315
2
car, truck
1956-67
3756935
283
–
–
2
–
1962-65
3782870
327
250
375
2
car, truck
1956-67
3789187
283
–
–
2
–
1962-67
3789817
327
210
275
2
car, truck
1961-62
3789935
283
170
315
2
Late 61 car & vette
1962-67
3790721
283
170
220
2
Chevy II
1964-67
3791362
327
250
300
2
Replaced 3790721
1958-63
3794226
283
170
195
2
Car & truck
1968-69
3794460
327
250
250
2
truck
1968-69
3814660
327
–
–
2
F A
1968-69
3814660
302
–
–
4
Camaro, Z-28
1963
3830944
327
–
300
2
–
1956-67
3832338
283
–
–
2
–
1964-66
3834810
283
195
220
2
Car, truck & marine
1962-63
3834812
283
170
195
2
car & truck
1958-62
3837739
283
–
–
2
–
1964-68
3849852
283
195
220
2
car & truck
1956-67
3849859
283
–
–
2
–
1956-67
3849935
283
–
–
2
–
1964-67
3858174
327
–
–
2
car, truck
1968-76
3855961
350
–
–
2
car
1964-67
3858174
327
275
350
2
Full, A & Y
1964-67
3858180
327
250
300
2
–
1962-67
3858190
327
–
–
2
–
1965-67
3862194
283
195
220
2
Chevy II
1962-66
3864812
283
230
–
2
car, truck
1964-67
3868657
327
300
–
2
1962-67
3876132
327
–
–
2
1963
3889935
283
–
–
2
truck
1967
3892657
302
290
290
2
Z-28, small journal
1967
3892657
327
210
350
2
car & truck
1967
3892657
350
295
295
2
Camaro
1968-69
3892659
327
210
–
2
1967
3896944
283
195
195
2
replaced by 307 in 68
1967
3896948
283
195
195
2
identical to 3834810
1967
3903352
327
210
350
2
cars only
1969-80
3911460
350
–
–
2
A
1968-73
3914635
307
–
–
2
car
1968
3914636
307
200
200
2
car & truck
1968-69
3914638
327
–
–
2
1968-73
3914653
307
–
–
2
A
1968
3914660
327
210
300
2
cars
1968
3914678
302
290
290
2/4
Camaro, Z-28
1968
3914678
327
210
350
2
car & truck
1968
3914678
350
295
295
2
Camaro/ChevyII
1965-67
3932288
283
–
–
2
A
1956-67
3932338
283
–
–
2
1974-75
3932368
350
–
–
2
1969-73
3932371
307
–
–
2
car,truck
1969-73
3932373
307
–
–
2
car,truck
1969
3932386
302
290
290
4
Camaro Z28
1969
3932386
327
210
210
2
Camaro
1969
3932386
350
300
350
4
 
1969
3932388
302
290
290
4
Z28
1969
3932388
350
300
300
4
cars
1968-69
3933100
327
–
–
2
1968-69
3933180
327
–
–
2
1968
3941174
307
–
–
2
truck
1956-67
3949852
283
–
–
2
1970-80
3951509
400
150
265
2/4
car,truck
1970-73
3951511
400
255
265
4
B & G body
1962-67
3953512
327
–
–
2
1968-69
3955618
327
–
–
4
A,F,Vette
1969
3956618
302
290
290
4
Z28
1969
3956618
327
235
235
2
fullsize
1969
3956618
350
250
350
2/4
cars
1969
3956632
307
200
200
2
car & truck
1969-76
3958618
350
–
–
2
A
1962-63
3959512
327
250
–
2
1956-67
3959532
283
–
–
2
1968
3970010
327
–
–
2
A
1969-79
3970010
350
185
370
2 or 4
car, truck, Vette
1970-73
3970014
350
200
300
2/4
LA built Camaro
1969-73
3970020
307
115
200
2
car,truck
1969-72
3970024
307
130
200
2
A,F,X
1968-76
6259425
350
–
–
–
car,truck
1980-84
14010201
305
–
–
2
car,truck
1980-84
14010202
305
–
–
2
car,truck
1980-84
14010203
305
–
–
2
car, truck
1980-82
14010205
267
–
–
2
–
1980-85
14010207
350
–
–
4
truck
1980-85
14010209
350
–
–
4
truck
1978-86
14010231
305
–
–
2
–
1979-82
14010280
267
–
–
2
car
1982
14011064
350
–
–
4
Chevrolet, high tin
1979-82
14016375
267
–
–
2
–
1979-82
14016376
267
–
–
2
car
1978-85
14016379
350
–
–
–
car, truck
1980-84
14016381
305
–
–
2
car, truck
1978-88
14016383
305
–
–
2
–
1979-82
14040205
267
–
–
2
–
1978-86
14049047
305
–
–
2
1986-94
14079287
350
–
–
–
1987
14088526
350
–
–
2
Camaro
1986-94
14088548
350
–
–
–
–
1986-92
14088551
305
–
–
2
–
1988-94
14093627
305
–
–
2
–
1986-94
14093638
350
–
–
–
1988-94
14094766
305
–
–
2
1986-94
14101148
350
–
–
–
1987-88
14102058
305
–
–
2
1969-85
14316379
350
–
–
2