You've been hearing about all the benefits of fuel injection for years. Now you're starting to research what it takes to install fuel injection on your classic car. Fuel injection is a little more complex than a carburetor and requires a little bit more preparation. With a traditional carb you can have a gas can taped under the hood and make it run – not with fuel injection. 
The type of fuel injection you use depends on how much work will be needed, but the majority of the work is the same depending on which style you go with. 
The most popular style for retrofitting an older vehicle is a unit such as a Holley Sniper fuel injection unit. These units look somewhat like a carburetor, but have fuel injectors instead of jets. They are easy to install, tune and work great – a good upgrade for any classic. 
There are more complicated versions that utilize an injector on each port such as a modern vehicle. These offer some advantages, but for the sake of installation the biggest difference is you'll need some sort of reluctor wheel to tell the computer where the engine is at in rotation. 
Prepping For The Obvious For Fuel Injection
Two things are pretty obvious that will need to happen for fuel injection; high pressure fuel supply and an O2 sensor. On a traditional carburetor there's a mechanical fuel pump sucking fuel from the tank and pushing it to the bowls around 6-8 PSI. 
In a fuel injected set up, you are pushing fuel to the injectors around 50 PSI. This requires a high pressure fuel pump, a regulator, better filtration, and oftentimes larger supply lines along with a return line.
Fuel Injection Fuel Pumps 101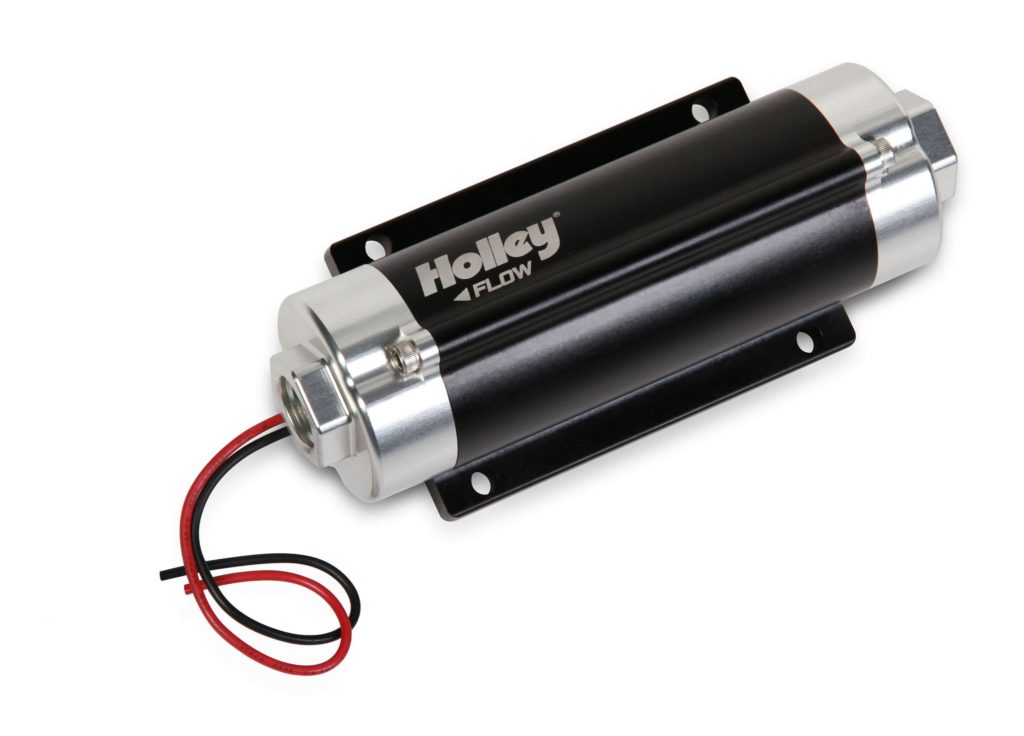 There are two different ways to install the fuel pump. You can use an in-line fuel pump, which would simply mount external of the tank. An important note here is that these fuel pumps are not designed for, and don't like to suck fuel. They need to be gravity fed. You can have it suck fuel, but it will severely shorten the life and reliability of the pumps as they will get overworked. If you do an in-line pump it's best to add some sort of sump to the bottom of your tank to ensure there is fuel flowing at all times and the pump isn't starved. Another downside is the pumps can be noisy where you hear them when the engine is running in this set up.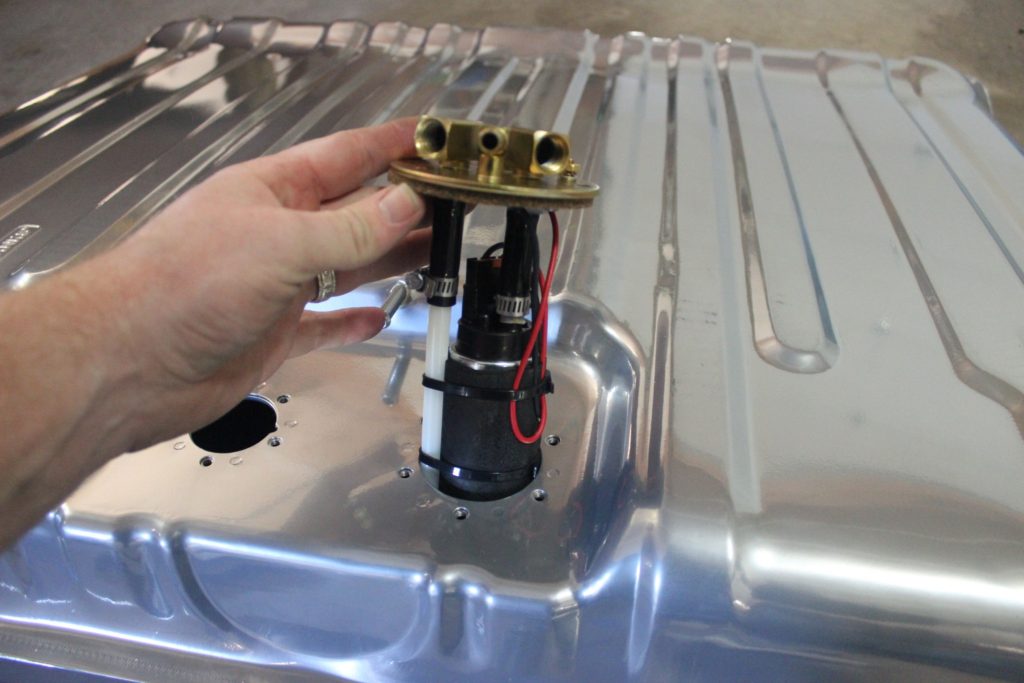 The other, and cleaner way is to run an in-tank pump. We sell fuel tanks that are made for fuel injection with a mounting hole for the pump, along with baffling inside the tank to keep the pump from starving. An in-tank pump will run cooler as it's submerged in fuel, is quieter, and doesn't have to suck any fuel into it. This is a better method overall, but it depends on  your budget and application ultimately. 
Once you've determined what style of fuel pump you're going to use, the next step is to run a post-filter. The small dinky filters carbs use aren't going to suffice with fuel injection. These can be mounted just about anywhere but need to be mounted post pump.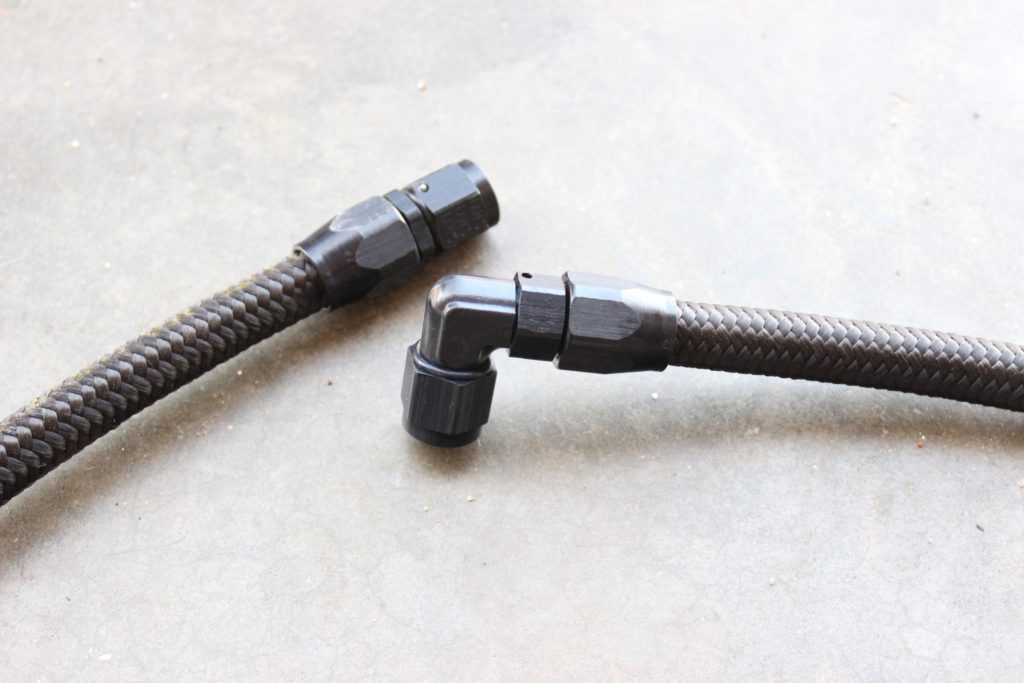 One of the last considerations for supplying fuel is the lines themselves. In certain applications you can reuse the original hardline on your classic. If it's a smaller 5/16" line, that's too small. You'll need at least a ⅜" line, which is a -6AN hose. Depending on your horsepower level and fuel requirements will determine what size line. A basic Small-Block would only require the ⅜" line while a turbo LS might require a ½" line.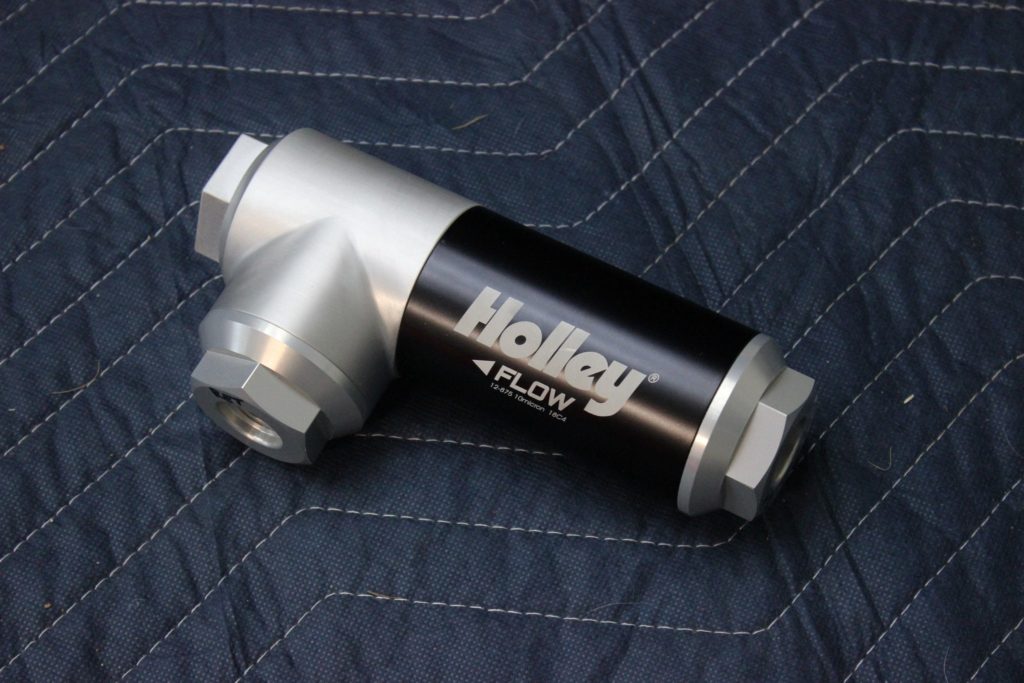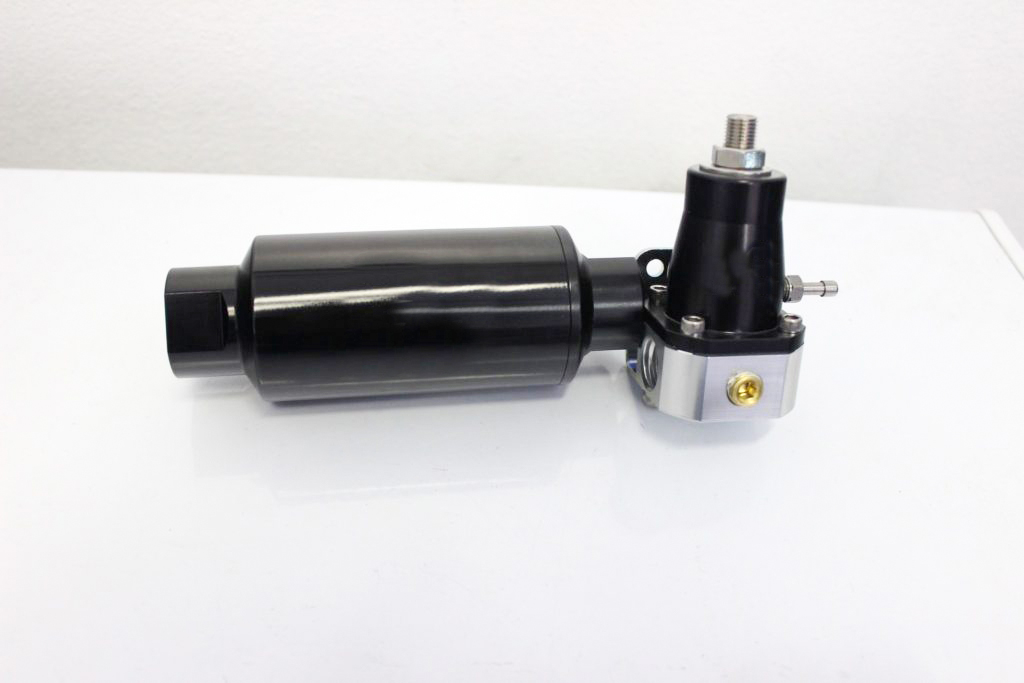 You'll also need a fuel pressure regulator. Some of the units, such as the Holley Sniper have them built in. Others are built into the fuel filter. Regardless of the style you go with, you'll need a return line to allow the unused fuel to cycle back to the fuel tank. Some people like to install a regulator right outside the fuel tank and "deadhead" the system. Deadheading is not running a return line. That's fine in lower HP applications, but larger HP engines will need the regulator up by the engine with a return line that runs the entire length of the car back to the tank. This also will allow hot fuel to cycle back to the tank to cool off and allow fresh cool fuel to come to the fuel injectors.
Fuel Injection O2 Sensors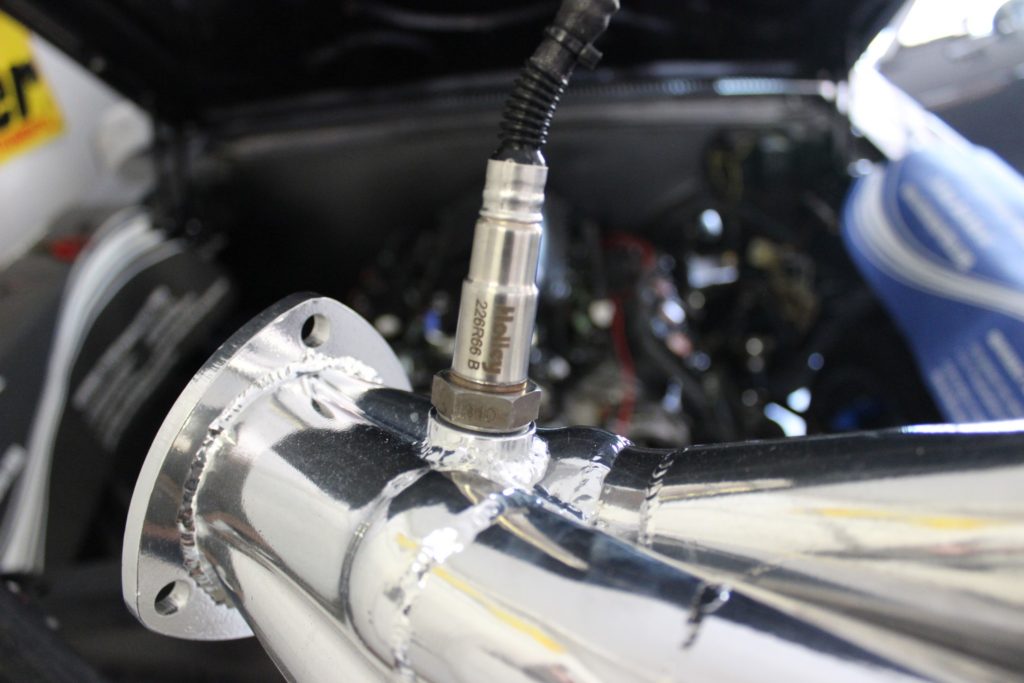 The other major change to run fuel injection is an O2 sensor. This is pretty straight forward as it's a sensor that gets added into the exhaust. You'll want to have it in the collector of your headers or slightly after the headers. There are kits where you drill a hole and strap a mount to your exhaust where the O2 will mount. The preferred method is to drill a hole and weld in an O2 sensor bung as that will provide a leak-free mount. The exhaust after the O2 sensor needs to be at least 18-24" in length – anything shorter might cause false readings. 
When mounting these O2 sensors it's also crucial to mount them in a 9-o'clock to 3-o'clock position. If you mount it on the bottom of your exhaust condensation can accumulate and ruin the sensor.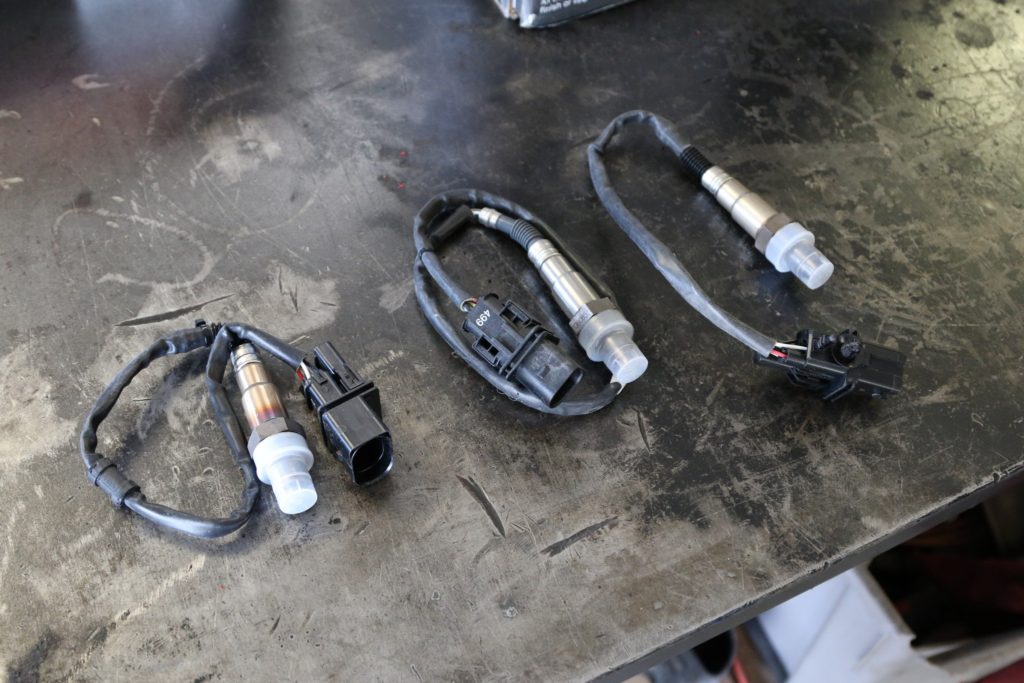 Fuel Injection Not So Obvious
An upgraded fuel supply system and O2 sensor are pretty obvious things you have to do in order to prepare for fuel injection. In order to get your system running properly there are a few other things you should do to prep as well.
For starters, make sure your exhaust manifolds or headers have zero leaks. On a traditional carbureted it doesn't matter too much if there is a leak at the head or collector. In fuel injection, that will throw the reading off with the O2 sensor. That will cause the system to run rich or lean since it's not getting an accurate reading.
On the same token make sure there are no intake leaks as well. The fuel injection setup is constantly reading the amount of air coming and going and skipping the system will cause issues.
Make sure there are no wiring issues with your car as well. These systems need clean power, usually coming straight from the battery, even if it's trunk mounted. Wires crossing spark plug wires can cause interference and screw up the units causing all sorts of issues.
Lastly and probably the most important, make sure you have perfect grounds. The battery should be grounded directly to the block and these units should have good, clean grounds. They can act up and leave you stranded if they don't have good, clean grounds.
This might seem like a daunting task but it's really not that bad. Take your time and don't rush the installation. Read instructions thoroughly and if you do get caught, give us a call. We are happy to help you out!