Ken F became the second owner of this beautifully preserved LeMans Blue 1969 Chevelle SS396 convertible in July 2017 after purchasing from the original owners, Richard and Diana E.
They had taken meticulous care of this 1969 Chevelle since the day they drove it home, ensuring that it would be as close to original condition as can be in the decades that followed. In fact, they had refused to sell to many potential buyers due to their strict ownership criteria. Ken would vow to continue the Chevelle's legacy under his care moving forward.
This 1969 Chevelle has a very well documented history due to the Emmons' enthusiasm. They had retained the original owner's manual, warranty booklet, Protecto-Plate, title, and the original purchase agreement from Frontier Chevrolet in Billings, MT. The one document they did not have at the time, however, was the build sheet. Richard was not too concerned, as he had never heard of a Fremont-built Chevelle having a build sheet. To their surprise, Ken would happen upon the build sheet taped to the inside of the driver's side fender shortly after he took it home!
"While vacuuming I thought that I should look into the left front fender. Using the light on my cell phone I was able to see something! I couldn't believe it, so I looked again. I could see a rolled up piece of paper with a piece of masking tape holding it to the inside of the outer fender. Focusing my eyes I was able to read the VIN in the upper right hand corner and realized that I had just discovered a build sheet!!!"

– Ken F
Luckily, the build sheet remained intact because this Chevelle had never seen rain or other inclement weather. It was seldom driven, with only 7,764 original miles at the time Ken purchased it, and it retains much of the original wear item components such as tires, belts, hoses, air cleaner, and fuel filter. Ken states that this Chevelle is in 100% original condition, except for a new battery.
In fact, the original wheels and tires have never even been rotated! Other minor components such as the water pump and a muffler had been replaced under warranty by Frontier Chevrolet during the early 1970s. There are no reproduction parts to be found here.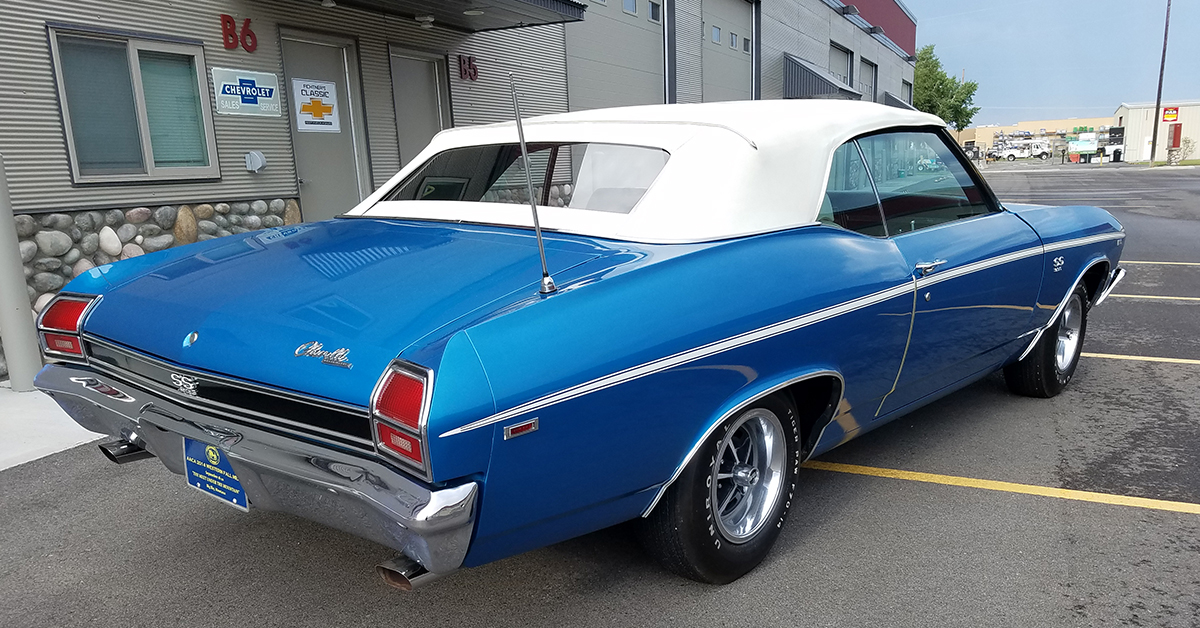 This 1969 Chevelle is in such original condition that it won the Antique Automobile Club of America's HPOF award in 2015. HPOF stands for Historical Preservation Original Features and is a prestigious award that is extremely difficult to win, much less on the first try. Winning a regional AACA award in 2014 opened the door to winning this National HPOF Award, an astounding feat.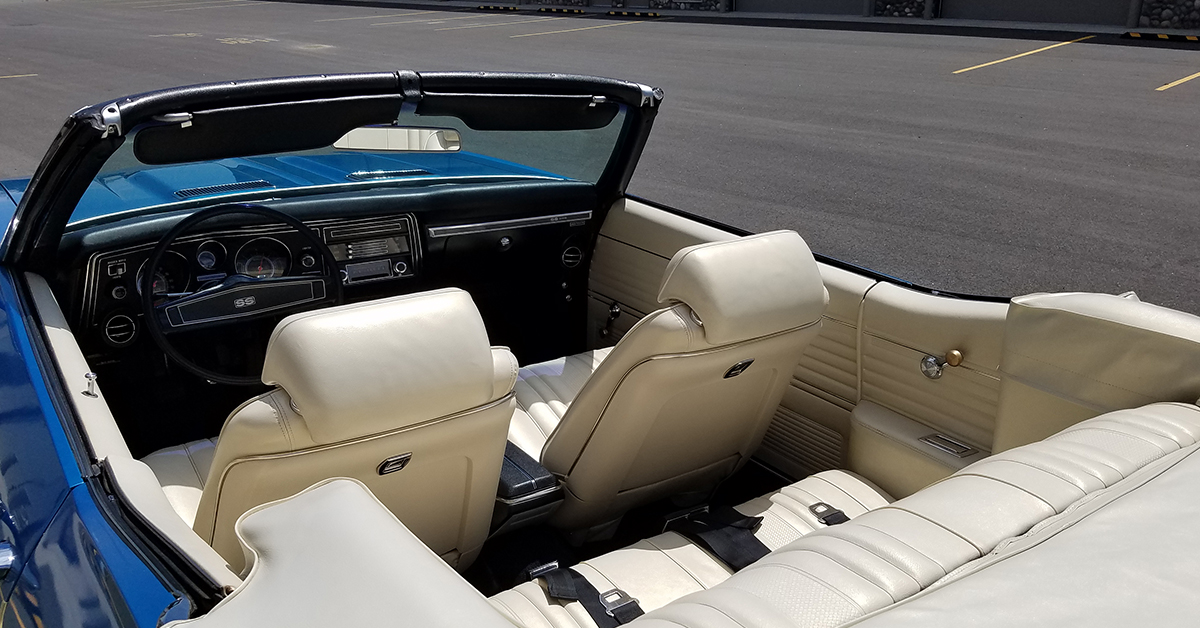 There is a wealth of information about this Chevelle's origins, thanks to the meticulousness of the Emmons over the years and Ken's attention to detail. The original L35 396/325hp big block was determined by Ken to be the last 396 big block built for 1969, as it was completed on July 3, 1969, with a T0703JA stamping. The previous last known assembled block with that stamping had been on June 30, 1969. GM would change the 396 to a 402 cubic inch block following this time frame.
"The car is an incredible time capsule. 100% original except for the battery."

– Ken F
This 1969 Chevelle was completed at the Fremont, CA plant on July 18, 1969, the week before the Fremont plant closed its doors for good. It had apparently been ordered by Frontier Chevrolet of Billings, MT as dealer inventory and had not been a custom order. Several curiosities were noted on the delivery date, such as two missing center cap inserts, rear ashtrays, and various decals. These were likely a result of the plant closure.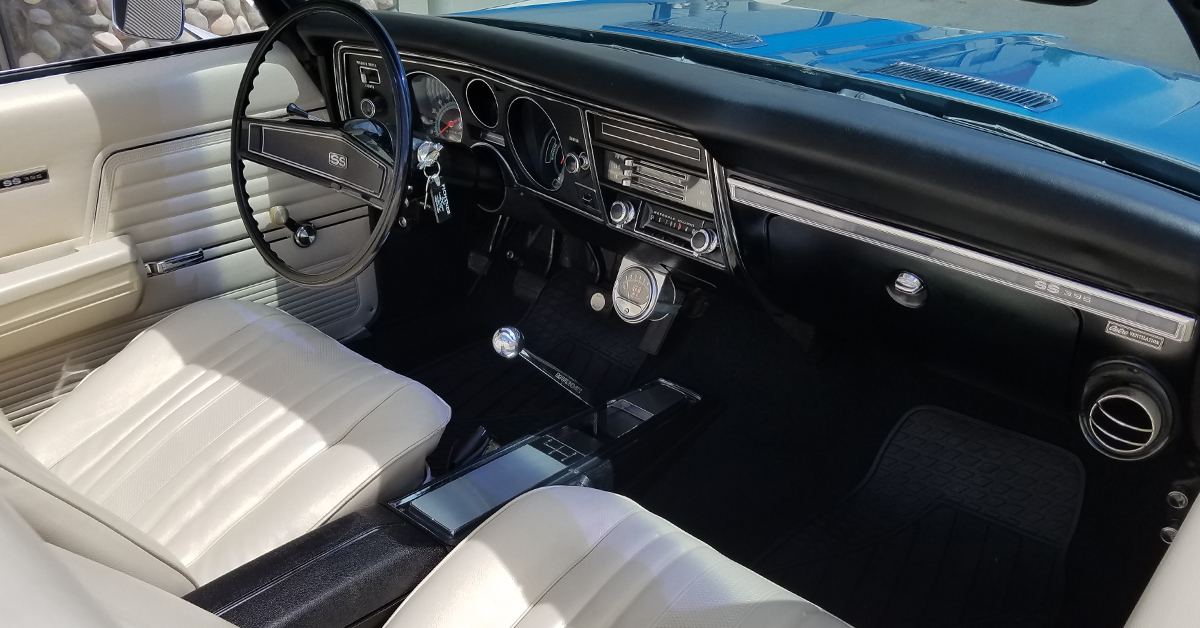 This LeMans Blue 1969 Chevelle SS396 convertible is a truly desirable specimen with an incredibly well-documented history, from the individual components to the car's life with its owners. This is an incredibly special Chevelle, not necessarily for rare equipment configurations but for how well it has been taken care of over the past 50 years.
"They (Richard & Diana Emmons) told me that many people have tried for many years to buy their car. They only wanted to sell it to someone who would take care of it and share it with others. I am honored that they allowed me to purchase their 1969 Chevelle."

– Ken F