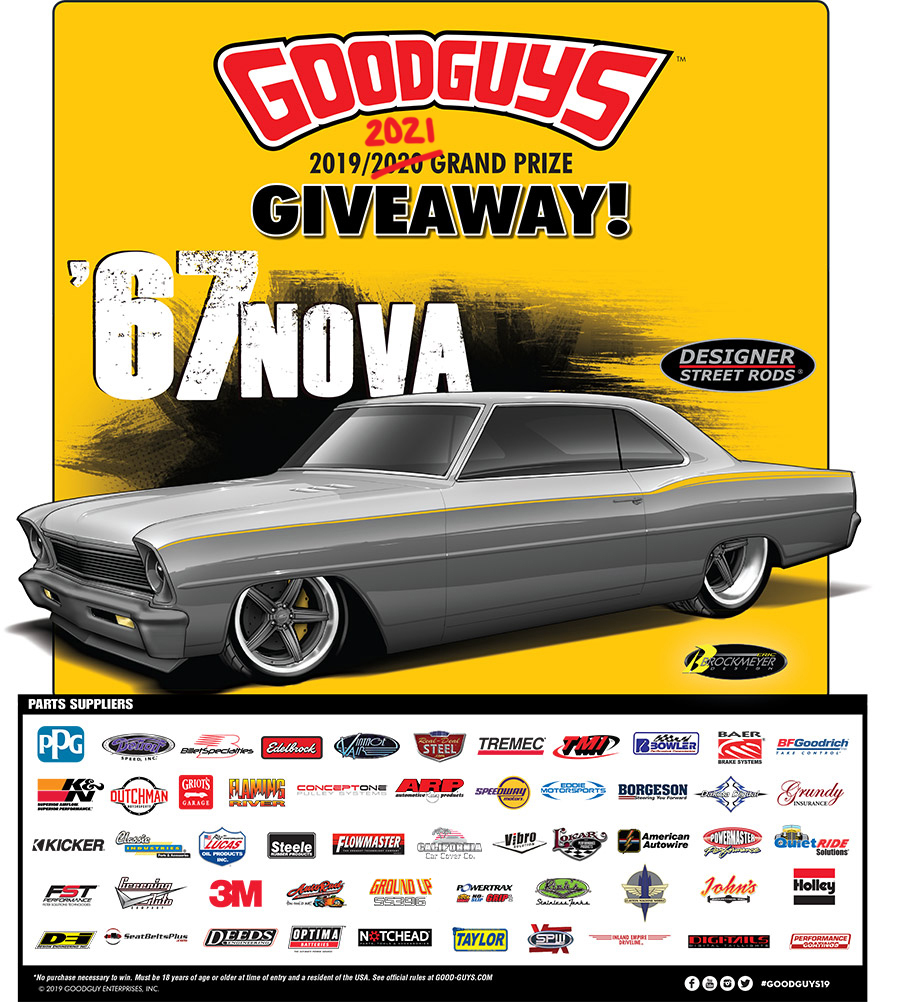 1967 Chevy Nova Giveaway by GoodGuys Rod & Custom Association!
This past year Ground Up SS396.com was presented with the opportunity to be a part of the 2019-2020 GoodGuys Rod & Custom
Association Muscle Car Giveaway sweepstakes and jumped at the opportunity to provide a helping hand. With Covid-19 canceling or delaying a lot of events in 2020, it is extended into 2021 and you still have time to enter and win!
Ground Up SS396.com
supplied the guys over at GoodGuys Rod & Custom Association with a 66′-67′ Nova Cowl Vent Panel to breathe life back into this Chevy Nova's sheet metal exterior.
This year, a total of 53 brands including Ground Up helped out to bring this 1967 Chevy Nova to life, making this one serious build! Detroit Speed Inc. provided this Nova with a Mini Tub Kit and Front Suspension, Edelbrock Performance supplied the powertrain which features a SuperCharged LS Crate Motor mated to a Tremec transmission, Flowmaster provided the muscle car sound for this ride with a full exhaust system, Billet Specialties provided the Nova with Concave Pro Touring Series wheels wrapped in BF Goodrich Rubber and is brought to a screeching halt using 14-inch Disc Brakes from Baer Brakes! The list doesn't stop here but if that's not enough to get your heart racing then maybe this car just isn't for you…
Follow the build here at Fuel Curve
https://www.fuelcurve.com/building-the-goodguys-giveaway-1967-nova-part-1/ 
---
GoodGuys Rods & Customs Association 1967 Chevy Nova Giveaway Car!
---