These are estimated figures
The map below indicates estimated transit times and are not guaranteed transit times. Once UPS/USPS has picked up the packages from our warehouse its transit time is out of our control.
Order Early For Peace Of Mind!
Did you know that experts are estimating this year to be the busiest year for online shopping? This means shipping companies may become overrun as we close in on the upcoming holidays. We strongly recommend ordering as early as possible for extra peace of mind that your package will arrive on time. 
UPS Shipping Recommendations
Want it there for the holidays? Make sure you send it by these dates.
December 15 UPS® Ground
December 21 UPS 3 Day Select® – Not Guaranteed 
December 22 UPS 2nd Day Air® – Not Guaranteed  
December 23 UPS Next Day Air® – Not Guaranteed  
A note from UPS:
"Effective March 26, 2020, and until further notice, we have suspended the UPS Service Guarantee for all shipments from any origin to any destination. For all U.S. origin shipments, the Service Guarantee suspension became effective as of March 24, 2020." Learn more on UPS.com.
UPS Ground Estimated Shipping Times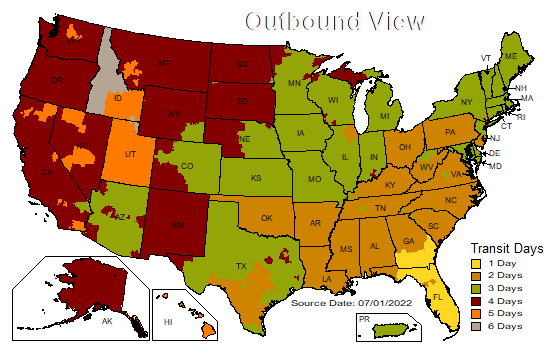 Subject to the Tariff/Terms and Conditions of Service, UPS guarantees on-schedule delivery of packages, shipped via UPS's services, that are listed as guaranteed, or will refund your transportation charges. Guaranteed Service is not available in all areas and does not apply to shipments containing a package with an Additional Handling or Large Package surcharge. Scheduled business days and delivery schedules are revised occasionally due to changes in distribution and volume, especially during holiday periods. Service to some remote areas also may require additional delivery days. For current delivery schedules, service availability and information, and a description of the UPS service Guarantee, see the UPS Rate and Service Guide. The most up-to-date transit time details will be available at ups.com/ctc at the time of shipping. Certain commodities and high value shipments may require additional transit time for customs clearance.
USPS Estimated Shipping Times
This map will provide you with expected 1, 2, or 3 day delivery areas for Priority Mail® shipments. Exceptions apply and delivery time is not guaranteed.
The following States and Provinces will be a minimum of 3-day transit time:
Alaska
Hawaii
Puerto Rico
US Virgin Islands