Eric's 1972 Chevelle SS454 LS5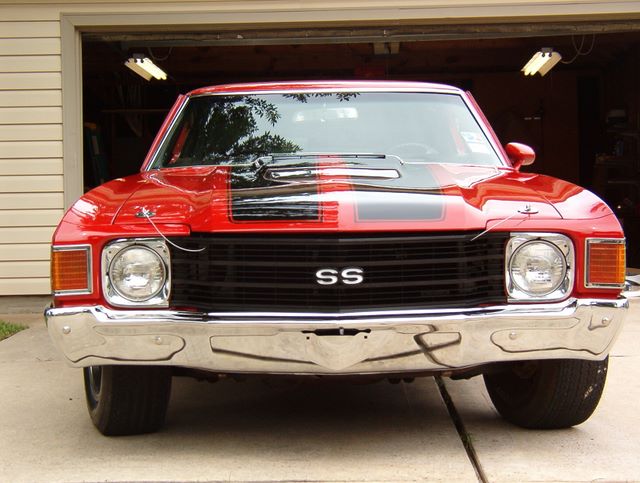 Eric's 1972 Chevelle SS454 LS5 – More Than Metal

It all started 32 years ago when Eric's father Curtis purchased this Chevelle from his cousin in Lafayette, Louisiana. The year was 1979, the price was $600, and the color was yellow.
In September 2006, Eric bought the car from his dad and started restoring the body and interior. This car has been in the family 32 of the cars 35 year life. With only 78,000 miles on the odometer, it has never been mechanically rebuilt and still runs like a champ. And mechanically speaking, this car is no slouch!
This is a factory SS with the LS5 454 engine, M-22, and 12 bolt rear with 3.73 gears. The drive train is completely numbers matching. The only thing to be rebuilt so far was the transmission. The old throw out bearing was fried and the flywheel needed help. The clutch was replaced with a dual Centerforce unit at that time.
Eric does not have the original build sheet (which would make this car perfect), but he has documented every step of the restoration with plenty of pictures and receipts. He does know that the car was original GM 75 Cranberry Red and was built at the Arlington, TX plant.
The car is about 85% original and Eric still has most of the original parts. Some of these parts are not on the car due to the fact that they were too far gone to repair, but everything fixable was used again. The car even sports all of its original factory glass (bedsides the windshield which was cracked badly). He now views the road behind a reproduction piece with the correct in-glass antenna. The car did have factory AC, but it was removed during the Chevelle's early drag racing days.
Eric says, "Aside from the paint, body, and seat covers, I've done all the work myself in my garage at home and this is the first car I've ever done."
That's Eric's story so far, but he doesn't plan to stop there. He explains, "Once the engine compartment is done right it will take this SS to the next level."
This car proves that determination and a love for these machines makes restoring them possible, even for the guy wrenching away in his own garage for the first time! In his closing statement, Eric offers the following insight:
"I love all the stories about these old cars; it really makes them more than metal and rubber. They are a part of American history and culture, and one day I'll have this to pass down to my kids."
---
Check out these photos taken by Eric!
---

---