What exactly are the differences between the generations of big blocks? The big block Chevy engine, AKA BBC, AKA Rat Motor, has been in production since 1965. There are three different versions of it, Gen 4, 5, and 6 or Gen IV, V, and VI if you like Roman numerals. 
Known for their torque, these engines with even slight mods can easily make over 500 lb-ft of torque. LS engines are great but there's nothing quite like the sight of a big block under your hood. 
Gen IV(4) Big Block Chevrolet Engine Differences
These are the big blocks we know today. First debuting in the 1965 Chevelle SS 396 Z16, big blocks were designed with a conventional wedge chamber in the heads. With this development Chevrolet could have different heads for different applications such as a Corvette with high flowing heads or high torque versions for trucks. These were produced from 1965-1990 but stopped being in passenger cars in 1976.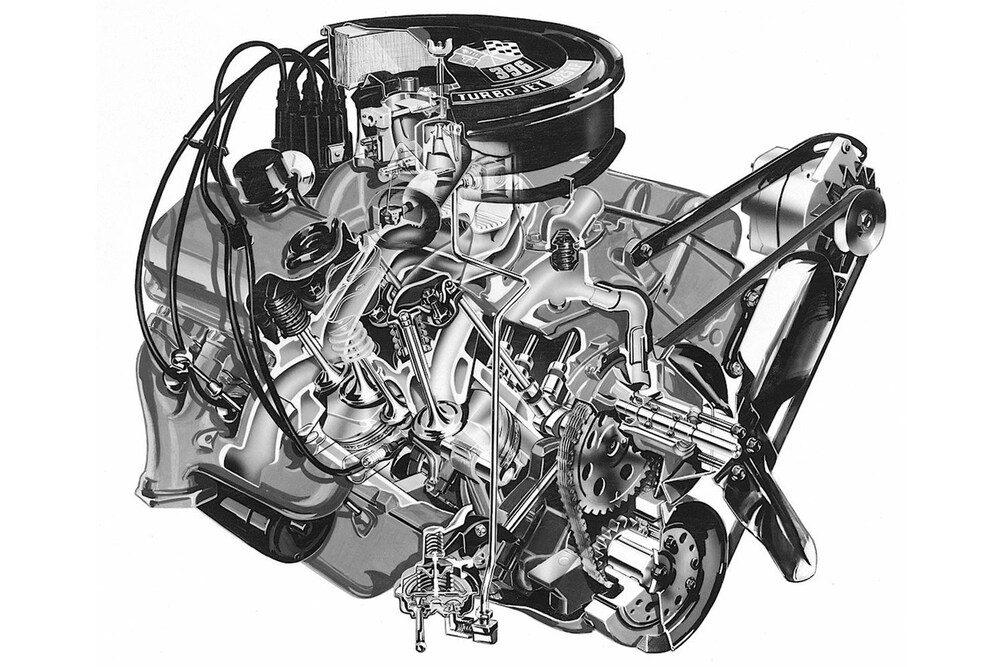 366ci: Found in medium trucks and school buses of the era, the first Mark IV features 9.4:1 compression and 4×3.62-inch bore and stroke. Today the 366/396ci is not desirable for hot rodding, as they're small-bore.
396ci: First introduced as a high-output version for the 1965 Corvette, the 396 is rated at 425 hp with a solid-lifter cam. It uses the same bore as the 366 but a longer 3.760-inch stroke.
402ci: The 396 was bored to 4.126 inches to make 402 ci in 1970, although Chevrolet continued to market it as the 396.
427ci: The 427 can be found with hydraulic flat-tappet lifters in family cars or with high-revving solid lifters in the Corvette. It was rated as high as 435 hp and 460 lb-ft of torque. It features the big-bore block at 4.25 inches but the same 3.760-inch stroke as the 366/396.
454ci: Chevrolet added the 454 in 1970, with the same bore but slightly more stroke than the 427 at 4 inches. An LS7 version—not the modern LS model—offered in the Corvette and as a dealer performance option is rated at 465hp and 610lb-ft. It was phased out in 1976.
454ci/L19/EFI: Chevrolet phased big-blocks out of passenger cars as emissions and fuel standards went into place in the late 1970s. In 1987, a new 454 Mark IV hit the market with EFI, exclusively in trucks.
Note the engine on the left is a Gen IV with round water holes, whereas the right Gen V has elongated water jackets.
Gen V(5) Big Block Chevrolet Engine Differences
Produced from 1991-1995, these Only came in a 454 cubic-inch configuration. They had a one-piece rear main seal, oiling passages closer to the cam and every block received four-bolt mains. 
Gen 5 BBC's saw cast aluminum valve covers and front covers for better sealing. The engine didn't have mounting bosses for a mechanical fuel pump and the valvetrain can't be adjusted with their hydraulic flat-tappet lifters.  
One quick way to identify these engines is extruding bosses for the water pump and front accessory mounting. They also have a smaller four-quart oil pan.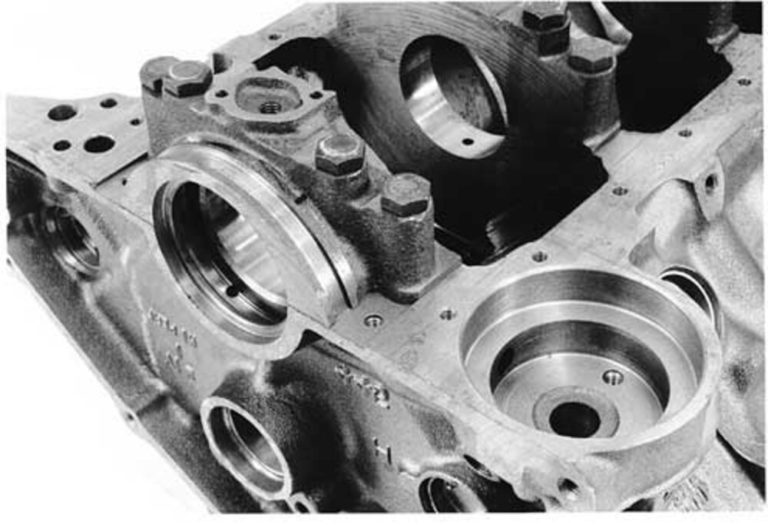 Gen VI(6) Big Block Chevrolet Engine Differences
These were produced from 1996 all the way until 2001. They featured hydraulic roller lifters from the factory along with multi-port fuel injection and a PCM. They can also be identified by a six-bolt aluminum timing chain cover compared to 10 bolts on older big blocks. 
When you're ready to slide a Big-Block into your classic, give us a call at (203) 235-1200! We have all the parts needed to put one into your ride. You can check it out on our website too, SS396.com