On classic Chevrolet V8 engines, there were two distinct water pumps; a short version and a long version. How do you tell the difference between a short and a long water pump?
All models of Chevy V8 engines from 1955 through 1968 came equipped standard with a short water pump. From 1969 and newer engines with v-belt drives into the 1980s had long water pumps. With so many engine swaps, it's possible your '68 and older car has a long water pump.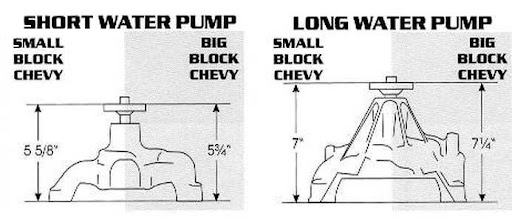 Measuring To Find Out Long Vs Short
In order to figure out which one you have,  you can measure. From the base where the pump mounts to the block, to the mounting flange of the pump. This number for short water pumps should be 5-5/8″ for SBC applications and 5-3/4″ for BBC applications. The one exception here is that the 1971-1982 Corvette water pumps were short with a dimension of 5.795″.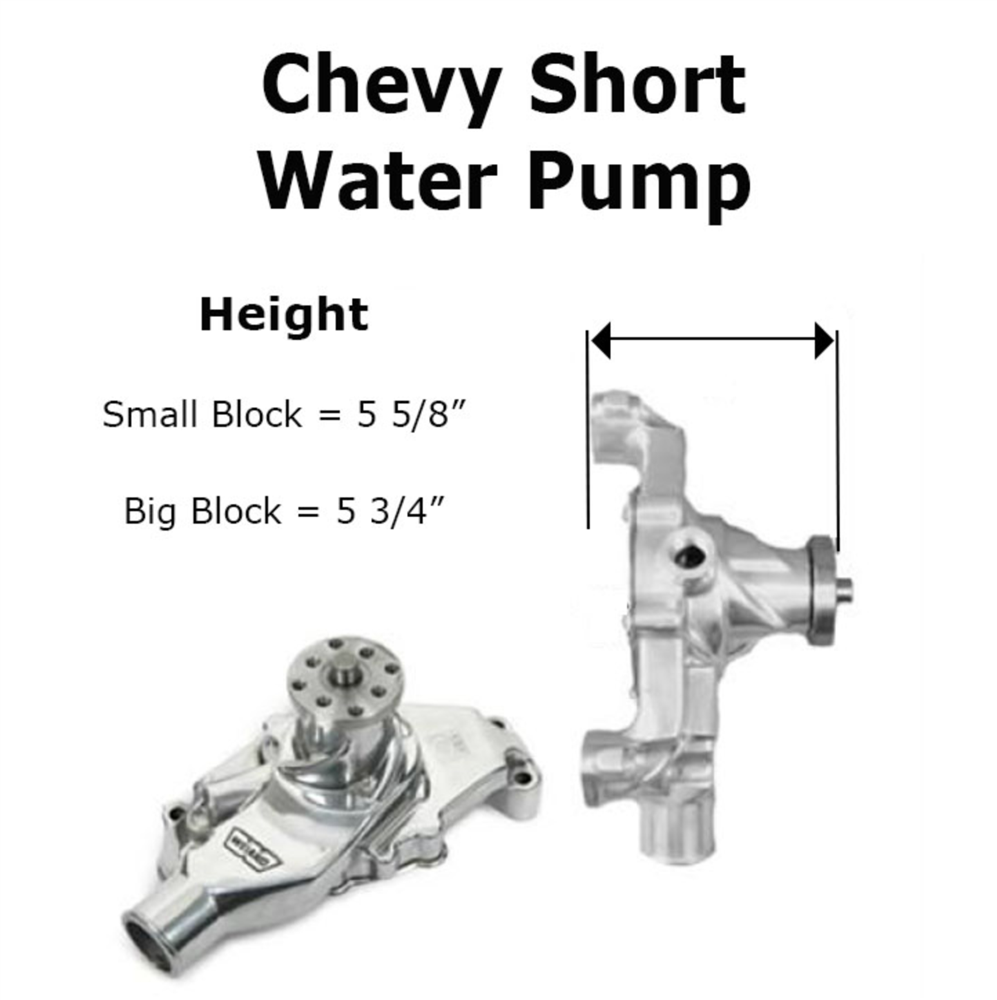 Measuring again from the base to the mounting flange, long water pumps measure 7″ for SBC applications and 7-1/4″ for BBC applications.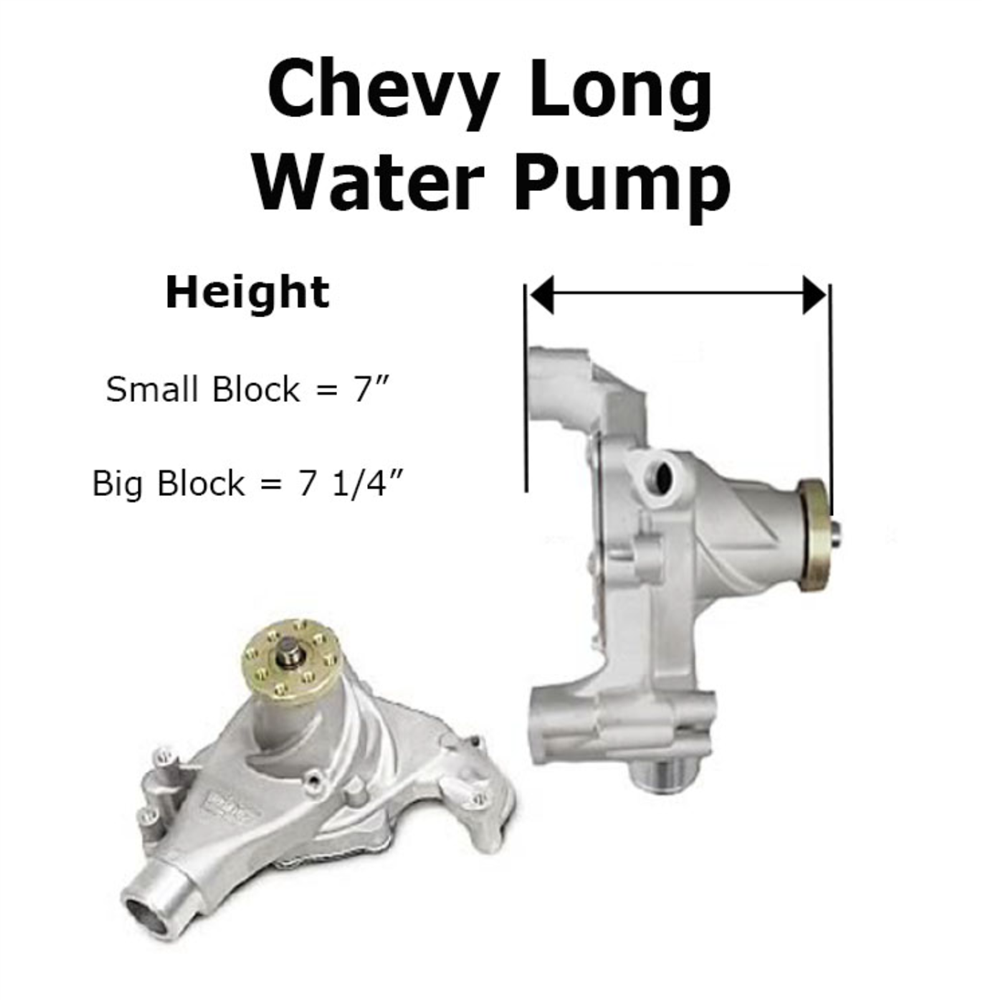 Visually Figuring Out Long Vs Short
If the water pump is installed on the engine, it's fairly easy to visually tell if it's short or long. On short water pumps, you most likely wouldn't be able to stick a finger between the back of the water pump and the front of the timing chain cover. With a long water pump, you will be able to. In summary, if there's about a 1″ gap then it's long, if it's right up against the timing chain cover then it's short.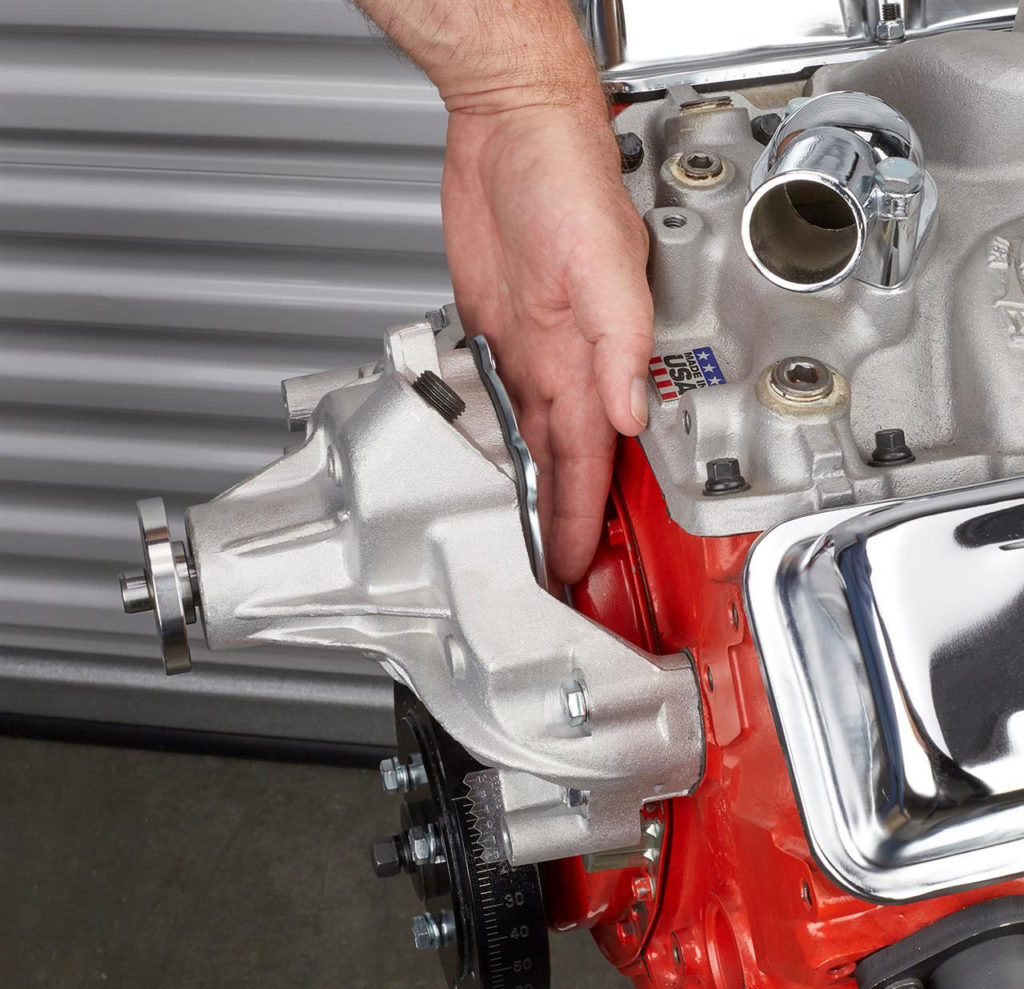 Long In A Short Application
Can you run a long pump on a car that originally came with a short pump and vice versa? Yes, you can. However, you'll run into space and pulley issues. For example on a '66 Chevelle, if you have a BBC with a long pump in it, there isn't room to run a clutch fan assembly. The water pump will fit behind the radiator but won't have much room for any sort of cooling fans whether mechanical or electrical. 
On the flip side if you run a short pump on a '70 Chevelle you will have extra space which means a factory-style clutch fan won't be properly spaced to a factory fan shroud. 
From a performance standpoint, there's zero difference in a short or long water pump. One doesn't flow or cool any better. The difference would only be in the installation of a clutch fan or electrical fans and having adequate room. 
If you need any further help deciding which water pump you have or which one you need, give one of our friendly techs a call at (866) 358-2277