The term Super Car in modern times brings to mind brands like Lamborghini, Ferrari, or McLaren, but during the heyday of the muscle car craze Chevrolet technically also had its hands in the "super car" market.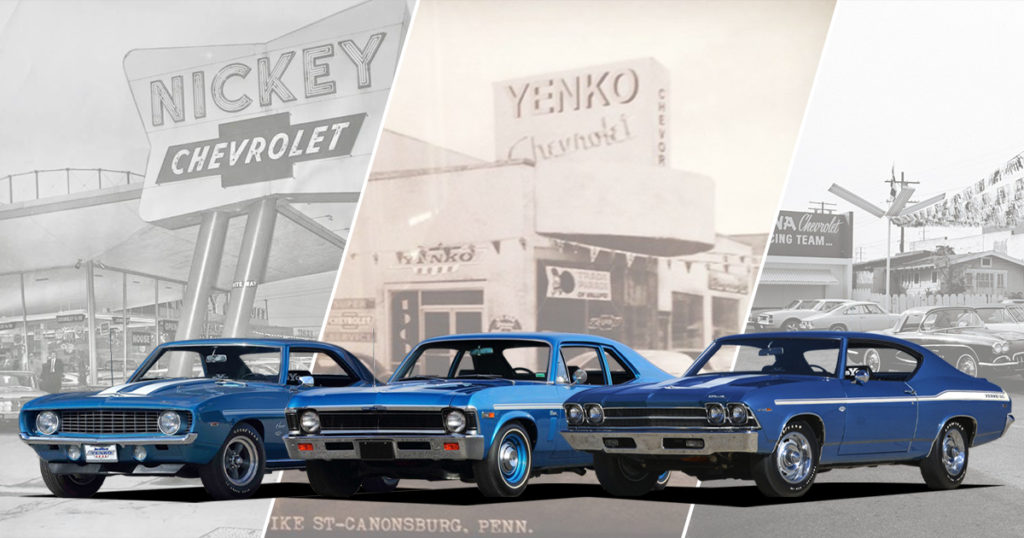 Even though General Motors wanted to distance itself from factory-backed racing programs in the latter half of the 1960s, the demand for high-performance machines was still strong.
While GM did offer a variety of their lineup with powerful big-block V8s that would satisfy most regular customers, those looking to compete in racing classes needed something more capable to keep up with Ford and Chrysler at the track.
The problem was that GM had issued a corporate policy in 1967 where only the Corvette or their full sized cars like the Impala could have a big block larger than 400 cubic inches installed from the factory, which left popular models such as the Camaro, Chevy II, and Chevelle lagging behind their rivals at Ford and Chrysler. Luckily, there was a workaround that customers could take to get the power they were wanting if they knew where to look.
Similar to Ford's relationship with Carroll Shelby, several of Chevrolet's dealers began taking matters into their own hands in order to satisfy their customers. These dealers were pushing the envelope with full conversion packages that could double or triple the price of the base car, but customers were also willing to pay.
A number of dealerships around the country began offering what would become known as Chevrolet's Super Cars.
This usually meant a car like the Camaro received a 427 cubic inch big block sourced from the Corvette, as well as a whole slew of other aftermarket go-fast parts that normally wouldn't be available to order from your average dealership.
While Don Yenko Chevrolet might be the most well known of the bunch today, they were hardly the only game in town during the muscle car arms race. Names such as Baldwin-Motion, Dana Chevrolet, Nickey Chevrolet, Fred Gibb, Bill Thomas, and Dick Harrell would go on to be known for their "factory" hot rod creations in the decades that followed.
Each one of these operations had the same goal in mind, which mostly resulted in putting Chevy's largest big block where it wasn't allowed to go.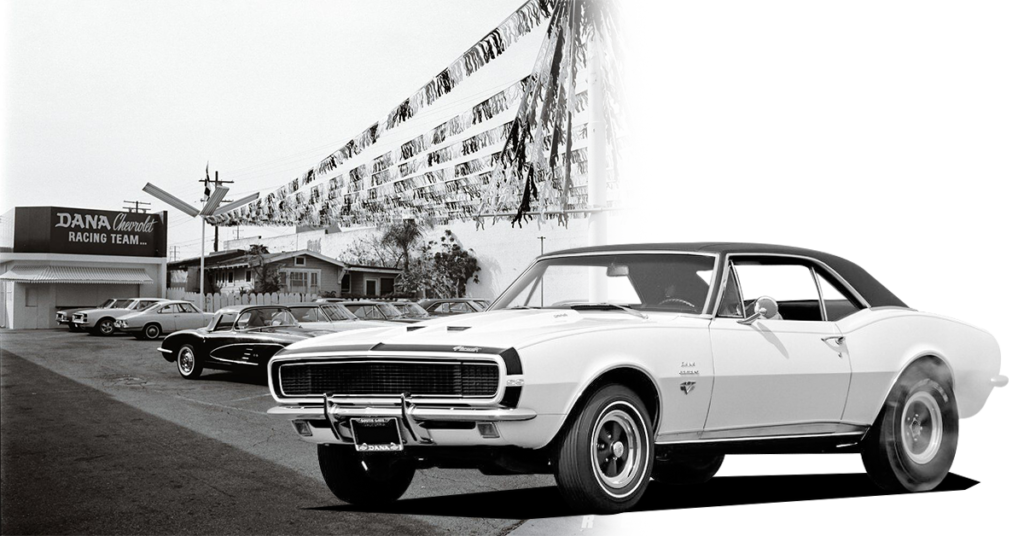 Dana Chevrolet - Los Angeles, CA
Dana Chevrolet was one of the first to market with their 427 Camaro Conversions in Los Angeles, California. Operated by Paul Doski, Peyton Cramer, and Dick Guldstrand, Dana Chevrolet was geared squarely at the performance crowd.
The men had purchased a Chevrolet dealership with the goal of offering souped up turnkey performance packages straight off of the lot. Peyton Cramer was no stranger to the concept, as he worked for Shelby America beforehand, while Dick Guldstrand was an accomplished SCCA driver that was now the lead engineer.
Dana Chevrolet had set out to become the premier performance Chevrolet dealership in Southern California, as the market was untapped at the time they decided to go into business. Not only were they selling fully kitted cars, but they offered a variety of parts and services as a one-stop shop. The goal was to entice customers that might not necessarily want to buy a whole new car, but that still needed some speed parts to scratch that itch. Unfortunately, very few surviving Dana Camaros are known to this day.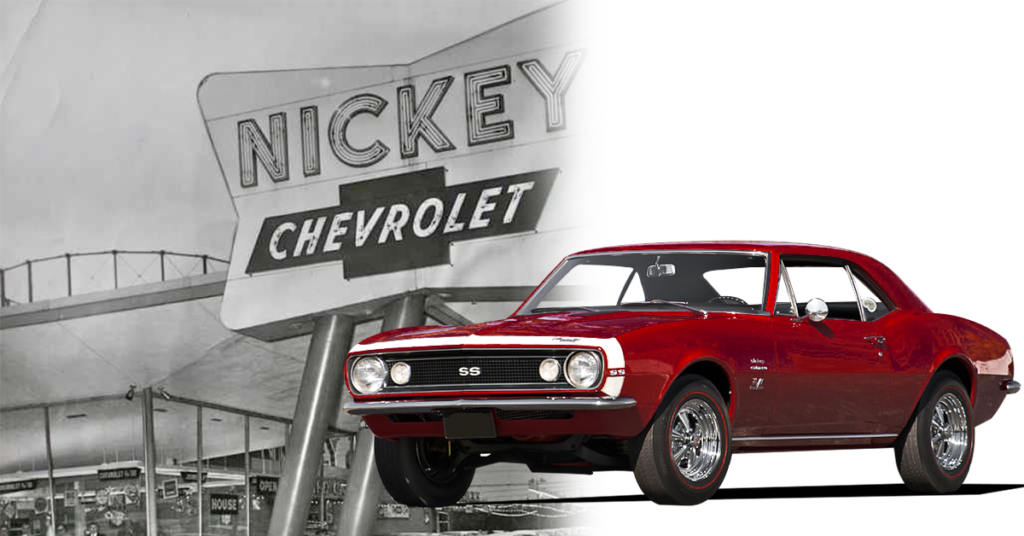 Nickey Chevrolet - Chicago, IL
Another Chevrolet dealership that became recognized for their customs was Nickey Chevrolet of Chicago, Illinois. Nickey partnered with Bill Thomas and Dick Harrell to provide performance packages tailored to the customer's needs on virtually any Chevy model, with the most popular being the Camaro, Chevelle, and the Nova. The formula for success was also placing the Corvette's 427 cubic inch big block into another chassis. These could be ordered from either Nickey Chevrolet or Bill Thomas Co. in Anaheim, Ca.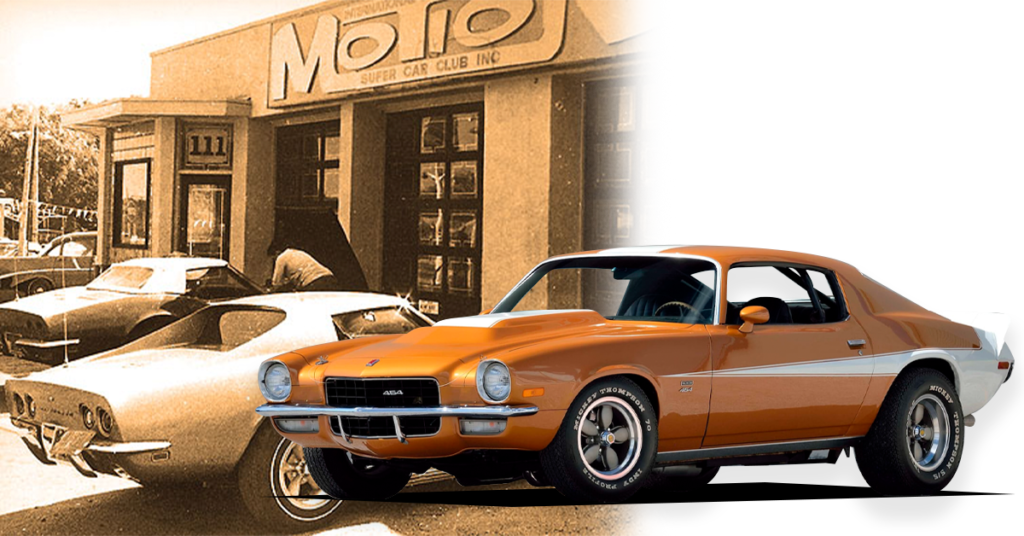 Baldwin-Motion - Baldwin, Long Island, NY
Meanwhile on the east coast, Baldwin-Motion was operating in much the same way as Dana and Nickey. Baldwin Chevrolet had partnered with a shop around the corner called Motion Performance in 1967, which would provide the necessary expertise in modifying the vehicles being ordered though Baldwin. The Baldwin-Motion partnership would continue through 1974, but Motion Performance would have to source cars for their custom packages through other dealerships as Baldwin had ceased to be by that time.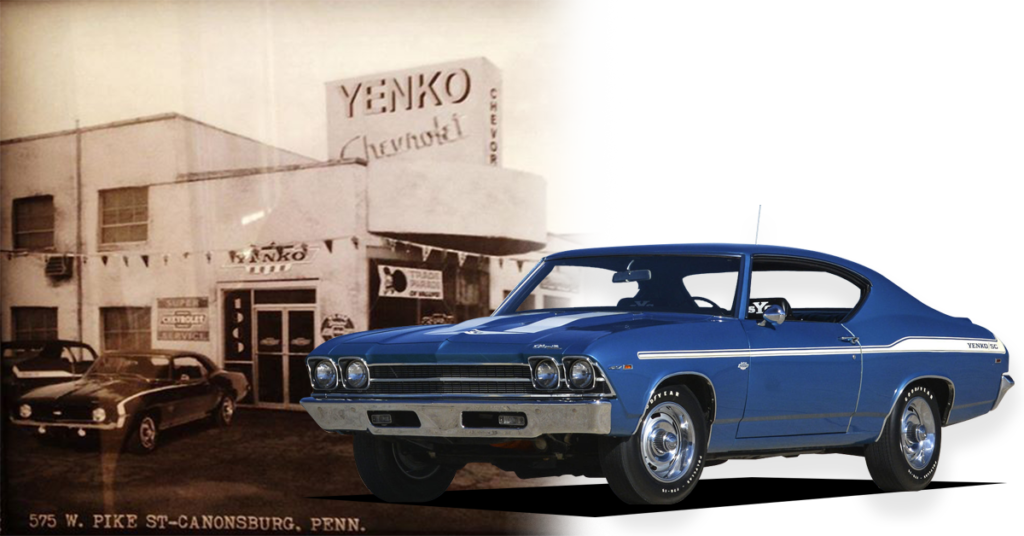 Don Yenko Chevrolet - Canonsburg, PA
The most famous of the Chevrolet Super Car shops are likely Don Yenko Chevrolet of Canonsburg, Pennsylvania. Don Yenko had partnered with Dick Harrell and Bill Thomas to once again bring dealer modified performance to enthusiasts. The two had previously worked with Nickey Chevrolet and Dana Chevrolet respectively on their Super Car programs and applied a similar strategy to Yenko's cars as they had done before. However, Yenko would sell his Super Cars through an entire network of dealerships across the country, rather than through a single location.
Yenko was so successful with his operation that by 1969 he was able to convince Chevrolet to create an option under their COPO program that would allow him to order a Camaro already to his specifications directly. This would save time and improve efficiency for Yenko's mechanics during the preparation of the custom builds.
Word would eventually get out about the COPO code and those that were in the loop could order a similarly spec'ed Camaro to a Yenko Super Car, and several other Chevrolet dealers would begin to offer the COPO packages.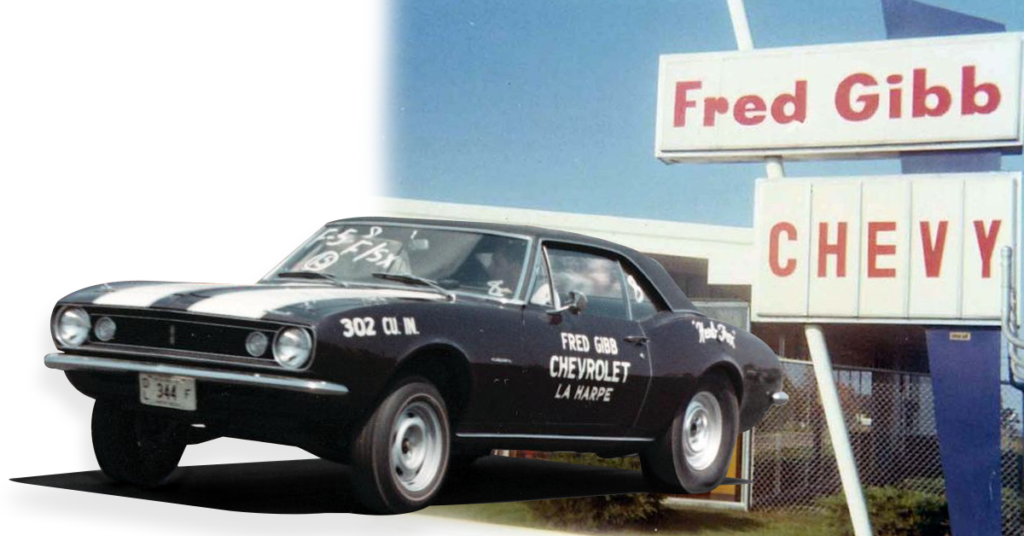 Fred Gibb Chevrolet - La Harpe, IL
Fred Gibb Chevrolet in La Harpe, Illinois was another dealership offering race prep performance Super Car COPO conversions for the Camaro and Chevy II. Once again, a connection with Dick Harrell proved to be instrumental in creating another outlet for these Super Cars. Harrell would race prep several of the Novas and Camaros beyond the COPO specifications, swapping the 396 for a 427 as was the norm. Fred Gibb even convinced Chevrolet themselves to build the 69 1969 COPO Camaro ZL1s with the legendary aluminum 427 big block, which was possibly his largest contribution to this saga.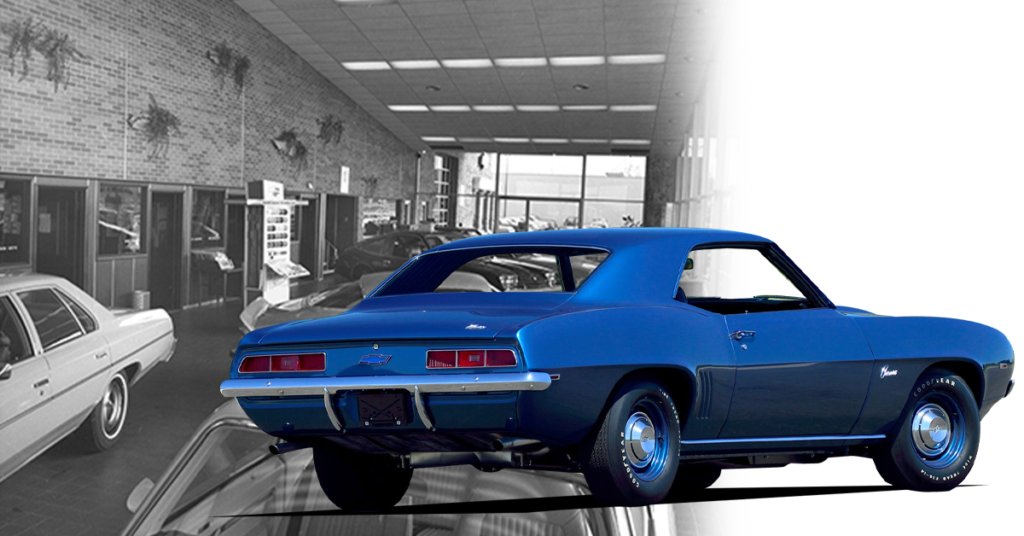 Berger Chevrolet - Grand Rapids, MI
Berger Chevrolet in Grand Rapids, Michigan also used the COPO program to great effect. They sold several of the 1969 COPO Camaro ZL1s with their own unique touches.
The common factor across the many Super Car dealership programs was their connection to racing and motorsport.
These cars all served the purpose of being competitive race-prepped cars that could be used as both street and track cars and were at the cutting edge of performance at the time. Bill Thomas and Dick Harrell were always closely connected to these programs, crafting the recipe for success through their respective work and racing experience.
Their reputations as winning motorsport drivers during the 1960s cemented the desirableness of these custom Super Cars among enthusiasts and racers alike. What customers would receive was much more extensive than any simple option package that could have normally been ordered.
On top of the 427 big block from the Corvette, buyers would typically have a slew of supporting upgrades that transformed these cars into street monsters. Some of the usual upgrades were the addition of traction bars, special suspension components, upgraded transmissions, carburetors, brakes and everything else that one could possibly want to improve from the stock components and be competitive in racing.
Nickey Chevrolet offered three distinct packages for their conversions, which were sold as Stage I, Stage II, & Stage III. Yenko had a similar plan with their Phase I, Phase II, and Phase III packages. Available engine choices were the L72 427 and the high revving L88 427. Meanwhile Baldwin-Motion would offer an SS and a Phase III package. Each dealership gave the big blocks similar treatments, but the rest of the conversions differed in the various accessories, wheels, options, and other bells and whistles that made each Super Car conversion special.
This business model worked up until the muscle car craze basically imploded during the early 1970s. The rising insurance costs, fuel costs, and new emissions standards are just a sample of the hurdles that these Super Cars now faced.
These cars could no longer exist as they once were, and as quickly as they were created unfortunately their time had come.
There were a few limited models that still remained for a short time, but nothing was quite like the cars being offered between 1967-1969. Motion would continue to offer a Chevrolet Vega through 1974, until a lawsuit brought forth by the EPA would put a stop to that.
Nickey Chevrolet also bowed out of Super Cars in 1973, with their last custom being a 1974 Camaro LT that underwent their Stage III 427 conversion just before they went out of business in late 1973. What once was the largest Chevrolet dealership in the Unites States was no more.
The last vehicle that Yenko would offer was the Turbo Z in 1981, which used a turbocharged version of the small block 350. The following year, Don Yenko closed his doors for good and sold off his dealership.
Today some of these powerhouses are still active in the industry, providing performance upgrades for select models. Nickey Performance continues their tradition of the American Supercar on the modern 2010+ Camaros, offering Stage I through III packages based on the formula they pioneered in the late 1960s. Berger Chevrolet still operates as a standard Chevrolet dealership, but also created special edition Berger Camaros for 2000 and 2010 model years.
Modern Chevrolet Super Car Offerings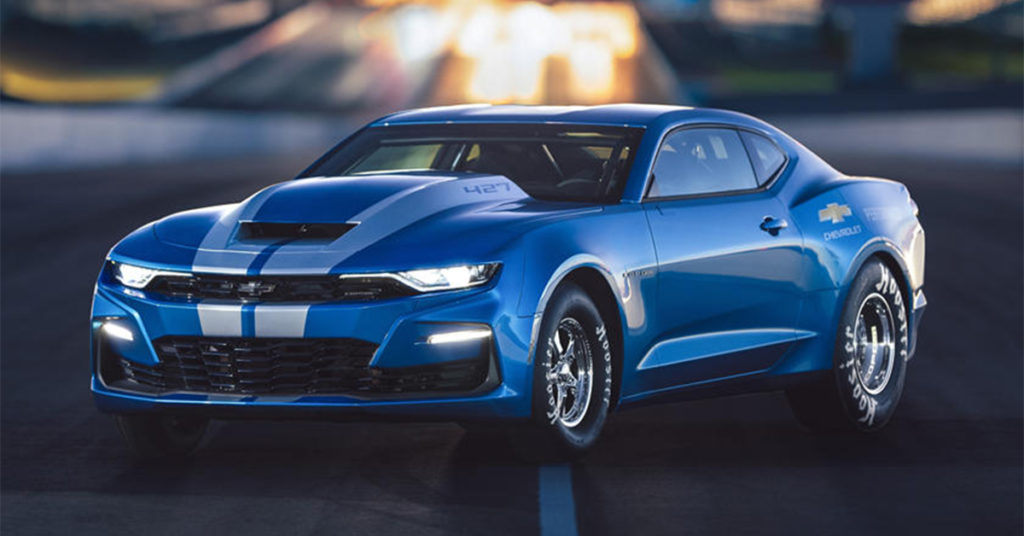 With the reinvigorated modern muscle car market of the late 00s, Chevrolet unveiled a new COPO concept car at the 2011 SEMA automotive trade show.
Starting the following year in 2012, Chevy offered a very limited production of 69 COPO Camaros each year to commemorate the original run of 69 cars in 1969.
The modern COPO Camaro is a dedicated race car geared towards NHRA Stock Eliminator and Super Stock competition and is absolutely not street legal. These Camaros in fact do not even come with a VIN, instead being issued a serial number for documentation. The 2012 COPO Camaro is also the first truly purpose-built racecar that Chevrolet would offer from the factory in its history.
Depending on the buyer's goals, these modern COPOs could be optioned with a number of different engine choices over the yearly limited production runs. These could range from a naturally aspirated 427 V8 based on the LS7, to various supercharged LSX based mills.
Going one step further, Chevrolet also currently offers the Camaro Rolling Chassis (CRC). These are custom, NHRA-certified race cars that the buyer can spec out to their exact race needs. Anything that does not come as part of the CRC package can be picked up directly through GM Performance.
While the definition of a Super Car may have changed over the past 60 or so years, it is undeniable that Chevrolet has kept the spirit of the original dealer conversions alive and well into the 21st century.
Share it with your friends!