Pypes extra punch going down the road!
Pypes Performance Exhaust supplies complete mandrel bent, performance exhaust systems for American performance vehicles ranging from the 1950's to the present day."
One of the principal ways of getting a lot of bang for your performance buck is to replace your car's compression-bent exhaust system with a mandrel bent system.
The simple fact is that a mandrel bent exhaust system will flow twice as efficiently as a compression-bent system and we all know that efficient flow is one of the main ingredients of power.
Our systems and accessories are fabricated using stainless steel materials that will provide their owners with long term service and satisfaction……and, Pypes products are backed by our limited lifetime warranty!
Most of our systems include a custom designed X-Pipe at a considerably lower price than others that include no crossover at all or just a basic balance tube with their systems.
A typical Pypes' "complete system" will include an X-Pipe, a pair of mufflers, a set of tailpipes and all of the clamps and hangers required to install the system.
Pypes also performance matches systems with a choice of their own distinct mufflers to best suit your horsepower and sound requirements, rather than forcing you to buy one type of technology that may not be best for your application.
"We sweat the details! We offer a great price on high-quality stainless steel exhaust systems that are painstakingly designed to deliver great fit, sound and value!"
Ground Up carries Pypes Performance Exhaust products for Chevelle, El Camino, Camaro, Nova, and G-Body cars. From Exhaust Systems, Exhaust Tips, Downpipes, Electronic Cutouts, and more Ground Up has what you need to give your vehicle an extra punch going down the road. Whether it's a restoration build, a mild street machine, or an all-out race car, SS396.com will get you what you need at the best price
---

Camaro

Chevelle

El Camino

Nova

Malibu

Monte Carlo

Buick

Oldsmobile

Pontiac

---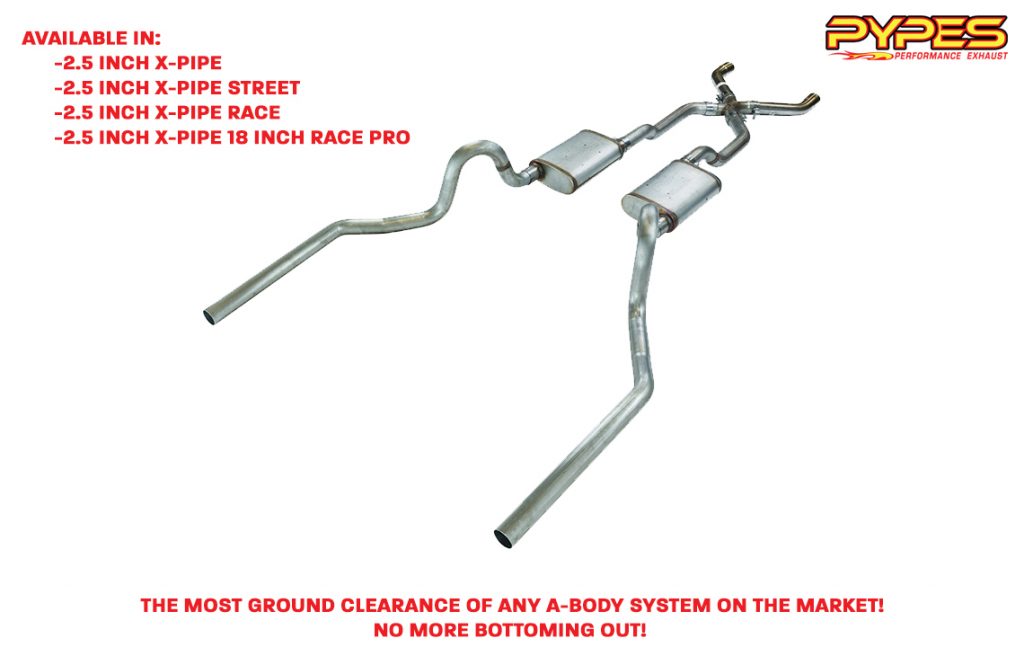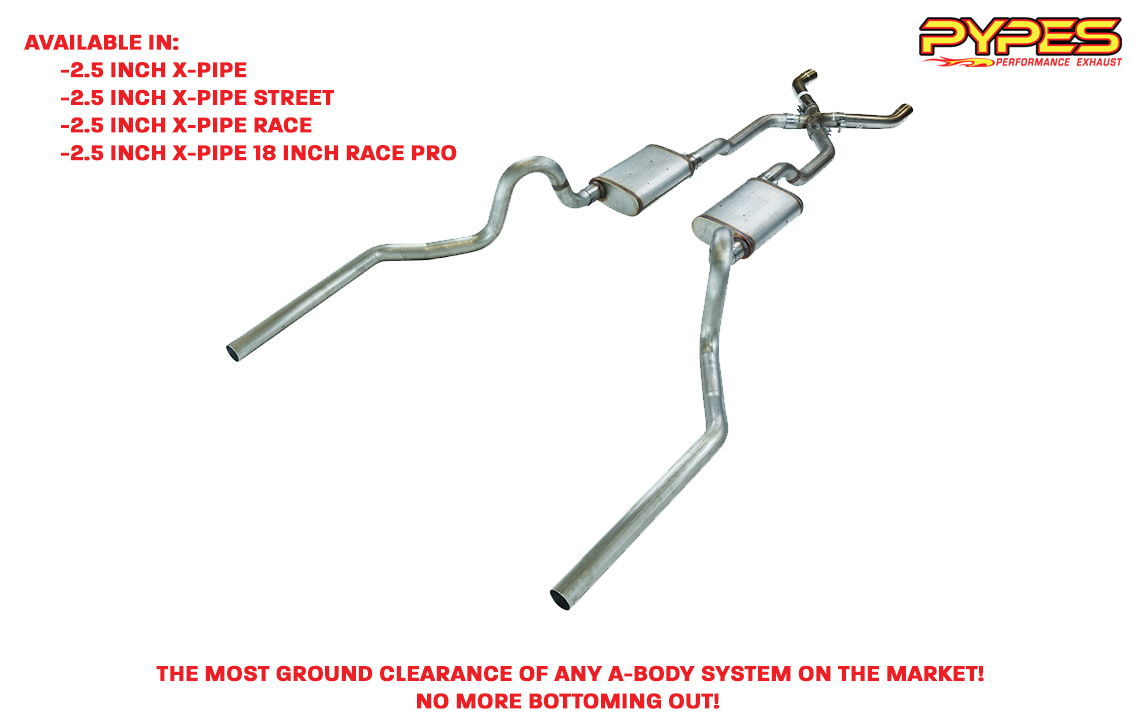 The new Pypes Exhaust "high tuck" GM Chevelle systems allow for the most ground clearance of any Chevelle system on the market.
The x-pipe pushes the mufflers up into their installation "pockets" and the tailpipe sits higher coming out of the muffler. No more bottoming out!
Pypes Exhaust Systems are designed to deliver enhanced performance, provide an extra punch in the passing lane, and improve overall gas mileage. Fabricated using the highest quality materials, 16 gauge, mandrel-bent, stainless steel pipe ensures maximum exhaust gas flow, which can significantly boost horsepower. The stainless construction of our pipes and mufflers enables them to resist corrosion and extends the life of the system.
Our mufflers, X-pipe, OEM style stainless tailpipes, are also stainless constructed and precision matched to deliver the ultimate in sound and performance. Cad plated or stainless clamps, stainless hangers, and polished stainless tips are available and included in most systems. These systems can be installed at home without any special tools. Some cutting may be required.
---