Custom Autosound-Music and a desire to fill a need were Carl's initial motivators.
Custom Autosound Manufacturing, Inc. (CAM) was founded in 1977 by Carl Sprague in a small garage in Fullerton, California. The "need" was the lack of modern car stereos that fit the original radio openings in his and other Corvette classics. From 1963 through 1967 Corvette radios were quite different. Most original radios were AM only with no cassette players or FM tuning available.
During the late 1970s cassette tapes were introduced. At that time Custom Autosound developed a technique to modify AM-FM/cassette players. They fit into the original radio openings of these classic Corvettes. Carl used his own 1963 Corvette coupe to prototype his initial offerings.
The initial concept of fitting modern radios into the current classic vehicle was readily expanded into the car/year group applications-1955-1957 Chevy and 1964-1973 Mustangs among them. This expansion of product lines involved many hours of research and development. Part of the process involved locating the various classic vehicles. Acquiring the original dashboards, and developing a minimum of two speakers required for stereo effect.
Since most vehicles from the 1940s to 1980s were originally equipped with a single front speaker, CAM developed a dual front speaker assembly. That fit that area without modification to the vehicle. This was accomplished for all vehicle applications offered, providing a complete "modern" audio system for their customers.
The mid-1980s brought considerable growth for CAM. They proceeded to design and manufacture their "own brand" of radios and speakers. CAM's designs and specification from the factories allowed for more classic design. Like (i.e. chrome radios) and better quality components than offered in current "off the shelf" units available from local wholesalers.
With the advent of compact disc systems during the 1990s, CAM developed several radios that actually controlled remote CD players and still fit the original radio openings.
Since 1977, Custom Autosound Mfg. remains the originator and innovator of audio products for classic cars, trucks and streetrods. Many competitors and imitators have followed in our footsteps with similar products. But only Custom Autosound offers over 400 different radio applications for the year, make and model of your vintage vehicle, ready to install. Everything you need in one box and nothing to assemble. In addition to the custom radios, we offer a multitude of upgrade/custom fit speakers and kick panel speakers. Custom Autosound Mfg. is a regular exhibitor at SEMA and is licensed by Ford and GM to use their trademarks and logos.
---

Camaro

Chevelle

El Camino

Nova

Malibu

Monte Carlo

Buick

Oldsmobile

Pontiac

---


Custom AutoSound USA-230 in-dash radio
Custom Autosound's USA-230 is an excellent choice for classic car or truck enthusiasts looking for a more affordable radio without sacrificing quality electronics and a classic stereo look. It has been designed to fit in the stock dash without any modifications required. The USA-230 has the same appearance and all of the features offered in our USA-630 model simply without USB port, iPod dock and CD changer control. The USA-230 does provide an auxiliary input which can connect to iPods, iPhones, satellite radio tuners or any other device with a headphone jack. It also boasts 4 Channel RCA pre-outs and a digital display with electronic tuner, 16 station pre-sets and a 4-way fader.
---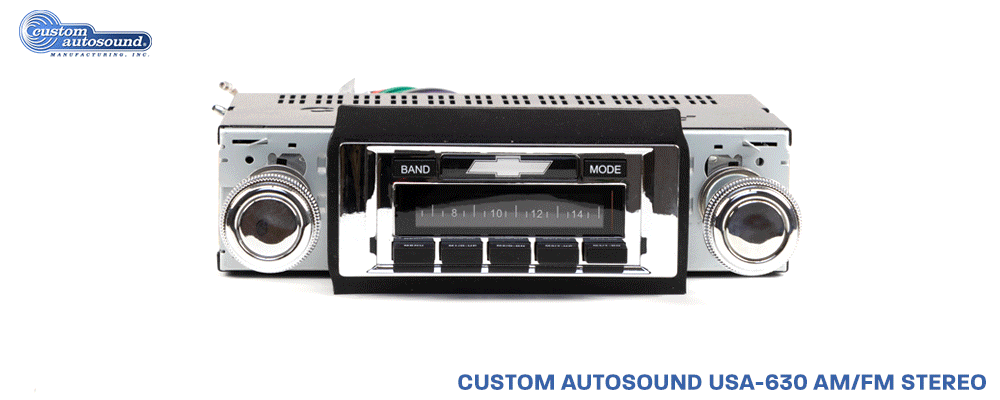 Custom AutoSound USA-630 in-dash radio
Custom Autosound's USA-630 is designed to provide the best in audio technology wrapped in a classic car stereo look. It will fit your car or truck's stock dash without any modifications required. Designed with a bezel containing your car's manufacturer logo as well as large OEM style push-buttons to compliment your dash. When it comes to electronics the USA-630 boasts modern features like a USB input for flash drives to playback MP3/WMA song files and a dock for your iPod. When connected to these devices the radio's digital display will show artist, song, album titles and allow song navigation through the radio itself.
The USA-630 is compatible with our optional BLUKIT which enables bluetooth music streaming from your enabled phone as well as hands-free mobile calling through the vehicle's speakers & BLUKIT's built-in microphone. With 300 watts peak the radio provides plenty of power but additionally contains four RCA pre-outs for optional amplifiers. It also comes with Auxiliary inputs for satellite radio tuners, iPhones or any portable player you may wish to use.
---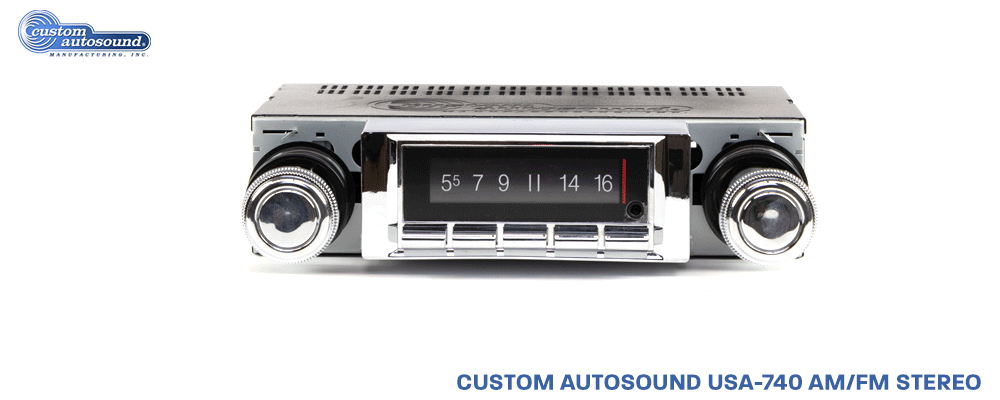 Custom AutoSound USA-740 in-dash radio
The USA-740 offers the same classic look that Custom Autosound has always been known for with today's latest features. Now, with built-in Bluetooth (microphone included), answer calls and get Bluetooth streaming music from your Bluetooth capable phone or Bluetooth compatible device. A solid 300-watt peak power should be all the juice you need. Yet the USA-740 has Hi 4volt, 4channel RCA Pre-outs and a Subwoofer RCA pre-out for additional amplifiers. The USB input allows you to plug in a USB flash drive (thumb drive) for playback of MP3/WMA/FLAC/WAV song files.
A front mini jack auxiliary audio input and a rear RCA auxiliary audio input provide versatility for options like satellite radio, I-pod or any portable player you wish to use. Match the dominant color of your instrument cluster with user selectable multiple LCD color choices with LCD dimmer control. The AM/FM RDS tuner shows station, song and artist on the LCD display. For those of us committed to music collections on compact disc, the USA-740 fully controls our optional CD-1 CD player. Classic style with today's sound and performance taking every road and curve with you in your vintage vehicle.
---