UMI Performance: A-body Applications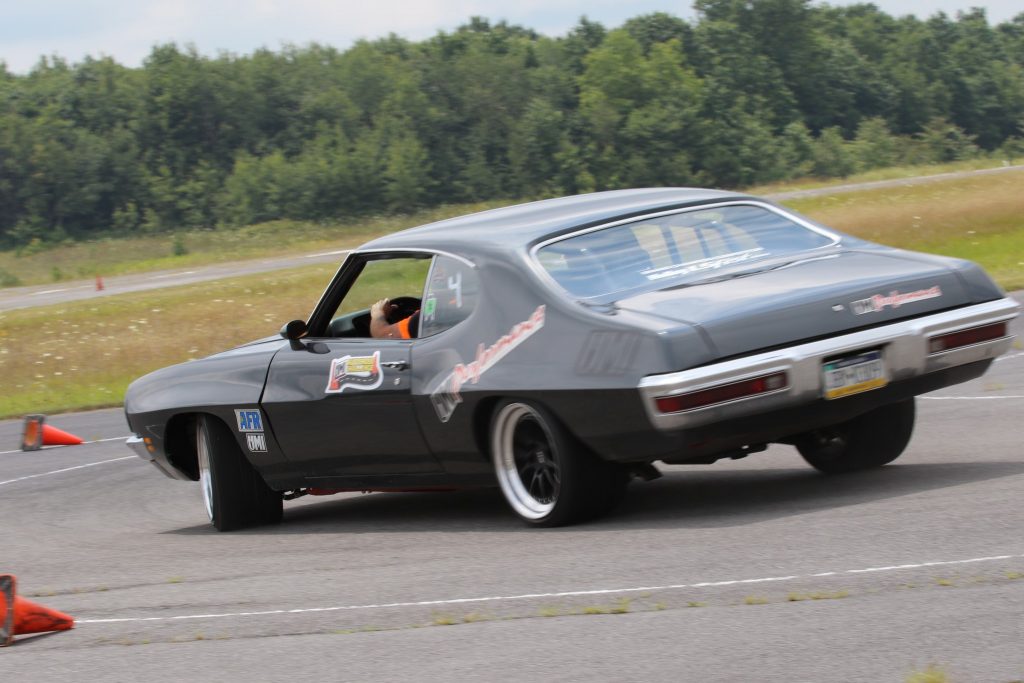 In the realm of Pro Touring, a single chassis reigns supreme. The heavy hitting F-bodies dominate the aftermarket with a massive catalogue of available parts. Their popularity however, comes at a price. Quick on their heals (both figuratively and literally) is the GM A-body series. The A-body offers numerous advantages such as it affordability, availability, and aftermarket support nearly as impressive as that of the F-body. Mid-size classics like the 1964-72; Malibu, Lemans, and El Camino, make the A-body chassis a fantastic choice for Pro Touring enthusiasts.
UMI Performance understand the attraction of the A-body and has undertaken a massive amount of research, development, and hot-rodding to optimize its potential. Their engineering team has designed and produced some incredible suspension components, capable of taking any A-body to the next level.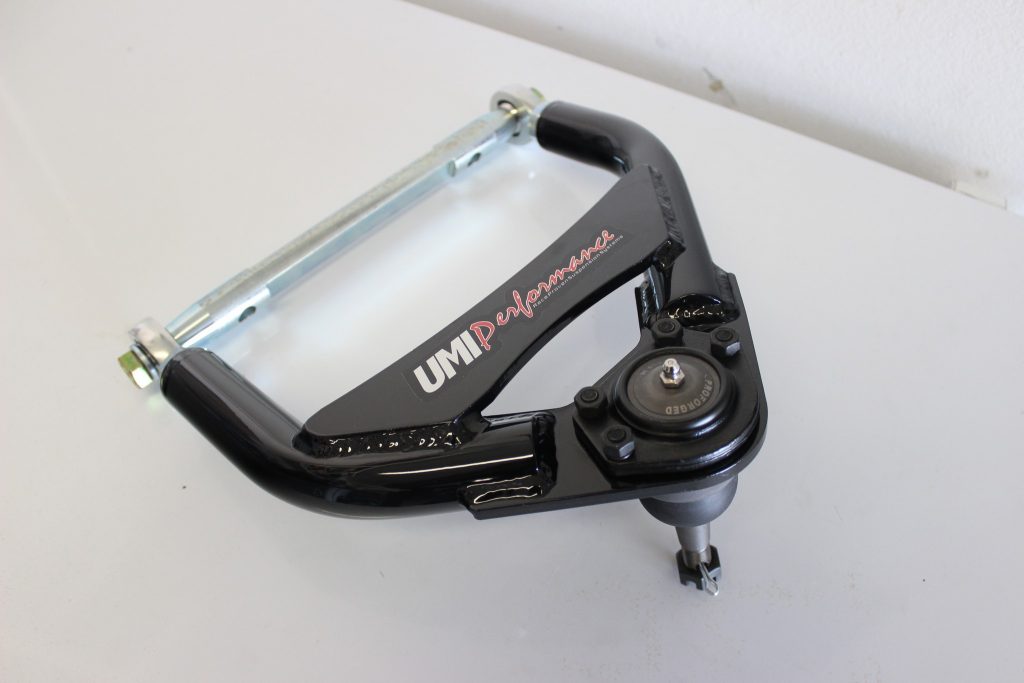 Foundational to the success of this engineering endeavor, was first establishing some of the chassis' shortcomings:
The first issue with the A-body is a less-than-optimal suspension geometry that lends itself to poor camber gain. Camber denotes the vertical alignment of the vehicles wheels, perpendicular to the chassis. A few well placed degrees of camber can aid in racing application, with keeping a larger contact area of rubber on the track. Due to the shorter OEM spindles the A-body was designed with however, achieving this can be difficult.
Secondly, the A-body's suspension, while perfectly at home on the freeway or even drag strip, is like a fish out of water on a road course. The extremely soft springs and weak shocks that the chassis was originally equipped with, make for a boat-like driving experience. While quite comfortable, the springs and shocks have no place on the modern track.
Thirdly, the A-body rear end uses what's known as a covering four-link suspension configuration. The gist of the design is that two lower arms run parallel to the chassis orientation, while the upper arms are mounted at a 45-degree angle between the axle and chassis. This design helps to center the rear-end but allows for excessive binding and play in the OEM rubber bushings.
The final primary issue with A-body's application on the road course, is its original tire equipment. Bias ply tires, rather than modern radials, allow for massive amounts of roll, offering a very weak sidewall. They simply do not hold up to quick cornering and cannot take the additional caster required in the alignment.
Having recognized these fundamental flaws, the engineering department of UMI devised a list of concise solutions to address each one of them:
In order to correct the suspension's geometry, a taller ball joint and taller spindle ought to be installed. These congruent components make a dramatic difference in corner stability, by pulling in the top of the tire and increasing its contact pad. Opting for tall ball joints can make a significant difference, even when combined with other OEM suspension parts.
Solving the overly soft springs and shocks of the the original A-body design is strait-forward solution, replace them. With modern technology and production, much higher-rebounding shocks and stiffer springs can be utilized, without sacrificing ride quality. With a properly sorted spring rate, the A-body can retain is pleasure cruise mode, while tearing through corners at a much quick pace.
In order to address the non-efficiency of the A-body's converging four-link, UMI determined that Roto-joints and stouter control arms offer an effective, yet reasonably priced solution. Adding stronger control arms reduces the amount of flex in the rear end. Roto-joints allow for universal articulation, effectively eliminating binding. The Roto-joints replace the bushings of the rear upper control arms.
In most applications, a new set of rubber can offer the most noticeable improvement to a car's handling and driving experience. Radial tires make for a night and-day-difference to the A-body handling, allowing the sidewall and tread to operate independently from one another. Radials will allow for additional castor in the alignment and provide stability through the corners.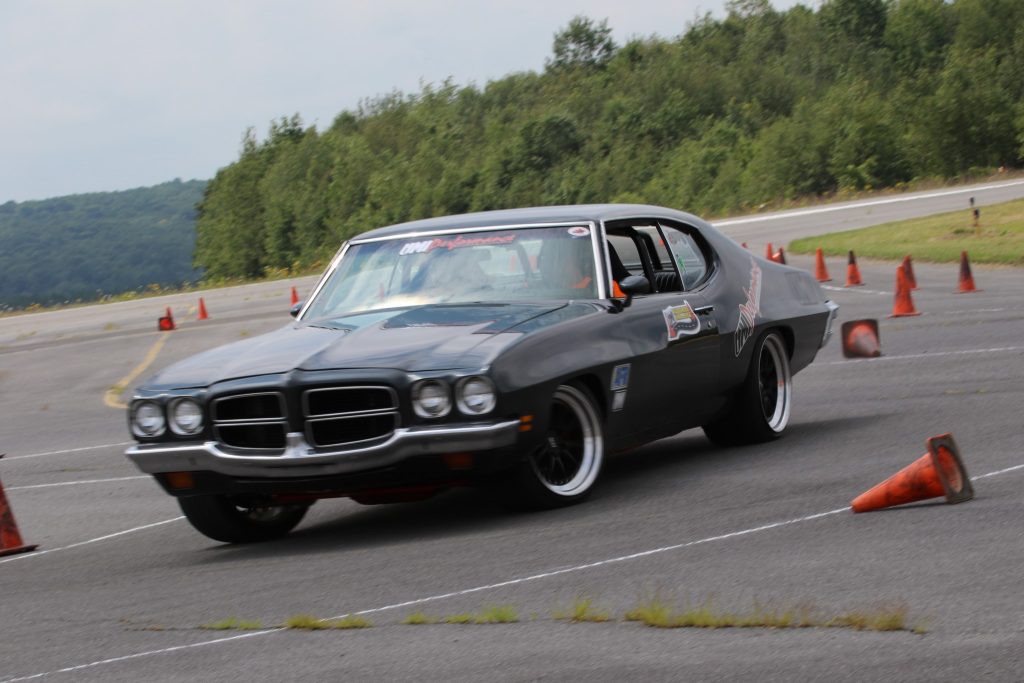 With both the problems and their respective solutions identified, UMI provides and wide array of adorable and durable solutions. Recognizing the diversity of applications and budgets, Umi's catalog include components for each and every level of performance. Whether you are building a weekend warrior, canyon-cruising daily driver, or dedicated race car, UMI provides the necessary parts. Their list of A-body suspension solutions are built to bolt on. Their multiple stage packages allow for additional sorting and tuning, after the difficult engineering has been done with excellence.
The UMI Performance Stage-2 Suspension Package is meant to be a direct application for the perfect blend of track-ready and daily-drivability. It requires no additional tuning and includes:
Tubular upper and lower a-arms
Tubular upper and lower rear control arms
Tubular frame brace
1 1/4″ front sway bar
1″ Solid rear sway bar
UMI monotube shocks
Linear rate 2″ lowering springs
Replacement rear end housing bushings
Front upper & lower Grade 8 hardware kit, rear control arm Grade 8 hardware kit.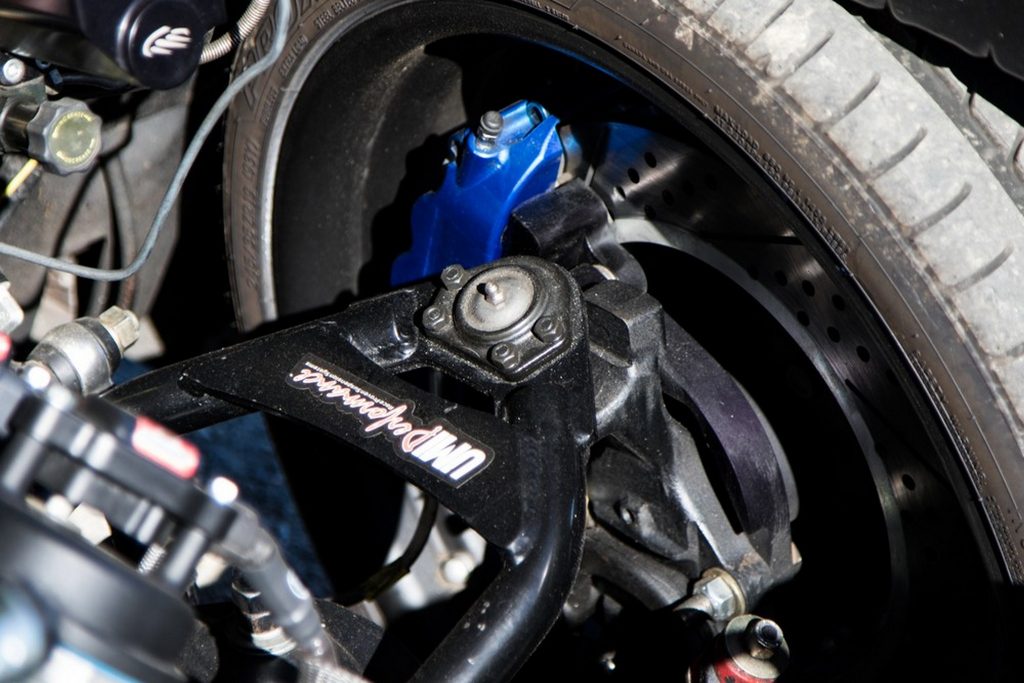 The Stage 2 kit represent's UMI's most base-level kit. With factory lengths and fixed-positioning, its comprised of direct-replacement parts built to a much stronger degree. The added strength and durability makes for an overall more enjoyable driving experience. Despite is represent the base-level, the Stage 2 kit is a massive upgrade in performance handling and racing applications.
On the other end of UMI's spectrum of parts, the Stage 5 package is a fully-adjustable, race grade kit. The Stage 5 package transforms the A-body into a track-weapon, capable of dancing through high speed straits and corners. The adjustability allows for the specific tuning to suit your projects choice of power-plant, wheel/tires, brakes, and other key factors in the suspension settings.
The Stage 5 kit is arable in two primary configurations, Drag Racing and Pro Touring. The kit includes:
Tubular lower front a-arms
Tubular adjustable front upper front a-arms
Tubular rear lower control arms with dual Roto-Joints
Adjustable rear upper control arms with Roto-Joints
1 1/4" Front sway bar with bushings and end links
1″ tubular rear Pro-Tour bar
Tubular frame braces
Rear lowering springs, choice of 1" or 2" rear drop
Set of 4 double adjustable Viking shocks, front coil over shocks
Front coil over springs (choice of spring rate)
Roto-Joint axle housing bushings
Grade 8 hardware with nylock nuts to install kit
While the Stage 5 package represents track-dedicated suspension, its perfectly at home on the road. An A-body equipped with UMI's Stage 5 kit can be daily driven for ear-to-ear smiles per gallon. The supporting comports include delrin bushings and tall ball joints to solve the front camber issues. The front shocks/springs allow for full adjustment in ride-height and dampening, as well as compression and rebound. The rear trailing arms include the previously mentioned Roto-joints and adjustable upper and rear control arms. These features are crucial to set the pinion angle and lateral location for the rear end. The rear also gets adjustable dampening shocks.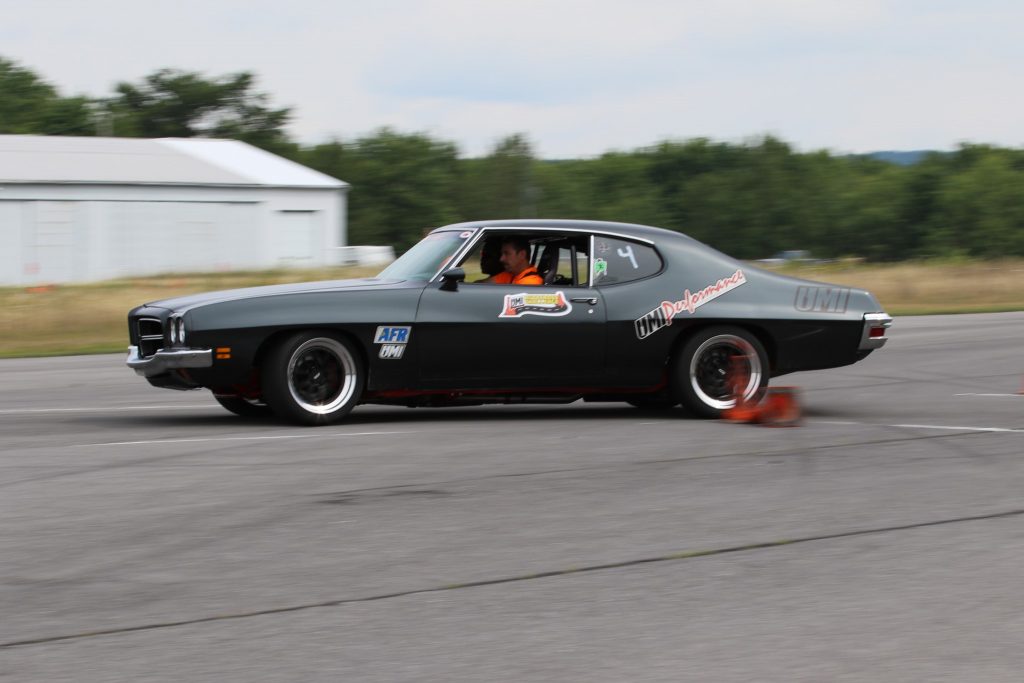 The primary change induced by UMI Performance upgrades is in drivability. For Sunday afternoon cuises, pro-am racing, and everything in between, a properly engineered suspension can make all the difference in the world. Essentially, UMI offers modern "sport mode" technology to beautiful classics like the A-body. The combined affordability and improvement simply cannot be matched.