1985 Camaro Specifications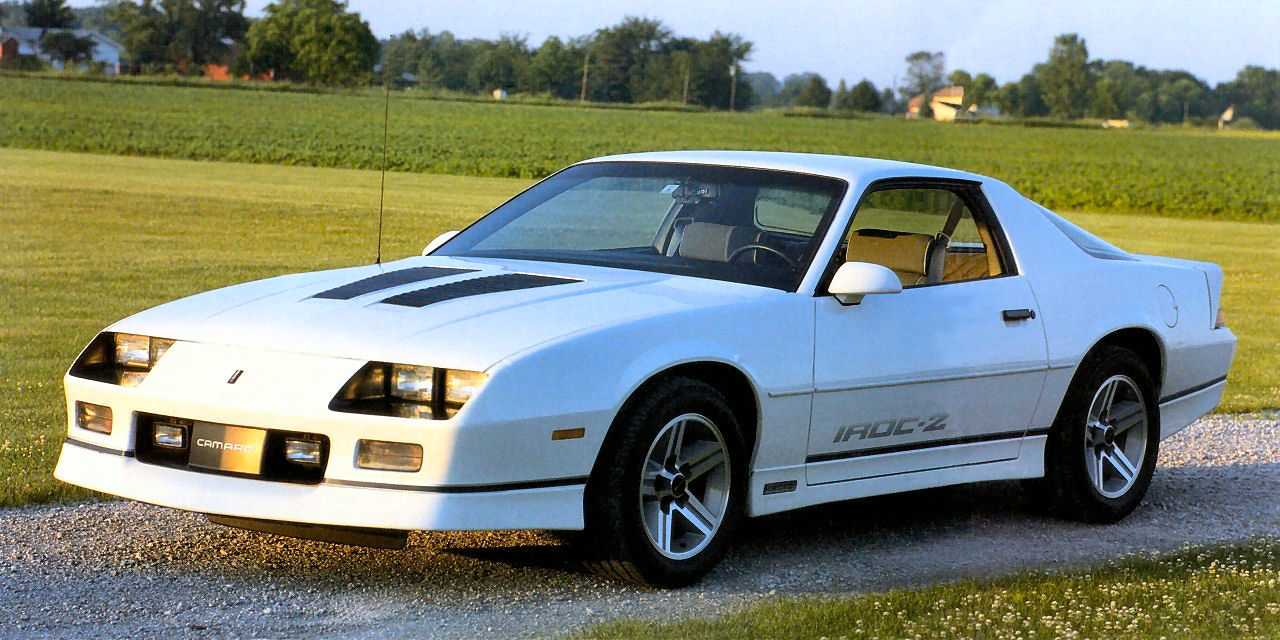 The mid-80s were big for the Camaro, especially 1985. This marked the year that the IROC-Z was introduced.
Named after the International Race of Champions, the IROC-Z stormed onto the market as an upgrade available only on the Z28, which consisted of an upgraded suspension system, special Delco-Bilstein shocks, larger swaybars, a special steering/frame "wonder bar" brace, a lowered ride height, new off-set (front to back) 16×8-inch 5-spoke aluminum wheels, BF Goodrich "Gatorback" unidirectional tires of the 245/50/R16 variety (also used on the Corvette in a 255/50/R16 configuration), and of course, a special decal package.
Adding insult to injury, Chevy also offered the IROC-Z with three engine options: the 305ci LB9 V8, rated for 215hp; the 305ci LG4 V8, rated for 155hp; and the 305ci L69 High Output V8, rated for 190hp. Less than 2,500 IROC-Z models were made with the High Output engine.
With the more powerful LB9 V8, consumers could only have a TH700-R4 automatic transmission. However, a small handful of these models (roughly 200) were manufactured with the G92 Performance Axle Ratio option, which gave the IROC an upgraded 3.42:1 rear end gear ratio compared to the standard 3.23:1.
In addition to the regular IROC-Z, Chevy also manufactured a special IROC model to be sold in California called the RPO California IROC-Z. Essentially it was the same car as the regular IROC-Z but came only with the 305ci LB9 V8 engine and their exterior was void of exterior decals, a rear spoiler and hood louvers (the California cars had base Camaro hoods and rear decklids). Only 500 of these cars were produced, 100 in black and 400 in red.
While the IROC-Z was getting all the press, the other Camaro models got a facelift, with a revised nose section, deeper valences and a new front spoiler for the Z28 model.
---
1985 Camaro Ads
---
1985 Camaro Model Options:
Sub-Models: (all 2-door models)
Sport Coupe
Berlinetta
Z28
IROC-Z
RPO California IROC-Z
Engine Options:
151ci LQ9 4-cylinder (Sport Coupe Base)
173ci LB8 V6 (Berlinetta Base, Sport Coupe Optional)
305ci LG4 V8 145hp (Carbureted; Z28 Base, Sport Coupe and Berlinetta Optional)
305ci L69 V8 190hp (Fuel Injected; Z28 Optional starting in April 1983)
305ci LB9 Tune Port Injection V8 215hp (available only with the TH700-R4 automatic transmission on IROC-Z models)
Transmission Options:
Borg-Warner 5-speed manual
TH700-R4 4-speed automatic with overdrive