1983 Camaro Specifications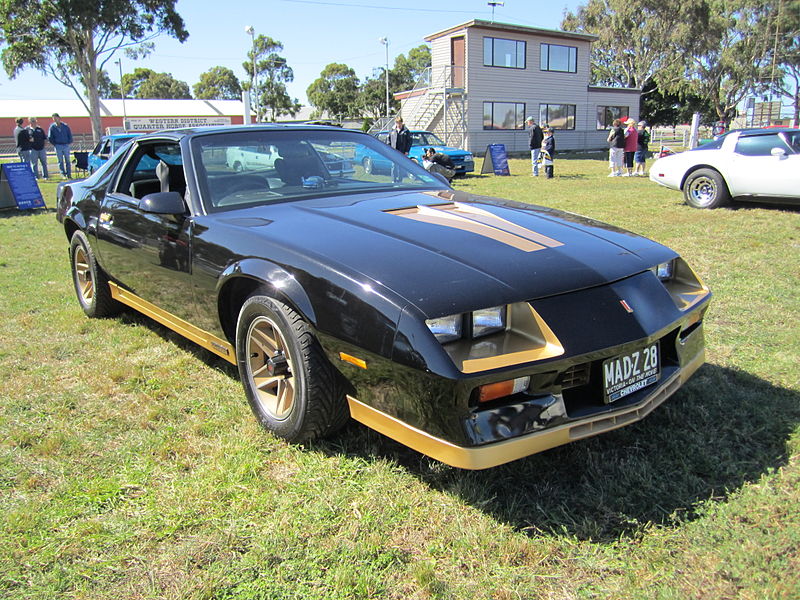 Base Camaro Sport Coupes and Berlinetta models saw little change for the 1983 model year, aside from some new transmission options, including a new Borg-Warner 5-speed (replaced the 4-speed) and a TH700-R4 automatic with overdrive was also introduced.
The Z28, on the other hand, saw an engine change when the 305ci LU5 Cross Fire Injection V8 was discontinued in April of 1983 and the new 305ci L69 High Output, capable of producing 190hp, was introduced. A new TH700-R4 4-speed automatic transmission with overdrive replaced the Z28's previous 3-speed. The TH700-R4 was not available on L69-equipped Z28 models but could be had on the base Z28 model.
---
Original 1983 Camaro OEM Brochure
---
1983 Chevrolet Camaro Model Options
Sub-Models: (all 2-door models)
Sport Coupe
Berlinetta
Z28
Engine Options:
151ci LQ9 4-cylinder (Sport Coupe Base)
173ci LC1 V6 (Berlinetta Base, Sport Coupe Optional)
305ci LG4 V8 145hp (Carbureted; Z28 Base, Sport Coupe and Berlinetta Optional)
305ci LU5 V8 165hp (Fuel Injected; Z28 Optional)
305ci L69 V8 190hp (Fuel Injected; Z28 Optional starting in April 1983)
Transmission Options:
Borg-Warner 5-speed manual
TH700-R4 4-speed automatic with overdrive