1981 Buick VINS, Production Numbers, Fact and Figures
Trying to decode your 1981 Buick VIN to find out where it was made, or exactly what model it is? Keep reading as we have all the information below to help you out! 
Do you know how many 1981 Buicks were produced? The answer might shock you and we have all that below. 
Take a walk down memory lane and check out the full sales brochure for 1981 Buicks!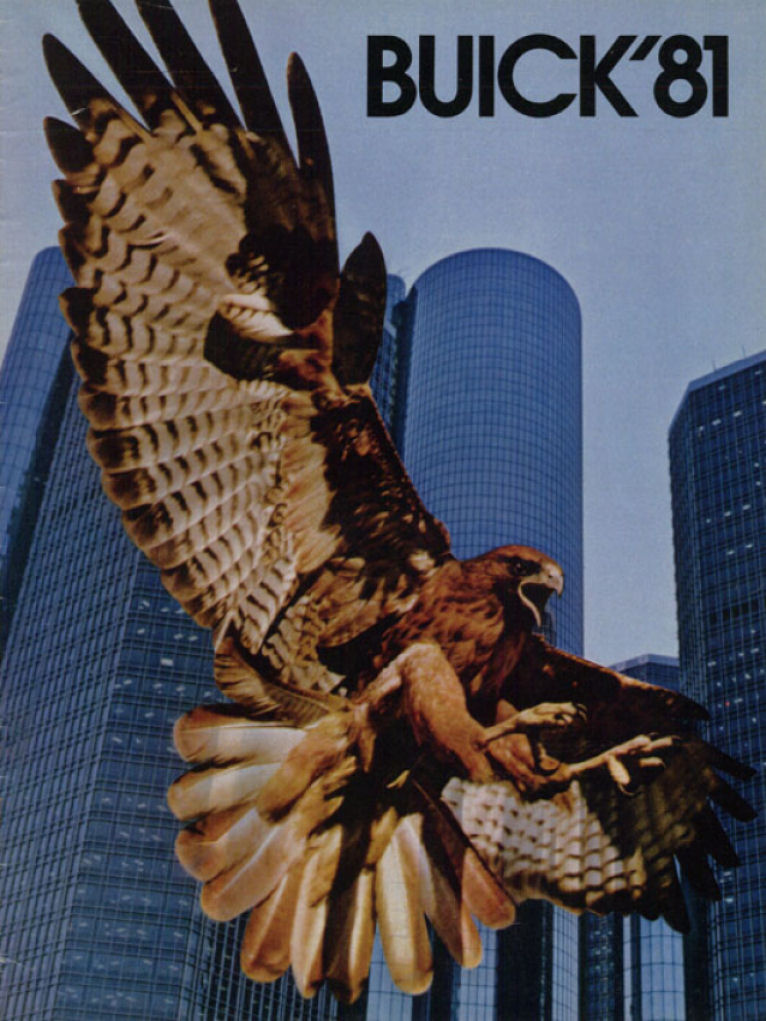 Vehicle Identification Number – VIN

The Buick VIN number for 1981 had 17 Characters.

1st = country code Number "1" is for USA.
2nd = Company code, "G" is for GM
3rd = What division of GM, "4" is for Buick.
4th Restraint system
5th = Tell what TYPE of car it is (Skylark, Century, Riviera, ect..)
C – Skylark Custom
H – Century Custom
J – Regal
K – Regal T-Type
L – Century
G – Century T-Type
M – Regal
P – LeSabre Custom
R – LeSabre
S – Skyhawk
E – Skyhawk T-Type
X – Electra
W – Electra Park Ave
F – Electra T-Type
V – Electra Estate Wagon
Y – Riviera T-Type
Z – Riviera
6th and 7th = Tells Body Style
11 – Electra 2dr sedan
19 – Electra 4dr
27 – 2dr coupe
35 – 4dr wagon
37 – LeSabre 2dr coupe
47 – Regal 2dr
57 – Riviera 2dr coupe
67 – 2dr Convertable
8th = Engine Code
5 – 151ci L4
X – 173ci V6 2bl carb
A – 231ci v6 2bl Carb
3 – 231ci V6 2bl carb SFI
B – 231ci v6
3 – 231 ci turbo
4 – 252ci V6 4bl carb
S – 265 v6 2bl Crab
Y – 307ci V8 4bl carb
N – Diesel 350ci V8
9th = check digit
10th = tell what year it is "B" = 1981
11th = What Plant the car was Produced
H – Flint MI
6 – Oklahoma City OK
G – Framingham MA
Z – Fremont CA
K – Leeds MO
X – Fairfax KS
E – Linden NJ
W – Willow Run MI
12th – 17th = Production Sequence numbers
1981 Buick Production Numbers
Total Buicks produced in 1981: 856,996
(Note: Not all models listed below)
Buick Century: 144,267
Buick Electra's: 75,917
Buick LeSabre: 82,877
Buick Regal: 240,200
Buick Riviera: 52,007
Buick Skylark: 30,080
1981 Buick Riviera
1981 Buick Electra
1981 Buick LeSabre
1981 Buick Regal
1981 Buick Century
1981 Buick Skylark
1981 Buick Century Wagon
1981 Buick Lesabre Wagon
1981 Buick Electra Wagon
1981 Buick Models and Colors
1981 Buick Exterior Colors
Available on Riviera Models Only
Available on Skylark Models Only
1981 Buick Vinyl Top Colors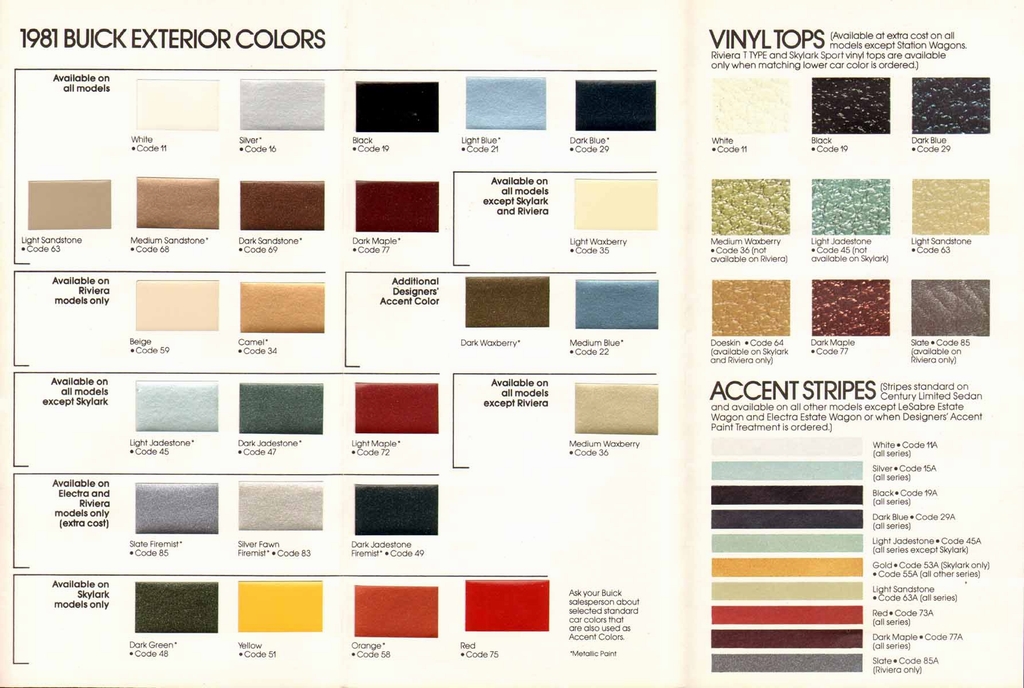 1981 Buick Sales Brochure