1977 Chevelle Malibu Specifications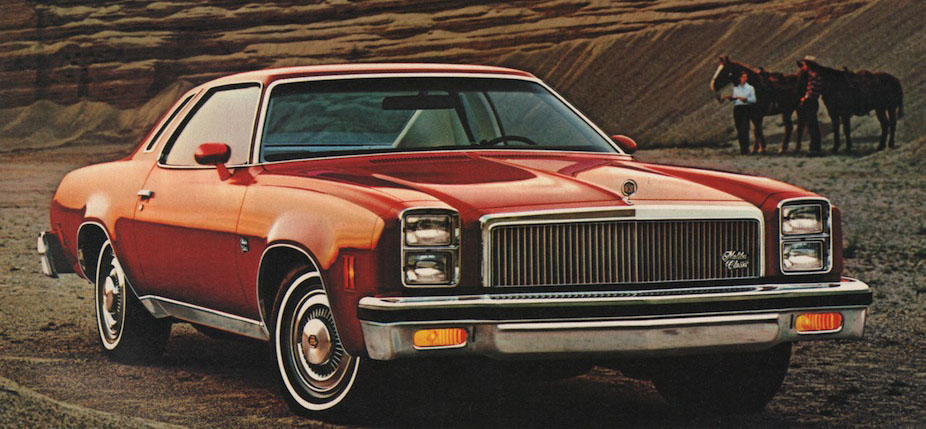 Image: Wikipedia
The 1977 Chevrolet Chevelle and Malibu series was billed as "America's smart money car," in reference to their friendly prices and big-on-the inside, small-on-the-outside dimensions.
The 1977 Chevrolet Chevelle and Malibu series wore new grilles but had fewer engine selections, though the engines that remained gained a few horses. The lineup consisted of Malibu and Malibu Classic models in coupe, sedan, and station wagon body styles. Estate Wagons and the Laguna Type S-3 were no longer available by Chevrolet.
1977 Chevelles had a 250-cubic-inch six-cylinder engine or a 145-horsepower, 305-cubic-inch V8. The sole option beyond that was a 170-horsepower, four-barrel 350-cubic-inch V8 (this engine was standard in the Malibu Classic station wagon). The 400-cubic-inch V8s were also discontinued by Chevy.
Malibu Classics switched to a vertical grille pattern and six-section taillights but kept their twin stacked headlights and stand-up hood ornament. Regular Malibu grilles changed very slightly from the previous year. Classics had a luxurious cloth/vinyl split-bench front seat, color-keyed steering wheel, and woodgrain-accented instrument panel!
Some '77 Malibu options included a $46 Exterior Decor group, $54 tinted glass, and $33 full wheel covers. A total of 37,215 Malibu Classic Landau coupes were produced, as opposed to 73,739 regular Classic coupes and 28,793 base coupes.
---
1977 Chevelle Malibu OEM Brochure
---
Model Options:
1977 Chevelle Malibu Information

Body Styles:
2-Door Coupe
4-Door Sedan
5-Door Station Wagon

Engine Options:
250ci L6 110 hp (base 1 bbl carb)
305ci V8 145 hp (base 2 bbl carb)
350ci V8 170 hp (optional 4 bbl carb)
Disclaimer
*The numbers have been compiled from many sources to make these pages as correct as possible. There is no guarantee that the numbers are complete or accurate, therefore, we cannot accept any liability or responsibility for damages incurred from the use of this information.

Additional 1977 Chevelle Malibu Links:
Customer Cars
1976 Chevelle Malibu


Shop For 197 Chevelle Parts


Request Chevelle Catalog


1977 Chevelle Resources

Share this information with your friends!
Share on facebook
Facebook
Share on twitter
Twitter
Share on email
Email