1976 Chevelle Malibu Specification
Image: Car Domain
For 1976 the Chevelle continued to see changes slightly in body configuration. The Malibu remained the lowest level sub-model and was available in three body styles.
Available engines for the Malibu in 1976 included the 250ci base L6 engine, new 305ci base V8 engine, the now optional 350ci V8 engine and the same 400ci V8 engine from the previous year. Though the coupe and sedan models maintained 250ci base L6 engines and gained the new 305ci base V8, wagons were only optioned with 350ci V8s or 400ci V8s.
---
1976 Chevrolet Chevelle Malibu OEM Brochure
---
Model Options:
1976 Malibu Information
Body Styles


2-Door Coupe
4-Door Sedan
5-Door Station Wagon
Engine Options


250ci L6 105hp (base)
305ci V8 140hp (base)
350ci V8 145hp (optional)
400ci V8 175hp (optional)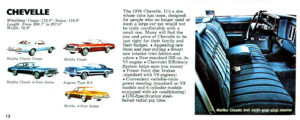 Disclaimer
*The numbers have been compiled from many sources to make these pages as correct as possible. There is no guarantee that the numbers are complete or accurate, therefore, we cannot accept any liability or responsibility for damages incurred from the use of this information.
Additional 1976 Chevelle Malibu Links:
Share this information with your friends!