1975 Chevelle Malibu Specifications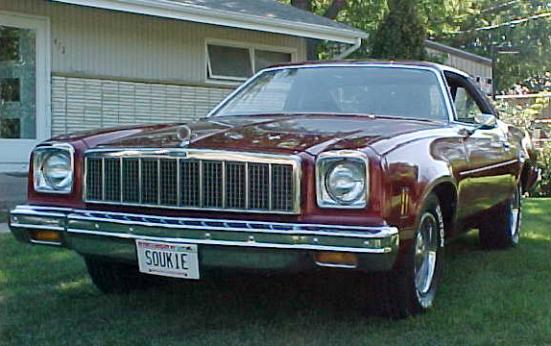 Image: American Dream Cars
The 1975 Chevrolet Chevelle was almost entirely marketed under the Malibu badge to take advantage of the popular nameplate. The body style of the Chevelle changed ever so slightly with fresh front and rear styling. A vertical grid-patterned grille and new trim around the headlamps were highlights of the front end for 1975. The rear end featured rectangular taillights which sat flush with the body surface and connected by a brushed chrome panel. Some other notable changes from Chevrolet included a new "Chevrolet Efficiency System" which was supposed to make their cars run more economically. Also Speedometers were now calibrated in both miles per hour and kilometers per hour.
1975 Chevelle coupes had distinctive opera windows. Brochures said their interiors were "comfortable, but not opulent…stylish, but not gaudy," with instrument panels decorated in simulated wood. Landau trim coupes came with a vinyl roof, full wheel covers, whitewall tires, color-keyed body striping, and dual sport mirrors. The sporty Laguna Type S-3 left the lineup briefly, then reappeared in January 1975. This time, it wore a rakishly slanted, urethane-covered aero-style nose and louvered opera windows, and could be ordered with a vinyl half-roof. An available Econominder package included a fuel economy gauge for the Laguna Type S-3.
Coupes, sedans, and station wagons were still available in the base model with three available engine options– the 250ci V6 base, 350ci V8 base, and 400ci V8 optional. Wagons were only available with two engine options– the 350ci base V8 or the optional 400ci V8. All 1975 Chevrolet Chevelle Malibu models rode steel-belted radial tires.
---
1975 Chevelle OEM Brochure
---
Model Options:
Body Styles
2-door Coupe
4-door Sedan
5-door Station Wagon
Engine Options
250ci V6 105hp (base)
350ci V8 145hp (base)
400ci V8 175hp (optional)
Trim Models
Malibu Coupe
Malibu Sedan
Malibu Classic Coupe
Malibu Classic Sedan
Malibu Classic Landau Coupe
Laguna Type S-3 Coupe
---
1975 Chevrolet Chevelle Malibu Models, Prices, Production
---
1975 Chevrolet Chevelle Malibu Classic Models, Prices, Production
---
1975 Chevrolet Chevelle Laguna Type S-3 Models, Prices, Production
---
Additional 1975 Chevelle Links: