1973 Nova Specifications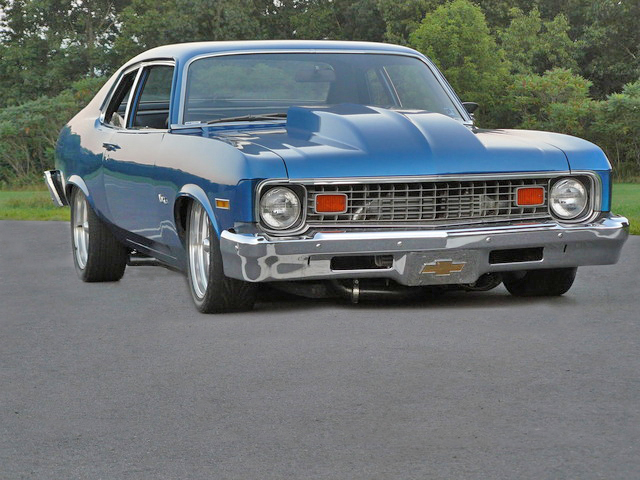 In 1973 Chevrolet once again reworked the Nova to introduce a hatchback body style and restyled the front and rear end.
Due to new government mandates Chevrolet had to redesign the front and rear bumpers to increase the size and strength. This was in order to comply with new automotive safety standards. A new grille with crosshatch inserts and parking lights located inside of the headlights were also added. Every Nova in 1973 also received side guard door beams, additional sound insulation, and better flow-through ventilation.
The Super Sport option still remained available but was mainly a visual package. It featured a blacked out grille, rally wheels, and could be ordered with any of the available engines. By 1973 the 307 and 350 were the most common of engine options available for the Chevy Nova.
---
Images provided by My Classic Garage
---
1973 Nova Information
Model Options:
Coupe
4-Door Sedan
Hatchback Coupe
Custom Hatchback
Custom Coupe
Custom 4-Door Sedan
Engine Options:
Turbo-Fire 307 | 307ci | 115hp
Turbo-Thrift 250 | 250ci | 100hp
Turbo-Fire 350 | 350ci | 145hp/175hp
Available Transmission:
Powerglide
4-Speed Manual
3-Speed
Turbo Hydra-Matic
Production Numbers:
Chevy II/ Nova: 369,509

2-Door Coupe: 0
2-Door Convertible: 0
2-Door Hatchback: 91,012
2-Door Sedan: 194,197
4-Door Sedan: 84,300
4-Door Wagon: 0
Super Sport: 35,542
Dimensions & Capacities:
Length: 194.3 in / 16.19 ft
Width: 72.4 in / 6.03 ft
Height:

2-door Sedan: 52.4 in / 4.36 ft
2-Door Hatchback: 52.5 in / 4.36 ft
4-Door Sedan: 53.9 in / 4.49 ft

Wheelbase: 111 in / 9.25 ft
---

Additional 1973 Nova Links: