1972 Camaro Specifications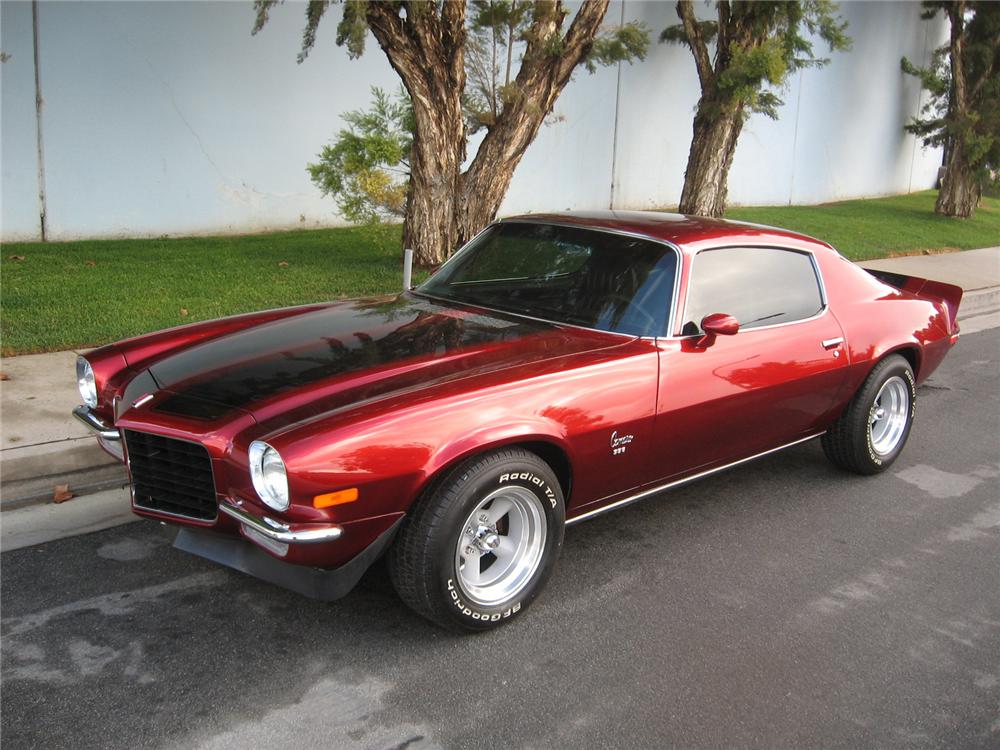 1972 was the year the Chevy Camaro almost kicked the bucket. Strikes at Norwood, the economy, and the new insurance laws had GM considering the possibility of dropping the model.
It is estimated that 39,000 camaros and firebirds never made it off the assembly line, worth over $100 Million to dealers. Diehard fans and an outpouring of popular feedback regarding the Camaro helped keep production alive in 1972. The 1972 Camaro SS was coming to an end as wsell.
---
---
1972 Camaro Model Options
Engine Options
250 cubic inch V6
307 cubic inch V8
350 cubic inch V8
396 cubic inch V8
1972 Camaro Production:
4,821 6-cyl
63,830 V8
68,651 total
Dealer Introduction: 9/23/71
Vehicle Identification Example: 1Q87H2N10001
First digit is GM Division: 1 = Chevrolet
Second digit is model level: Q = Camaro (all models)
Digits 3&4 are Body Type: 87 = 2dr. Coupe
Fifth digit is engine code:

D = 250ci
F = 307ci
H = 350ci
K = 350ci, ss
L = 350ci, z *
U = 396ci, ss

Sixth digit is model year: 2 = 1972
Seventh digit is N for Norwood assembly.
Last six digits increased one with each car built at Norwood, sequence started at 100001
Note: The correct 1972 Z28 VIN engine code is "L". The Camaro White book, "Camaro Recognition Guide" (Hooper) & "Camaro ID Numbers" (Cars & Parts) incorrectly list the VIN on a Z28 as being "T". "T" usage in VIN as Z28 engine code began in 1973.
Dimensions:
Length: 188.0″
Height: 50.5″
Width: 74.4″
Wheelbase: 108.0″
Curb Weight: (in pounds)
12387 – 3213
12487 – 3340
1972 Ending VIN by Month:
Norwood:

Aug – 103511
Sep – 116358
Oct – 129265
Nov – 141851
Dec – 152533
Jan – 158652
Feb – 160185
Mar – 167139
Apr – 168650

Van Nuys:

No Camaro's Built here in 1972
---
1972 Spotters Guide and New Features
Put 1972 in a trash can and bury it. Chevy continued to refine the Camaro but due to a 174-day strike beginning on April 7, no cars left Norwood Ohio, which was the only plant producing the F-body. When the strike ended, 1100 partially completed cars were scrapped or donated to vocational schools since it would be too expensive to modify them to conform to stricker '73 bumper & emission regulations. It is estimated that 39,000 Camaros and firebirds weren't built, worth an estimated $125 Million to dealers. The Nova line was moved from Norwood to protect it from future "labor problems". The position of the F-body was precarious with serious talk about axing the whole model, shutting down the Norwood plant and writing it off. Pony car sales were down, the federal (emissions & safety) boot was coming down, the price of gas was up, insurance was up, the SS was zapped. IT WAS DUE TO PEOPLE LIKE US – powerful owner loyalty groups which helped sway GM to keep producing the F-body. If it came down to business economics the Camaro/Firebird would have died in 1972.
New features in 1972:
Coarser grille mesh.
Z21 NOT INCLUDED with Z22 (notice price drop on Z22 option)
3-point shoulder harness debuted in mid-year.
Door panels restyled, include map pockets & change holder.
Speedometer reads 130 max, down from 150
Hurst Shifter no longer used
Last year for Super Sport Model
Last year for Big Block engine
First year specific engine type is coded in VIN
Click here for Second Generation Camaro Spotters Guide & Summary of Yearly Changes
---
1972 Engine Information

Notes:
Horsepower and torque figures listed are net. GM published no gross ratings after l971 model year.
Base 307 and LS-3 "396" not available in California. Base V-8 for California was L-65 350.
The LS-3 "396" V-8's actual displacement was 402 cid.
Engine Suffix Codes
---
1972 Camaro Drivetrain: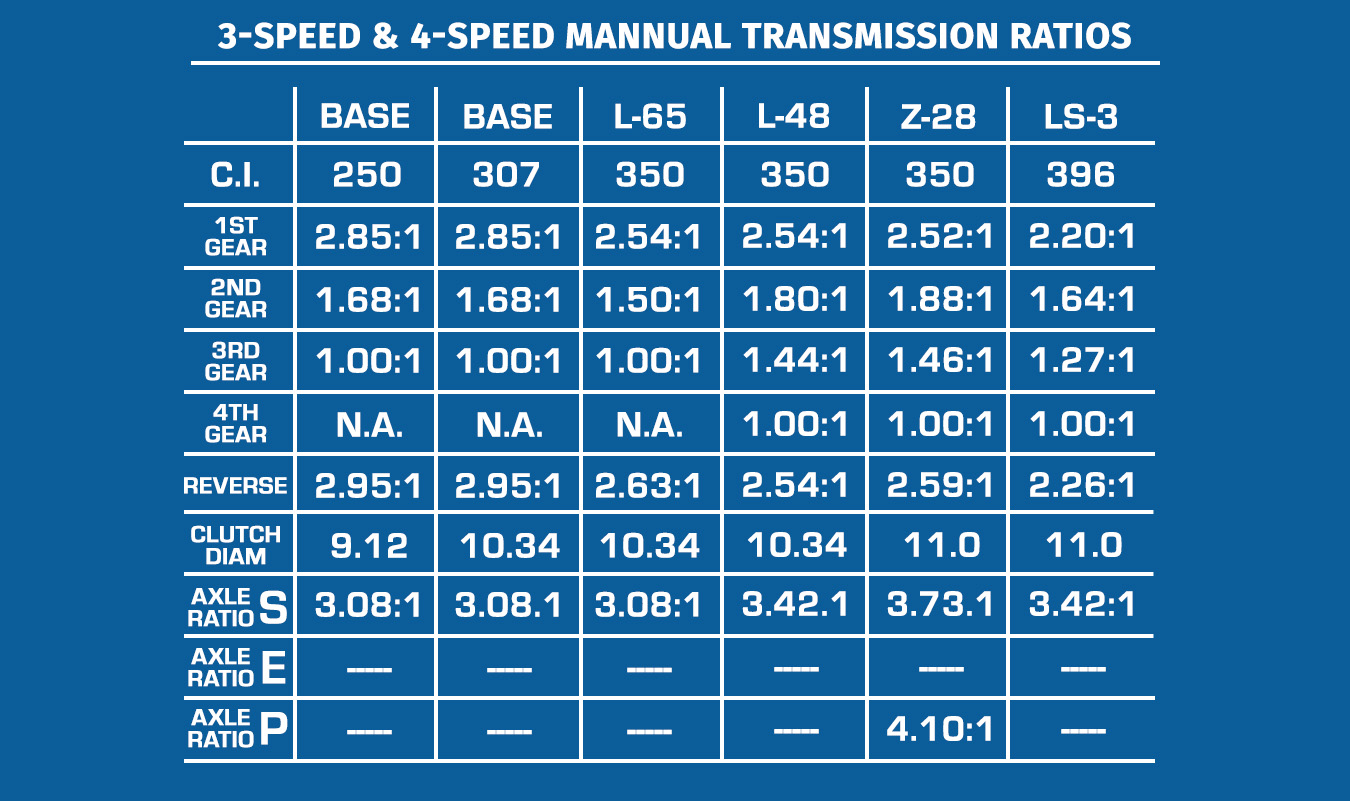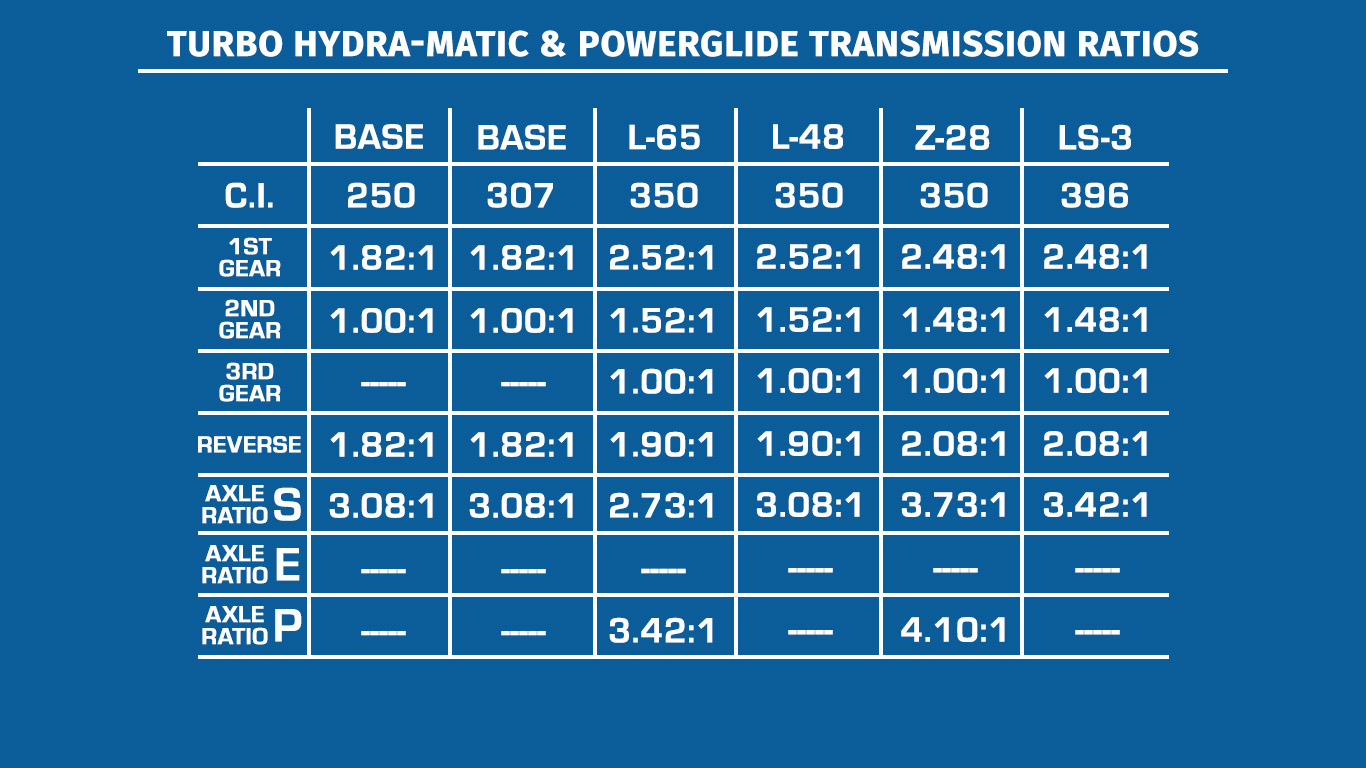 Three-speed manual available only with 250 and 307
4-speed only with 350 and 396 V-8's
Axle Ratio Key:
S = Standard ratio
E = Economy
P = Performance
---
1972 Camaro Engine Codes:
Abbreviations:
at = Turbo Hydra-Matic automatic transmission
ar = air injection reactor
ce = California emission controls
tb = two-barrel carburetor
mt = manual transmission
pg = Powerglide automatic transmission
SS = super sport
Z = RPO Z28 special performance package
Engine Code Example:
V0328CAZ – (307 CI, assembled in Flint assembly plant on March 28)
Click here for further engine decoding information
---
Transmission and Rear Axle Codes:
Transmission Code Example:
S2M30 – (1972 Muncie 3 speed, assembled August 30
Click here for further transmission decoding information
TH400 transmission code is CK (SBC) or CY (BBC) and is stamped on a tag which is riveted to transmission case
Rear-end Code Example:
GZG100D – (Chevy sourced 2.73 open, assembled on day shift of 100th day of the year)
Click here for further axle decoding information
Click Here for general axle info and tooth combinations
---
1972 Camaro Factory Options:
RPO
12387
12487
AK1
AN6
A01
A02
A31
A51
B37
B93
C08
C24
C50
C60
D34
D35
D55
D80
F41
G80
J50
J52
LS3
L48
L65
M20
M21
M22
M35
M38
M40
NK4
N33
N40
PL3
PL4
PM7
PY4
P01
P02
T60
U14
U35
U63
U69
U76
U80
VF3
V01
YD1
YF5
ZJ7
ZJ9
ZP5
ZQ9
Z21
Z22
Z23
Z27
Z28
Z87
Description
Camaro Sport Coupe, 6-cylinder
Camaro Sport Coupe, 8-cylinder
Belts, custom deluxe
Adjustable Seat Back, driver side
Soft Ray Tinted Glass, all windows
Tinted Glass, windshield
Power Windows
Front bucket seat, non-reclining
Floor Mats, color-keyed front and rear
Guards, door edge
Vinyl Roof Cover
Windshield Wipers, hide-a-way
Defroster, rear window
Air Conditioning
Mirror, visor vanity
Mirror, left-hand remote control
Console
Spoilers, front and rear
Suspension, special purpose front and rear
Positraction, rear axle
Power Brakes
Front disc brakes
Engine, 396ci, 240hp Turbo-jet V8 (SS)
V8 Engine, 350 CID
Engine, 350ci, 165hp Turbo-Fire V8
Transmission, 4-speed wide range
Transmission, 4-speed close ratio
Transmission, 4-speed close ratio heavy-duty
Transmission, Powerglide automatic
3-speed automatic transmission, 300 deluxe
Transmission, Turbo Hydra-Matic automatic
Steering Wheel, sport
Tilt Steering Column
Power Steering
E78-14-B tires – GB White lettering
F70-14-B tires – GB White lettering
F60-15-B tires – GB white lettering
F70-14-B tires, white stripe
Wheel trim cover
Deluxe wheel trim cover
Heavy Duty battery
Instrument panel gauge
Electric Clock
Radio, AM pushbutton
Radio, AM-FM pushbutton
Windshield antenna
Speaker, rear seat
Bumpers, deluxe front and rear
Radiator, heavy duty
Axle, trailering ratio
Emission Test, required for California
Rally Wheels
Auxiliary Lighting
Appearance Guard Group (Includes B93, B37, D34)
Axle, performance ratio
Style Trim Group
Rally Sport Package
Interior Accent Group
Super Sport Package
Special Performance Package
Custom Interior
Qty
4,821
63,830
8,475
2,087
44,155
–
–
–
15,725
21,452
23,918
21,587
7,018
31,738
3,931
28,965
49,845
5,954
7,133
7,643
29,271
–
970
–
27,009
4,127
942
767
4,462
–
7,302
5,758
3,706
59,854
–
–
–
–
–
–
–
–
–
54,271
10,404
–
15,889
2,449
3,057
165
8,124
27,804
5,309
–
652
22,477
11,364
18,064
6,562
2,575
6,462
Retail $$
$2,729.70
2,819.70
14.50
18.00
39.00
–
–
–
12.00
6.00
87.00
21.00
31.00
397.00
3.00
15.00
57.00
77.00
30.00
45.00
46.00
–
96.00
–
26.00
200.00
200.00
231.00
174.00
–
210.00
15.00
44.00
130.00
–
–
–
–
–
–
–
–
–
65.00
135.00
–
15.00
36.00
14.00
12.00
15.00
44.00
17.50
–
12.00
56.00
118.00
21.00
306.35
769.15
113.00
* Option prices are retail for base model. Prices could be reduced or option could be had at no charge if it was included as standard equipment on the Z28, Rally Sport or Super Sport or as part of an option package.
---
1972 Example Cowl Tag & Description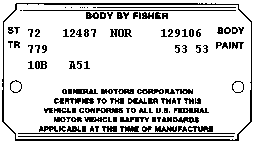 The trim tag, located on the cowl area identifies significant information about your car. Move mouse over code on above trim tag examples for detailed description or Click Here for general trim tag decoding information.
---
1972 Camaro Paint Codes: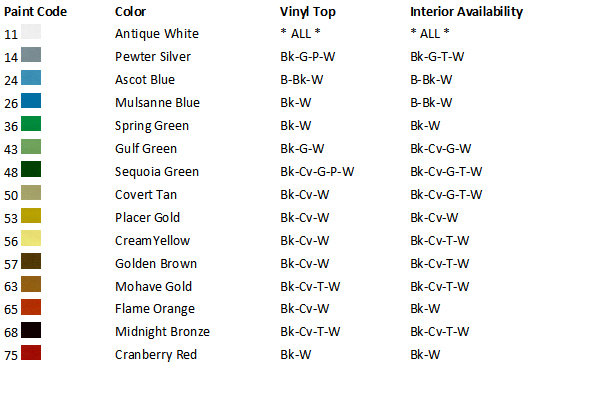 Stripes were available in black or white only, except black with Midnight Bronze paint and white with white paint. For non-vinyl roof cars (except midnight bronze) black stripes were used unless white was specially ordered.
1972 Vinyl Top Code:
B = Black
D = Medium Blue
F = Medium Tan
G = Medium Green
J = White
T = Light Covert
Interior Codes Abbreviations:
B = Blue
Bk = Black
Bbk = Blue with black trim
Cc = custom cloth
Cv = Covert (light tan)
Cvbk = Covert with black trim
G = Green
Gbk = Green with black trim
P = Pewter (silver)
Std = standard
T = Tan
W = White
---
1972 Camaro RPO Breakouts & Model Specifics
1972 Z21 Style Trim – Includes body colored insert on door handles, bright window, body, sill and hood panel moldings plus bright accented parking lights, taillights and backup lights. (NOT included with Rally Sport option).
1972 Z22 Rally Sport:
Includes special black painted grille with special rubber tipped vertical center bar and resilient body color grille frame; Independent LH and RH front bumpers replacing full width bumper; license plate bracket mounted below RH bumper; parking lights with bright accents mounted on grille panel; Hide-a-Way windshield wipers with black-chrome finished arms and articulated left hand blade; bright window, hood panel and body sill moldings; body colored insert on door handles; RS emblem on steering wheel; Rally Sport front fender nameplates; bright accented taillights and back-up lights. (RS emblems deleted with SS or Z28 option)
Click here for information on How to verify a Rally Sport
1972 Z23 Accent Group Interior:
Includes glove compartment light, additional instrument cluster lighting, wood grained accents on instrument cluster and steering wheel (included in Custom Interior option).
1972 Z27 Super Sport
Includes 200-hp Turbo-Fire 350 engine and bright accents; heavy duty engine mounts and starter; dual exhaust; LH remote control mirror; power brakes, special ornamentation; special hood insulation; F70-14B bias belted ply white lettered tires, 14″ x 7″ wheels; black painted grille; hide-a-way windshield wipers with black chrome finished arms and articulated left hand blade; SS emblems on steering wheel, fenders and grille (exc. when combined with RS) available with V8 only, available with 4-speed manual or automatic transmission only, optional engine is LS3 240 hp 396 – not available in California). 396 equipped SS's received a black painted rear panel & required RPO F41.
Total SS Production = 6562
 L48/350 ci = 5592
LS3/402 ci = 970
SS Verification:
The 5th digit of the VIN will read "K" for the SS350 or "U" for the SS396. Period.
Carburetor
Part numbers
350 ci-7042203
350 ci w/at-7042202
350 ci w/NB2-7042903
350 ci w/at & NB2-7042902
402 ci-7042201
402 ci w/at-7042200
Distributor
Part Numbers
350 ci-1112095
350 ci w/at-1112049
350 ci w/at-1112154
402 ci-1112057
402 ci-1112162
1972 Z28 Special Performance Package
Z28 Verification:
The 5th digit of the VIN will read "L". Period.
Total Production:
2575
Engine:
Net horsepower down to 255 from 275 in 1971. Torque dropped 20 ft./lb. Flex fan replaced viscous drive.
Click here to see the specific LT-1 Engine Components.
1972 Z28 Carburetor (780 CFM Holley, 4150)
| | | |
| --- | --- | --- |
| A/T | List 6238-1 | GM # 3997788 |
| 4 spd | List 6239-1 | GM # 3999263 |
Transmission & Clutch:
Mandatory choice of Muncie 4-speeds with 11-inch clutch. Hurst shifter dropped. Special 2400-rpm-stall torque converter Turbo Hydra-Matic optional. (Unchanged since 1970.)
Rear Axle:
GM 10 bolt, 3.73:1 Positraction ratio standard. 4.10 available (ZQ9) (Unchanged from 1971)
Brakes:
11-inch, vented, cast-iron front discs with vacuum assist standard. Rear 9.5-inch drums. (Unchanged since 1970)
Front Suspension:
Z-28 anti-roll bar 1.0-inch diameter instead of standard 0.6875-inch unit. (Unchanged since 1970)
Rear Suspension:
Revised rear stabilizer bar and rear shock valving.
Steering:
Power steering had straight 16:1 ratio and was revalved to give more road feel.
Wheels & Tires:
15 x 7 steel wheels painted dull grey with bright lugnuts, center caps with blue bow-tie and trim rings,
Wheel Code:
AU, Part #: 3983045, Center cap part #: 3989479, Trim Ring part #: 3984524.
F60-15 fiberglass-belted white letter tires standard. (unchanged from & identical to 1970)
Click here to see the specific 1972 Z28 Chassis Specifications.
Other Options, equipment, facts:
Chrome tailpipe tips eliminated. Revised grille. Rear deck spoiler and fast-ratio non power steering made optional instead of standard. Front air dam included with now optional D80 spoiler. Hood and deck striping became a delete option. Special instrumentation & dual sport mirrors standard.
1972 Z87 Custom Interior:
Includes deluxe seat (with cloth or vinyl seats) and sidewall trim; glove compartment light and additional instrument cluster lighting; wood grained accents on instrument cluster, steering wheel and door trim panels; luggage compartment mat plus special engine compartment, hood and interior insulation.