1972 El Camino Specifications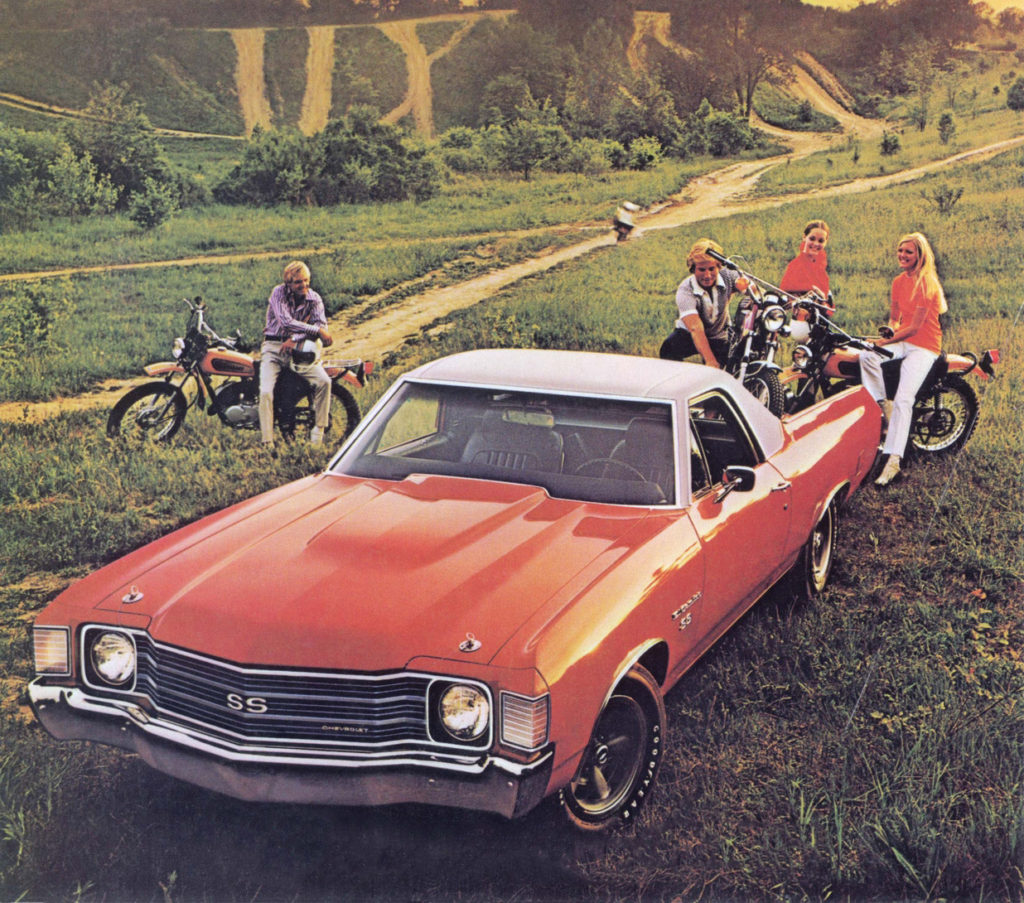 Changes to the 1972 Chevrolet El Camino
The 1972 El Camino received minor changes from the previous model year. The front of the 1972 El Camino was redesigned with one piece corner lights replacing the double stacking lights. The grille was changed as well as the grille moldings. The bowtie emblem was replaced by a Chevelle emblem at the lower driver side corner of the front grille. Base power was had by a six cylinder engine but, for the buyers who wanted more power could opt for a V8. About 57,000 1972 Chevrolet El Caminos were produced.
1972 El Camino trim levels
The '72 El Camino trim was available in three levels including the base model El Camino, the El Camino Custom, and the El Camino SS. The El Camino base model featured bright windshield moldings and reverse lights on the tailgate.
The 1972 El Camino Customs were only available with a V8 engine. They also featured the bright window moldings and reverse lights on the tail gate like the base model. However, the El Camino Customs featured body side moldings, wheel house moldings, bed moldings, tailgate moldings, and a silver anodized lower body finish.
The Super Sport option was available on everything but 307 models. The basic Super Sport option featured a blacked out grille, a domed hood or cowl induction hood with pins, specially styled wheels, round instrument gauges, heavy duty suspension, power front disc brakes, and 15 x 7 inch wheels.
Available colors for the 1972 El Camino
In 1972 the El Camino had a number of different exterior colors available for the buyer to chose from. Exterior colors included Antique White, Pewter Silver, Dusk Gray Poly, Tuxedo Black, Ascot Blue Poly, Mediterranean Blue Poly, Spring Green Poly, Gulf Green Poly, Oasis Green Poly, Sequoia Green Poly, Covert Tan, Placer Gold Poly, Desert Cold Poly, Cream Yellow, Golden Brown Poly, Turin Tan, Driftwood, Mohave Gold Poly, Orange Flame Poly, Midnight Bronze Poly, Aegean Brown, and Cranberry Red. Vinyl tops were available in white, black, blue, green, and tan.
---
1972 El Camino OEM Brochure
---
Model Options:
1972 El Camino Information

Body Styles:
Available Engine Types:
6-cyl. 250cid/110hp 1bbl
8-cyl. 307cid/130hp 2bbl
8-cyl. 350cid/165hp 2bbl
8-cyl. 350cid/175hp 4bbl
8-cyl. 402cid/240hp 4bbl LS3

Standard Equipment:
3-Speed Manual Transmission
Bench Seat
Headrests

Optional Equipment:
4-Speed Manual Transmission
Air Conditioner
AM Radio
AM/FM Radio
Bucket Seats
Clock
Cruise Control
Power Brakes
Power Four-Wheel Disc Brakes
Power Steering
Speed Control
Tilt Steering Wheel
Vinyl Roof Cover
Disclaimer
*The numbers have been compiled from many sources to make these pages as correct as possible. There is no guarantee that the numbers are complete or accurate, therefore, we cannot accept any liability or responsibility for damages incurred from the use of this information.
Additional 1972 El Camino Links:
Share this information with your friends!