1971 Chevelle Information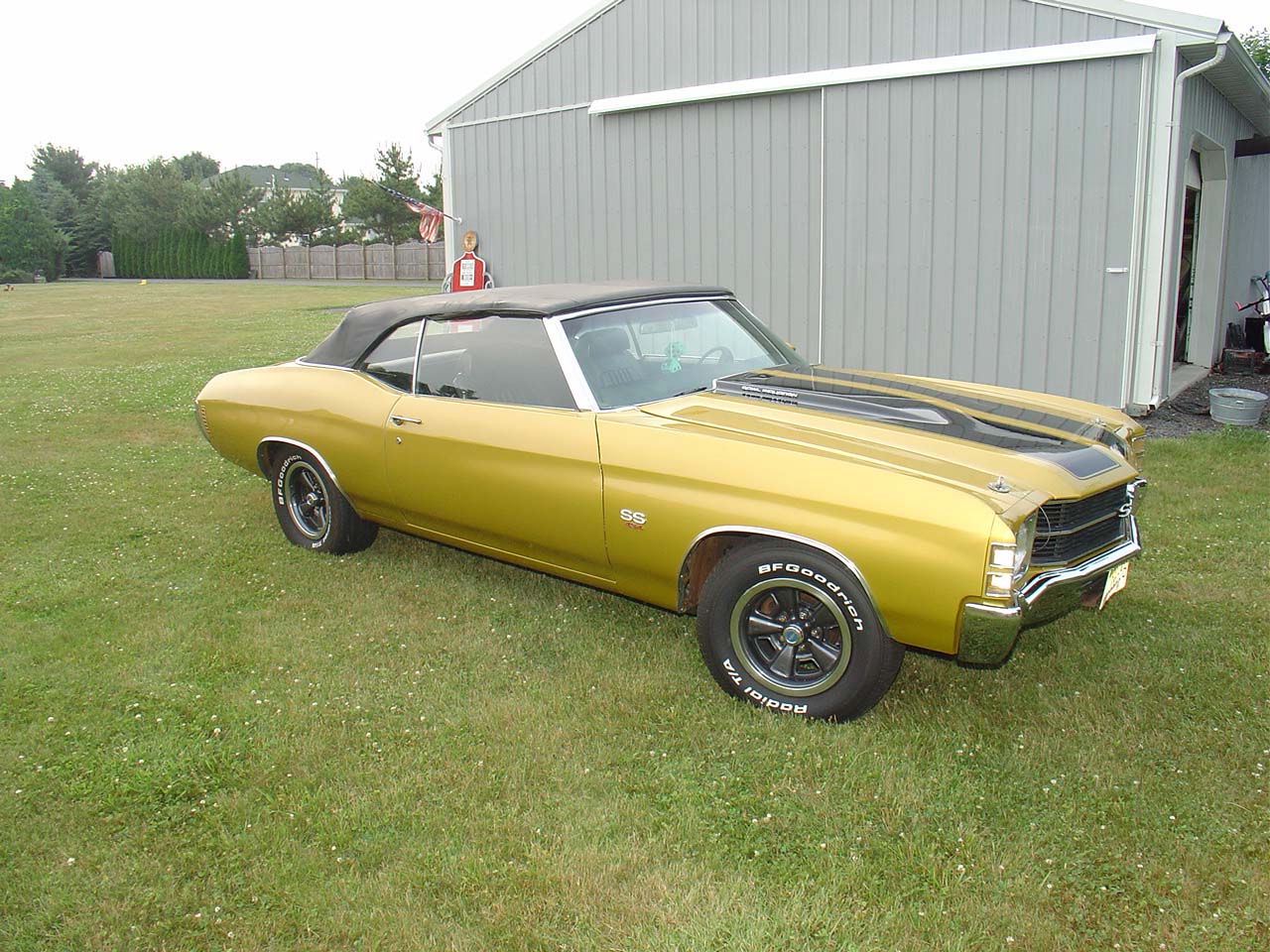 The 1971 Chevelle was very similar to the previous year in terms of body panels (in fact the only major differences in sheet metal are the front fenders). The biggest difference in appearance came from the single head lamps and the four round tail lights which were integrated into the bumper.
While the mighty big blocks were still available in the Super Sport models, emissions and high insurance rates caused horsepower numbers to dwindle. 1971 was the beginning of the end for muscle cars.
The 1971 Chevelle was available in several trim levels including the base Chevelle, Chevelle Malibu, Chevelle Concours Estate, Chevelle SS396, SS454 and new Heavy Chevy. Each configuration could be ordered with a six cylinder (except SS) or V8 engine. Body style included 2 door sport coupes, 2 door sedans, 2 door convertibles, 4 door sedans, 2 door wagons, or 4 door wagons.
Interiors could be optioned with either bucket seats or bench seats and were available in many colors. The most popular were Black, Dark Blue, Jade Green, Sandalwood, and Dark Saddle. The buyer could have ordered a number of different exterior colors including Antique White, Nevada Silver, Tuxedo Black, Ascot Blue, Mulsanne Blue, Cottonwood Green, Lime Green, Antique Gold, Sunflower Yellow, Placer Gold, Sandalwood, Burnt Orange, Classic Copper, Cranberry Red, and Rosewood. Vinyl tops were available in White, Black, Dark Blue, Dark Brown, and Dark Green.
To complement the wide variety of available colors were the available drive train combinations that could be opted for on the 1971 Chevelle. Base power was had by one of two available six cylinder. Buyers who wanted more power could opt for a V-8. Big block were in abundance with the regular availability of both 396 and 454 cubic inch engines. Manual transmissions were either 3 speeds or 4 speeds and automatic transmissions were either the 2 speed Powerglide or 3 speed Turbo Hydramatics.
About 387,000 1971 Chevelles were produced.
---
---
Model Options:
1971 Chevelle Nomad Wagon Information
Engine Options

250 cubic inch 155 horsepower 6 cylinder (base)
307 cubic inch 200 horsepower V-8 (base)
1971 Chevelle Information
Body Styles

2 Door Sport Coupe
4 Door Sedan
4 Door Wagon
Engine Options

250 cubic inch 155 horsepower 6 cylinder (base)
307 cubic inch 200 horsepower V-8 (base)
350 cubic inch 245 horsepower V-8 (base)
350 cubic inch 270 horsepower V-8 (optional)
402 (400) cubic inch 300 horsepower V-8 (optional)
1971 Chevelle Malibu Information
Body Styles

4 Door Sedan
4 Door Sport Sedan
2 Door Sport Coupe
2 Door Convertible
4 Door Concours Wagon
Engine Options

250 cubic inch 155 horsepower 6 cylinder (base)
307 cubic inch 200 horsepower V-8 (base)
350 cubic inch 250 horsepower V-8 (optional)
350 cubic inch 300 horsepower V-8 (optional)
402 (400) cubic inch 330 horsepower V-8 (optional)
1971 Chevelle Heavy Chevy Information
Engine Options

350 cubic inch 200 horsepower V-8 (base)
350 cubic inch 245 horsepower V-8 (optional)
350 cubic inch 270 horsepower V-8 (optional)
400 cubic inch 300 horsepower V-8 (optional)
1971 Chevelle SS (Super Sport) Information
Body Styles

2 door sport coupe
2 door convertible
Engine Options

350 cubic inch 245 horsepower V-8 (base)
350 cubic inch 270 horsepower V-8 (optional)
402 (396) cubic inch 300 horsepower V-8 (optional)
1971 Chevelle SS454 Information (Super Sport)
Body Styles

2 door sport coupe
2 door convertible
Engine Options

454 cubic inch 285 horsepower V-8 (optional)
454 cubic inch 425 horsepower V-8 (optional)
1971 Chevelle Heavy Chevy Commercial
Additional 1971 Chevelle Links: