1971 Camaro Specifications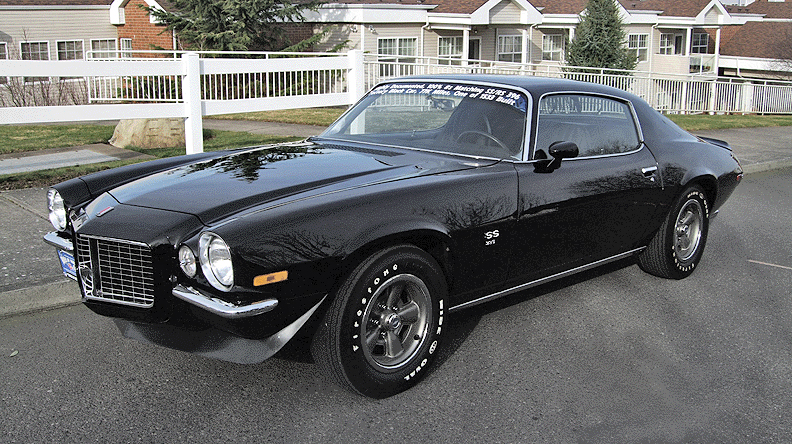 1971 was the year the car insurance industry brought an end to the original 'muscle car' era. In an effort to comply with federal regulations requiring leaded fuel to be phased out, 
General Motors

 lowered compression ratios of all engines to a maximum of 9.0:1.

Not only did this actually cut horsepower (compared to an 11.0:1 engine), but General Motors also began rating their engines in SAE NET horsepower. In 1971, engines were rated in both SAE NET & Gross HP.

While essentially a carry-over from the previous year, the 1971 Camaro had several notable changes. These changes included a new 3 piece rear spoiler, optional ABS plastic front spoiler, high back seats adapted from the vega, and minor changes to the cars emblems. Little changes in the appearance of the 1971 Chevy Camaro separated it from the previous year, but under the hood the Camaro was a much tamer vehicle. New insurance laws and the woes of a faltering economy along with fears of oil shortages led General Motors and all U.S. based car manufacturers to downgrade HP in favor of better gas mileage and mainly to comply with new federal laws. 1971 was considered by many car enthusiast to be a very disappointing year.

1971 Camaro Production:
11,178 6-cyl
103,452 V8
114,630 total
Dealer Introduction: 9/29/70
Vehicle Identification Example: 123871N500001
First digit is GM Division: 1 = Chevrolet
Digits 2&3 are model series: 23 = 6-cyl, 24 = 8-cyl 

Camaro

Digits 4&5 are body type: 87 = 2dr. coupe
Sixth digit is model year: 1 = 1971
Seventh digit is N for Norwood assembly, L for Van Nuys.
Last six digits increased one with each car built at each plant
---
1971 Camaro Model Options:
1971 Camaro Engine & Drivetrain Info
 Notes: 1971 was the year GM lowered compression ratios and began to record horsepower and torque in terms of "net" instead of "gross". The LS-3 "396" V-8 actually displaced 402 cid.
---
Engine Suffix Codes:

Abbreviations:
at = Turbo Hydramatic automatic
ci = cubic inch
hp = high 

performance

pg = Powerglide automatic transmission
mt = manual transmission
sp = special high performance
z = RPO Z28 special performance package
ss = super sport
(CLC/CLD engine code usage is unverified)
Engine Code Example:
V0328CGP – (350 330hp Assembled in Flint assembly plant on March 28)
---