1971 El Camino Specifications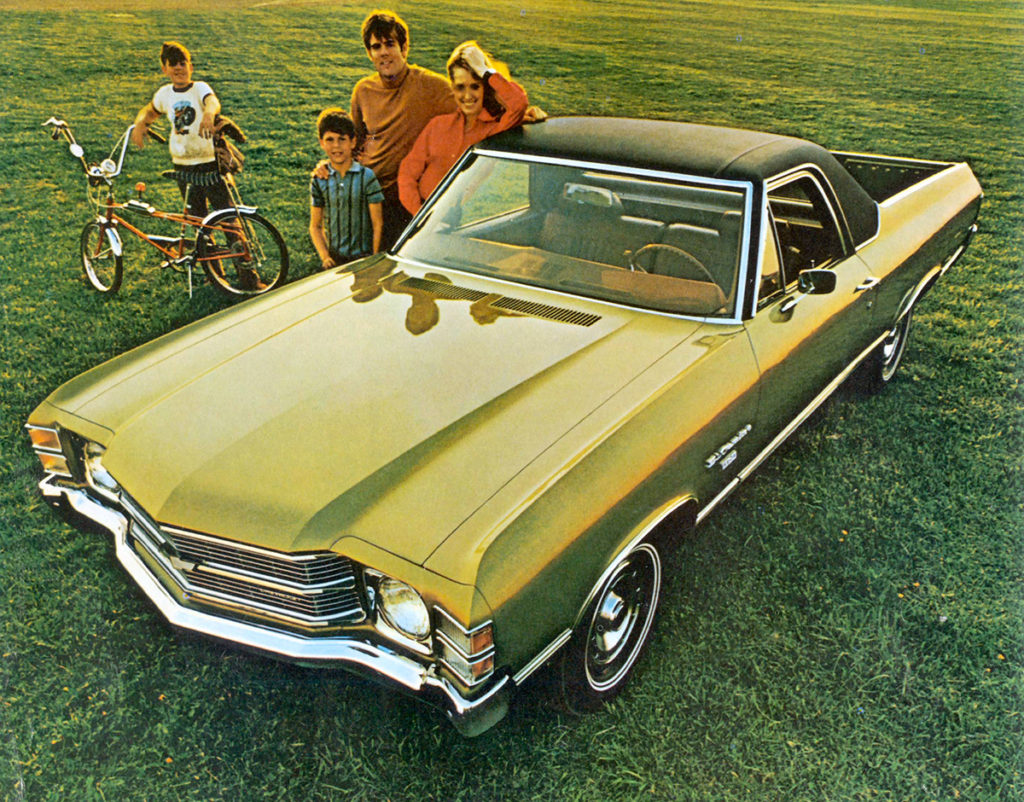 The 1971 El Camino again sported an entirely new look from that of the previous year. Single headlamps now sat in square headlamp extensions and the double stacked parking lamps were moved from the bumper to the front corners of the fenders and doubled as side markers.
This was the first time the front bumper had no air holes in it. The 396 engine was actually enlarged to 402 cubic inches, but the 396 name remained in sales and marketing materials to maintain name recognition.
The 1971 El Camino trim was available in three levels including the base model El Camino, the El Camino Custom, and the El Camino SS454.
The '71 El Camino base model featured bright windshield moldings, reverse lights on the tailgate, and a plain cloth and vinyl material in either black, dark blue, dark jade green, or sandalwood.
1971 El Camino Customs was only available with a V8 engine. They also featured body-side moldings, wheelhouse moldings, bed moldings, tailgate moldings, and an anodized silver lower body finish.
The interiors were all vinyl offered in black, light sandalwood, antique saddle, dark saddle, dark blue, or dark jade with simulated wood grain accents. The basic Super Sport option featured a blacked-out grille, a domed hood or cowl induction hood with pins, specially styled wheels, round instrument gauges, heavy-duty suspension, power front disc brakes, and 15 x 7-inch wheels.
The buyer could have ordered a number of different El Camino exterior colors including Antique White, Nevada Silver Metallic, Ascot Blue Metallic, Mulsanne Blue Metallic, Cottonwood Green Metallic, Lime Green Metallic, Antique Green Metallic, Sunflower Yellow, Placer Gold, Sandalwood, Burnt Orange, Classic Copper, Cranberry Red, and Rosewood.
To complement the wide variety of available colors were the available drive train combinations that could be opted for on the 1971 El Camino. Base power was had by a six-cylinder engine. Buyers who wanted more power could opt for a V8.
About 42,000 1971 Chevrolet El Caminos were produced.
---
1971 El Camino OEM Brochure
---
Model Options:
1971 El Camino Information
Engine Options


250 cubic inch 145 horsepower 6 cylinder (base)
307 cubic inch 200 horsepower V8 (base)
350 cubic inch 165 horsepower V8 (optional)
350 cubic inch 270 horsepower V8 (optional)
402 cubic inch 300 horsepower V8 (base)
454 cubic inch 365 horsepower V8 (optional)
454 cubic inch 425 horsepower V8 (optional)
Disclaimer
*The numbers have been compiled from many sources to make these pages as correct as possible. There is no guarantee that the numbers are complete or accurate, therefore, we cannot accept any liability or responsibility for damages incurred from the use of this information.
Additional 1971 El Camino Links:
Share this information with your friends!