1970 El Camino Specifications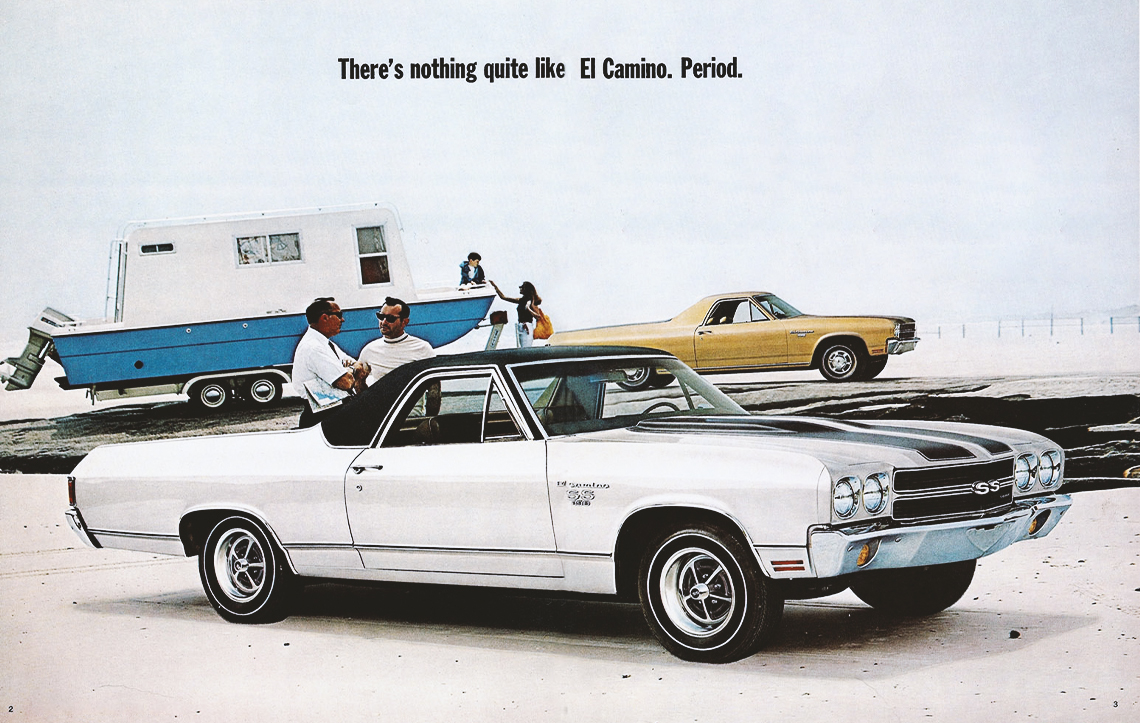 The 1970 El Camino received a major front end restyling. The headlamps were located in body-colored extensions outside of the grille. Unlike its Chevelle counterpart, the 1970 Chevelle El Camino featured round parking lamps in the front bumper instead of square. The front turn signals were moved to the very bottoms of these one year only fenders. The rest of the car remained virtually the same as that of previous years.
The 1970 El Camino trim was available in four levels including the base model El Camino, the El Camino Custom, the El Camino SS396, and the El Camino SS454. All '70 El Camino base models featured a new dash with a sweep style speedometer. The exterior was very stripped down and included a Chevrolet script emblem on the upper left grille section, El Camino emblems and engine callout emblems on the rear of the front fenders, bright tailgate latch, and a Chevrolet emblem on the tailgate.
The 1970 El Camino Custom featured lower body side moldings, bright wheel opening moldings, silver anodized lower body finish, bed moldings, and a wide rear tailgate molding. Both SuperSport models featured a black grille, special domed hood with pins or a cowl inducted hoods, specially styled wheels, heavy-duty suspension, power disc brakes, and SS badges throughout.
The buyer could have ordered a number of different El Camino exterior colors including Classic White (White), Cortez Silver (Silver), Shadow Gray (Gray), Tuxedo Black (Black), Astro Blue (Medium Blue), Fathom Blue (Dark Blue), Misty Turquoise (Turquoise), Green Mist (Medium Green), Forest Green (Dark Green), Gobi Beige (Yellow), Champagne Gold (Medium Gold), Autumn Gold (Dark Gold), Desert Sand (Saddle), Cranberry Red (Red), and Black Cherry (Maroon). Vinyl tops were available in White, Black, Dark Blue, Dark Gold, and Dark Green.
To complement the wide variety of available colors were the available drive train combinations that could be opted for. Base power was produced by a six-cylinder engine. Buyers who wanted more power could opt for a V8.
About 48,000 1970 Chevrolet El Caminos were produced.
---
1970 El Camino OEM Brochures
---
1970 El Camino Information
---
1970 El Camino Model Options
Body Styles
El Camino Trim Options
Base model El Camino
El Camino Custom
El Camino SS396
El Camino SS454
1970 Chevrolet El Camino Exterior Dimensions
Wheelbase: 116 inches
Length: 206.8 inches
Width: 75.4 inches
Height: 54.4 inches
1970 El Camino Engine Options
250 cubic inch 155 horsepower 6 cylinders (base)
307 cubic inch 200 horsepower V8 (base)
350 cubic inch 250 horsepower V8 (optional)
350 cubic inch 300 horsepower V8 (optional)
396 cubic inch 325 horsepower V8 (optional)
396 cubic inch 350 horsepower V8 (optional)
396 cubic inch 375 horsepower V8 (optional)
454 cubic inch 360 horsepower (optional)
454 cubic inch 450 horsepower (optional)
---
1970 El Camino Colors, Options, and More
---
1970 El Camino Optional Equipment (RPO Codes) 
*For 1970, RPO Codes were shared across Chevelle, El Camino, Malibu, & Monte Carlo. Think of these as Chevelles with different body styles. For obvious reasons not all options are available to the El Camino platform, for example, you couldn't get RPO A39 as El Caminos don't have a rear seat.
Furthermore, pricing may be different for El Camino options compared to Chevelle due to their cabin size. Look for descriptions that contain (13480 & 13680) to see what pricing would have been for that option equipped on an El Camino.*
1970 El Camino Exterior Colors
Additional 1970 El Camino Links: