1970 Camaro Specifications
Most of the 1969 innards of the Camaro were transferred over to the all new 1970 Camaro. The new body now consisted of a fastback roof line, no-vent full door glass and this year saw the removal of the rear side quarter windows.
The standard Camaro model offered a different bumper configuration when compared to the 1970 RS model.
The instrument panel now offered round dials for gauges, new bucket seat designs, as well as an optional center consol. The standard Camaro interior was vinyl black dashboard finish.
The 1970 Camaro is considered one of the most valuable and sought after years. In particular, the rare 454 V8 is highly sought by many collectors and car enthusiasts alike.
---
1970 Camaro OEM Brochure
---
1970 Camaro Model Options:
Engine Options:
250 cubic inch L6
307 cubic inch V8
350 cubic inch V8
396 cubic inch V8
454 cubic inch V8
1970 Camaro Production numbers:
12,578 6-cyl
112,323 V8
124,901 total
Dealer Introduction:
2/26/70
Vehicle Identification Example:
123870N500001
First digit is GM Division: 1 = Chevrolet
Digits 2&3 are model series: 23 = 6-cyl, 24 = 8-cyl Camaro
Digits 4&5 are body type: 87 = 2dr. coupe
Sixth digit is model year: 0 = 1970
Seventh digit is N for Norwood assembly, L for Van Nuys.
 Last six digits increased one with each car built at each plant, sequence started at 500001.
Dimensions:
Length: 188.0″
Height: 50.1″
Width: 74.4″
Wheelbase: 108.0″
Curb Weight: (1970 Option weight table)
12387 – 3166 Lbs
12487 – 3278 Lbs
1970 Ending VIN by Month (Norwood)
Jan – 504136
Feb – 511650
Mar – 520821
Apr – 534781
May – 553164
Jun – 573319
Jul – 592248
1970 Ending VIN by Month (Van Nuys)
Jan – 502995
Feb – 508210
Mar – 514067
Apr – 519778
May – 524858
Jun – 529852
Jul – 532651
---
1970 Camaro Spotters Guide & New Features
1970 saw the introduction of the all new Second Generation Camaro. The 1st generation Camaro (1967 – 1969) was seen as a hasty response to the Ford Mustang. It was considered a compromise by some critics. There would be no compromises with this car. Due to production delays the 1970 Camaro was introduced in February 1970, halfway into the production year. Because of this, some people will call the 1970 Camaro a 1970-1/2, but officially the car is a 1970 model year Camaro. Good things come to those who wait, and this car was met with rave reviews from nearly everyone. Chevrolet had a winner that would run for 12 years.
It was 2 inches longer, 1.1 inches lower, and 0.4 inches wider than the previous Camaro but still had a 108 inch wheelbase. It's doors were longer by 8 inches and the roof was moved back giving the car a sleek long hood and a short rear deck which typified the pony-car. The convertible body style was no longer available and the windshield was swept back increasing visibility by 10% along with hiding the radio antenna within it (depending on radio choice). The rear view mirror was bonded to the windshield and no longer hung off the roof trim. Efforts were made to eliminate road noise by strategically insulating various points on the car. The interior of the car was completely redesigned with a new dashboard, console and other interior trim.
The Camaro was also available with a distinctive appearance package called the Rally Sport (RPO Z22) option. Unlike the previous years hidden headlights, the RS package included a distinctive nose and bumper treatment, round front parking lights, hidden wipers and other trim. The Rally Sport package could be added to any model Camaro and when combined with the SS option became a RS/SS or when combined with the Z28 it became a RS/Z28.
Further details on the Rally Sport can be found here.
The "Super Sport" (RPO Z27) package was continued. This model offered stylish performance, and was the only way to obtain the 396 Big Block Chevy engine (actually displaced 402 cubic inches).
Complete information on the Super Sport can be found here.
The "Z28 Special Performance Package" (RPO Z28) was not only positioned as the top Camaro performer, but it put its money where its mouth was. Designed to race in the SCCA Trans Am Series, the 1970 rules changes allowing for the 5.7L engine meant the Camaro was able to now use the 350 engine. The previous Z28s were limited to 302 cubic inches and were known to be temperamental on the street. The bigger engine also allowed an automatic transmission to be used in the Z28 for the 1st time. Due to the solid lifter, high revving cam, air conditioning was still not available on the Z28. With a stout drivetrain, including a mandatory 12 bolt rear axle, and a tuned suspension, the Z28 was a match for anything found on the street or at the track.
Complete information on the 1970 Z28 can be found here.
---
1970 Camaro Engine Information: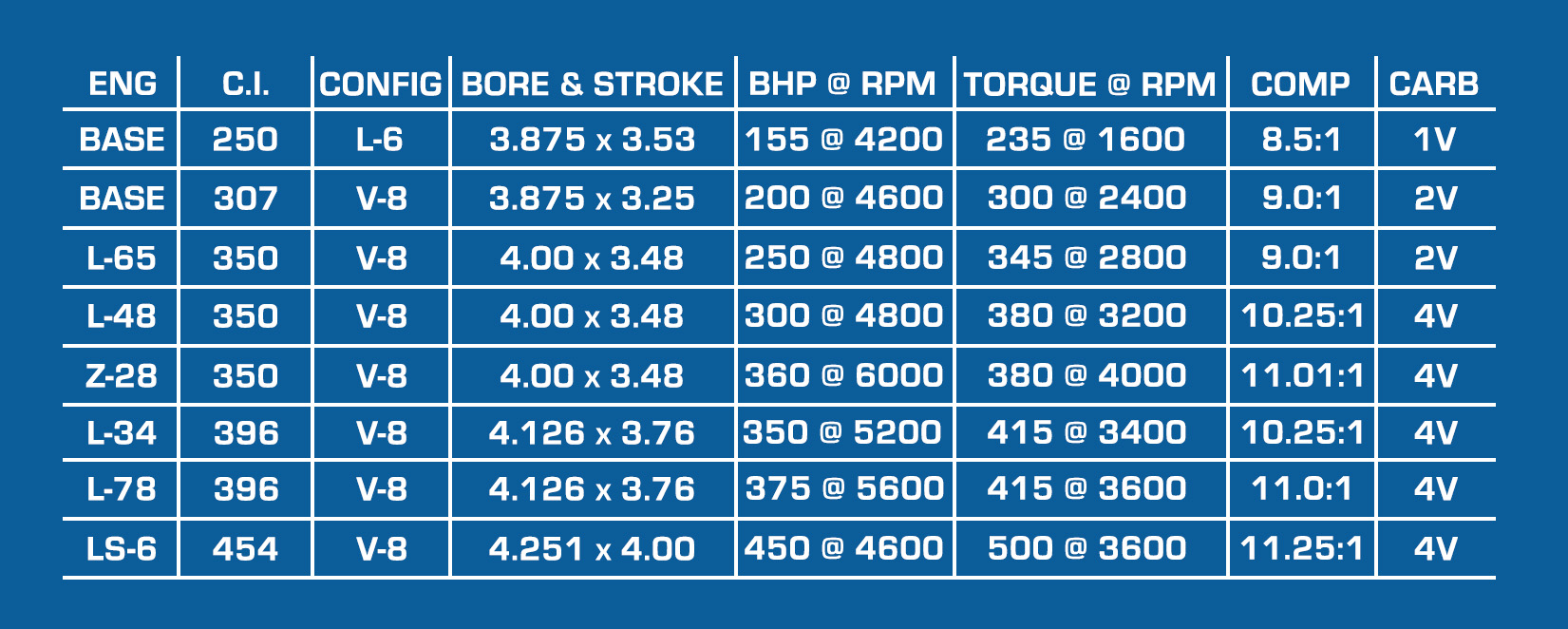 Note: Actual displacement of L34 and L78 "396" V8s is 402 cid. The LS6 engine never made it to production for the Camaro.
---
1970 Camaro Drivetrain Information: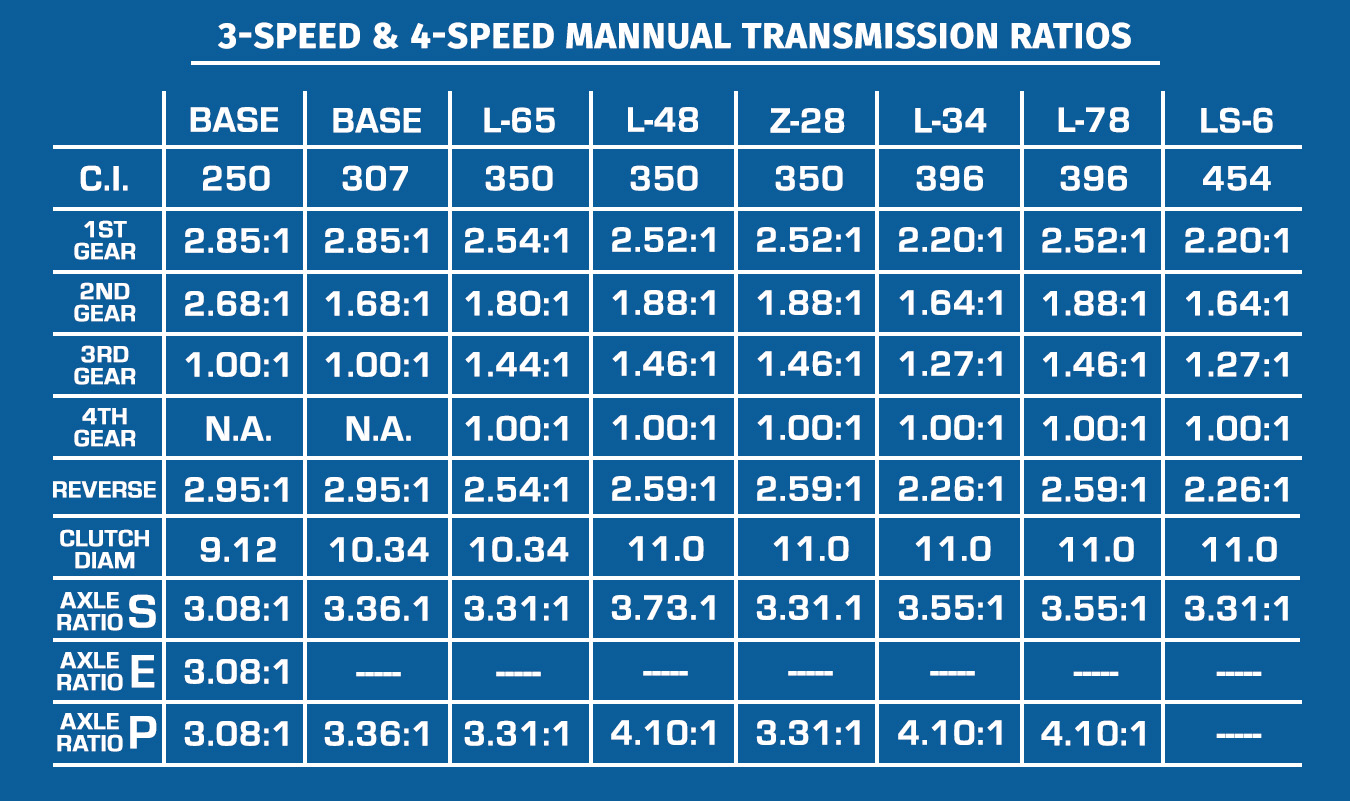 Only manual transmission for larger V8s were 4-speeds.
Only manual transmission available with base 250 and 307 was the 3-speed.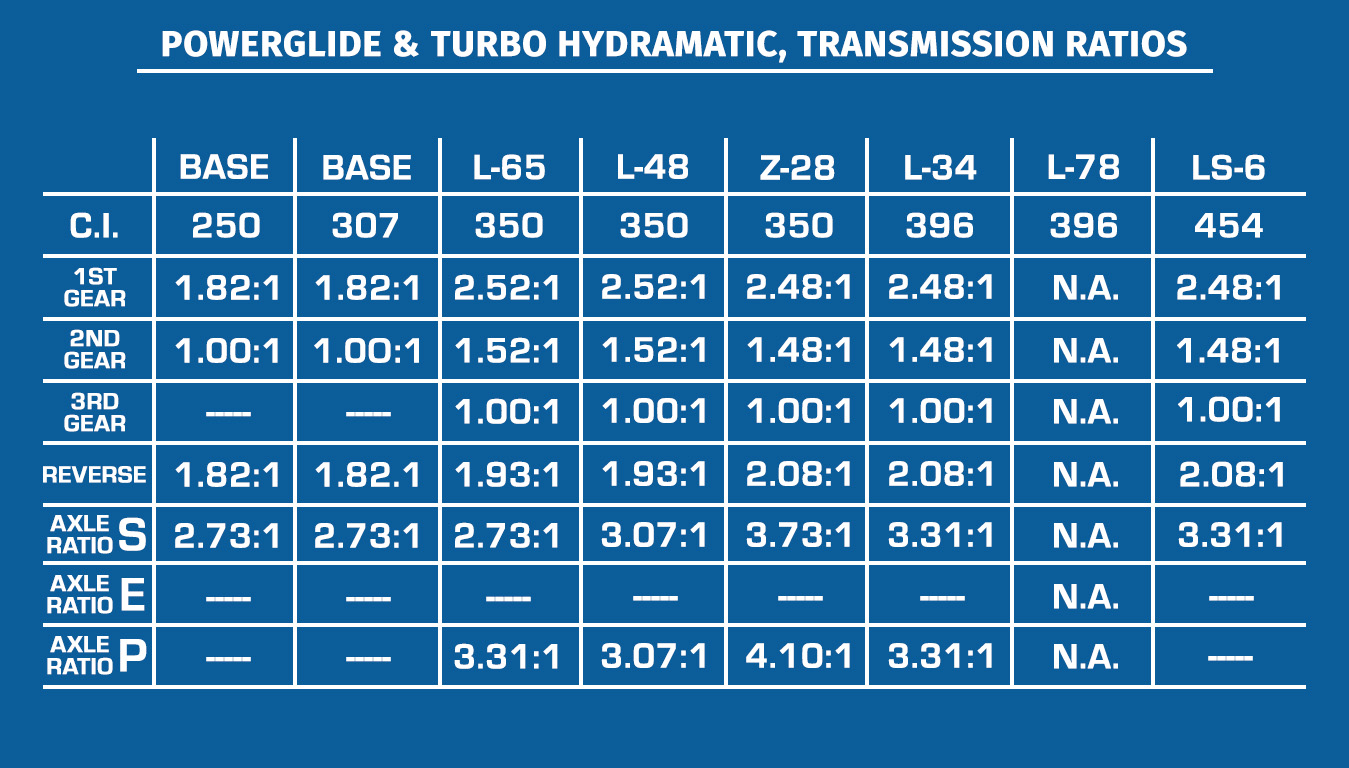 Axle Ratio Key:
S = Standard ratio
E = Economy
P = Performance
---
Engine Suffix Codes: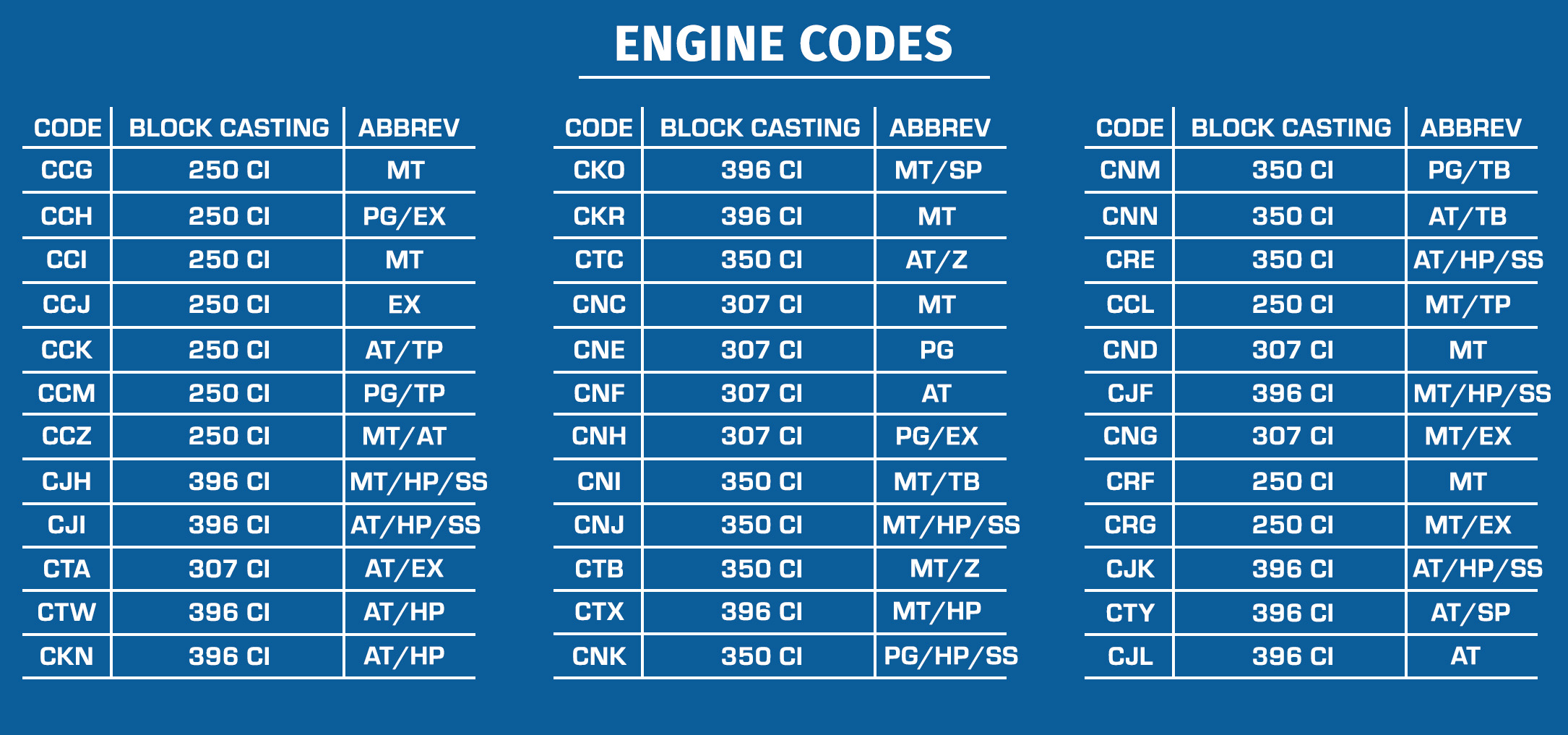 1970 Camaro Powertrains Abbreviations:
at = Turbo Hydra-Matic automatic
ci = cubic inch
ex = export
hp = high performance
pg = Powerglide automatic transmission
mt = manual transmission
sp = special high performance
tb = two-barrel carburetor
tp = taxi/police
Z = RPO Z28 special performance package
SS = used in SS option
Engine Code Example:
V0328CJH – (396 375hp Assembled in Flint assembly plant on March 28)
Click here for further engine decoding information
---
Transmission Codes & Rear Axle Codes:
Transmission Code Example: P0C27A – (1970 Muncie 4 speed, assembled March 27, (M20 w/ 2.52 1st gear)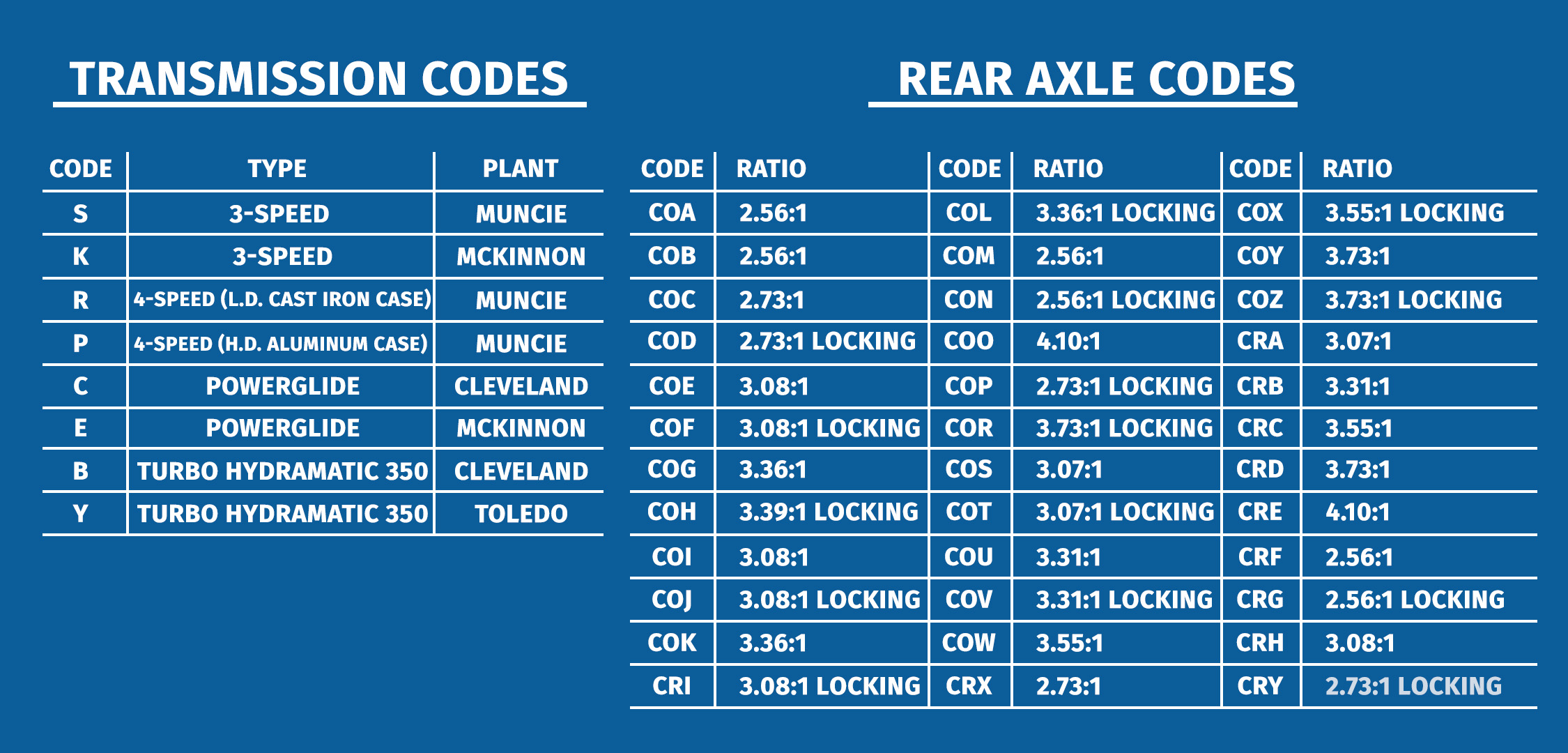 Type Code:
R3 = 3 speed manual (L6 & V8)
WB = 4 speed manual (V8)
UD = Powerglide (L6)
UF = Powerglide (V8)
GW = TH350 (V8)
TH400 transmission code is CK or CY (for BBC) and is stamped on a tag which is riveted to transmission case.
Click here for further transmission decoding information
1970 Camaro Factory Options (RPO Codes)Rear-end Code Example:
COZ0327GE – (Chevy sourced 3.73 Posi, Assembled on March 27 w/ Eaton Posi)
Click here for further axle decoding information
Click Here for general axle info and tooth combinations
---
RPO
12387
12487
AK1
AS4
A01
A31
B37
B93
C08
C24
C50
C60
D34
D35
D55
D80
F41
G80
J50
J52
L22
L34
L65
L78
M20
M21
M22
M35
M38
M40
NA9
N10
N33
N40
PL3
PL4
PX6
PY4
P01
P02
P06
T60
U14
U35
U63
U69
U76
U80
VF3
V01
Y02
Y03
Y10
YD1
ZJ7
ZJ9
ZP5
ZQ2
ZQ9
Z21
Z22
Z23
Z27
Z28
Z87
Description
Camaro Sport Coupe, 6-cylinder
Camaro Sport Coupe, 8-cylinder
Belts, custom deluxe
Belts, custom deluxe rear shoulder
Soft Ray Tinted Glass, all windows
Power Windows
Floor Mats, color-keyed front and rear
Guards, door edge
Vinyl Roof Cover
Windshield Wipers, hide-a-way
Defroster, rear window
Air Conditioning
Mirror, visor vanity
Mirrors, sport right and left remote exterior
Console
Spoiler, rear deck
Suspension, special purpose front and rear
Positraction, rear axle
Power Brakes, front disc, rear drum
Front disc brakes
6 Cylinder Engine, 250 CID
Engine, 396ci, 350hp Turbo-Jet V8 (SS)
Engine, 350ci, 250hp Turbo-Fire V8
Engine, 396ci, 375hp Turbo-Jet V8 (SS)
Transmission, 4-speed wide range
Transmission, 4-speed close ratio
Transmission, 4-speed heavy-duty close ratio
Transmission, Powerglide automatic
3-speed automatic transmission, 300 deluxe
Transmission, Turbo Hydra-Matic automatic
Emission Control, required for California
Dual Exhaust
Tilt Steering Column
Power Steering
Tires, E78x14 belted white stripe
Tires, F70x14 belted white letter
Tires, F78x14 belted white stripe
Tires, F70x14 belted white stripe
Wheel Covers, bright metal
Wheel Covers, special
Deluxe wheel trim cover
Battery, heavy duty
Special Instrumentation
Clock
Radio, AM pushbutton
Radio, AM/FM pushbutton
Windshield antenna
Speaker, rear seat
Bumpers, deluxe front and rear
Radiator, heavy duty
Custom Front Seat
Custom Rear Seat
Custom Trim
Axle, trailering ratio
Wheels, rally
Auxiliary Lighting Group
Appearance Guard Group (Includes B93, B37, D34)
Operating Convenience Group (Includes U35, D35, C50)
Axle, performance ratio
Style Trim Group
Rally Sport Package
Interior Accent Group
Super Sport Package
Special Performance Package
Custom Interior
Qty
12,578
112,323
13,218
89
71,363
–
23,708
35,577
43,221
40,143
8,814
38,565
7,423
31,726
–
–
–
19,752
59,607
–
–
1,864
34,780
600
12,191
5,302
1,185
19,520
–
71,832
15,862
–
6,735
92,640
56,186
20,783
12,893
15,776
73,292
3,532
–
5,518
17,842
15,533
110,779
8,586
–
20,583
1,605
1,509
–
–
–
132
15,197
8,307
–
–
3,161
43,344
27,136
36,550
12,476
8,733
21,059
Retail *
$2,749.00
2,839.00
12.15
26.35
37.95
–
11.60
5.30
89.55
19.00
26.35
380.25
3.20
26.35
59.00
32.65
30.55
44.25
47.40
–
–
152.75
31.60
385.50
205.95
205.95
232.35
174.25
–
200.65
36.90
–
45.30
105.35
26.05
65.35
43.30
65.70
26.35
79.00
–
15.80
84.30
15.80
61.10
133.80
–
14.75
36.90
14.75
–
–
–
12.65
42.15
13.70
–
–
12.65
52.70
168.55
21.10
289.65
572.95
115.90
Had at no charge if it was included as standard equipment on the Z28, Rally Sport or Super Sport or as part of an option package.
1970 Camaro Exterior & Interior Color Codes:
* Option prices are retail for base model. Prices could be reduced or option could be trim tag
Norwood Built Camaro Trim Tag: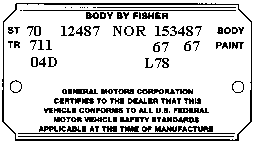 LA Built Camaro Trim Tag: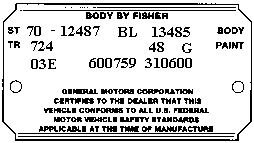 The trim tag, located on the cowl area identifies significant information about your car. Click Here for general trim tag decoding information.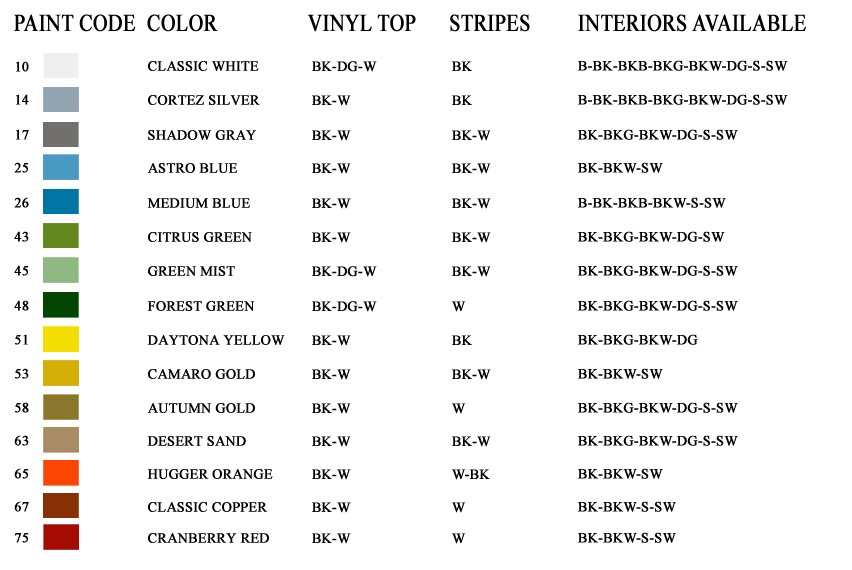 Paint type: "Magic-Mirror" Acrylic Lacquer. Two-tone combinations not offered. Vinyl top offered at additional cost.
1970 Vinyl Top Code – Upper Body Color Code
A = White, B = Black, C = Dark Blue, G = Dark Green, H = Dark Gold
Interior Codes:
B = Blue
Bk = Black
Bkb = Black with blue accents
Bkg = Black with green accents
Bkw = Black with white accents
Cc = Custom cloth
Cv = Custom vinyl
Dg = Dark green
S = Saddle
Sw = Sandlewood
Std = standard
W = White
1970 Camaro RPO Breakouts & Model Specifics
1970 Z21 Style Trim – Includes body colored insert on door handles, bright window, body, sill and hood panel moldings plus bright accented parking lights, taillights and backup lights. (Included with Rally Sport option).
1970 Z22 Rally Sport – Includes special black painted grille with special rubber tipped vertical center bar and resilient body color grille frame; Independent LH and RH front bumpers replacing full width bumper; license plate bracket mounted below RH bumper; parking lights with bright accents mounted on grille panel; Hide-a-Way windshield wipers with black-chrome finished arms and articulated left hand blade; bright window, hood panel and body sill moldings; body colored insert on door handles; RS emblem on steering wheel; Rally Sport front fender nameplates; bright accented taillights and back-up lights. (RS emblems deleted with SS or Z28 option).
Click here for information on How to verify a Rally Sport
Click here to view a 1970 RS
[ Side view | High Angle Front View | Front 1/4 Side view ]
________________________________________
1970 Z23 Accent Group Interior – Includes additional instrument cluster lighting, wood grained accents on instrument cluster and steering wheel (included in Custom Interior option).
1970 Z27 Super Sport – Includes 300-hp Turbo-Fire 350 engine and bright accents & dual exhaust; power brakes, special ornamentation; special hood insulation; F70-14 bias belted ply white lettered tires, 14″ x 7″ wheels; black painted grille; hide-a-way windshield wipers with black chrome finished arms and articulated left hand blade; SS emblems on steering wheel, fenders and grille (exc. when combined with RS), available with V8 only, available with 4-speed manual or automatic transmission only, optional engines are L34 350 hp 396 and L78 375 hp 396). 396 received black painted rear panel and forced RPO F41 onto the car. L78 required Positraction.
Total SS Production = 12,476
L48/350 CI = 10012   L34/396 CI = 1864   L78/396 CI = 600
Carburetor Part numbers
350 ci – 7040203
350 ci w/ at – 7040202
396 ci – 7040205
396 ci w/ at – 7040204
396 ci 375hp w/ EEC – 3957477 (Holly R-4557A)
396 ci 375hp w/ EEC – 3967479 (Holly R-4491A)
396 ci 375hp w/ EEC & at – 3969898 (Holly R-4492A)
396 ci 375hp w/ EEC & at – 3969894 (Holly R-4556A)
 Distributor Part Numbers
350 ci – 1111997
396 ci – 1112000
396 ci – 1112000
BBC Intake Manifold:
3963569
1970 Z28 Special Performance Package
Mark D's 1970 Z28. Click image to view more info
Other Views: Z28 Sales literature
Engine: Includes special 350 CID, 360-bhp V8 derived from Corvette LT-1. Four-bolt mains, forged steel crank, TRW impact extruded pistons, 11:1 c.r. Standard cam was 1969 optional cam, with 317-degree intake duration and 346-degree exhaust. Lift: 0.458 inches intake and exhaust, Carburetion by Holley 780-cfm (4150) 4-barrel atop new high-rise aluminum manifold. Spark via aluminum single-point, vacuum controlled distributor. High-performance oil pump, baffled pan, windage tray. Cast aluminum rocker covers with internal galleries. Twin-pulley fan drive. Mechanical valve lifters. Same heads and valve sizes as 302. Chrome dress up kit, larger-capacity radiator.
Click here to see the specific LT-1 Engine Components.
1970 Z28 Carburetor (780 cfm Holley):
A/T List 4490 GM # 3972120
4 Spd List 4555 GM # 3972121
A/T w/ NB2 List 4554 GM # 3972122
4 Spd w/ NB2 List 4489 GM # 3972123
Transmission:
Mandatory choice of same Muncie 4-speeds as before, with special 2400-RPM-stall torque converter Turbo Hydra-Matic optional. First year an automatic transmission could be ordered in the Z28.
Clutch:
New 11-inch unit.
Rear Axle:
GM 12 bolt (only year 12 bolt used). Positraction optional. 3.73:1 ratio standard. 4.10 ratio available (RPO ZQ9)
Brakes:
11-inch, vented, cast-iron front discs with vacuum assist standard. Rear 9.5-inch drums.
Front Suspension:
Similar to previous Camaros. Z-28 anti-roll bar 1.0-inch diameter instead of standard 0.6875-inch unit
Rear Suspension:
RPO F-41 special suspension standard, including 5-leaf rear springs, 125 lb./in. spring rate, staggered heavy-duty shocks, link-type rear stabilizer bar
Steering:
Standard non-power steering ratio 18.8:1 or 4.1 turns lock to lock. Optional power steering came as variable-ratio at 14.3-10.9:1 for 2.3 turns lock to lock.
Wheels & Tires:
15″ x 7″ steel wheels painted dull grey with bright lug nuts, center caps with blue bowtie and trim rings.
Wheel Code:
AU, Part #: 3983045, Center cap part #: 3989479, Trim Ring part #: 3984524. F60-15 fiberglass-belted white letter tires standard.
Click here to see the specific 1970 Z28 Chassis Specifications.
Other Options, equipment, facts:
One-piece low-profile rear spoiler standard; 3-piece high spoiler (COPO 9796) available optionally after Apr. 20, 1970; special instrumentation; dual exhaust; black painted grille; Z28 emblems on grille, front fenders and rear deck lid; rear bumper guards; special hood insulation; special paint stripes on hood and rear deck.
Total Production: 8733
1970 Z87 Custom Interior:
Includes deluxe seat (in cloth or vinyl) and sidewall trim; glove compartment light and additional instrument cluster lighting; wood grained accents on instrument cluster, steering wheel and door trim panels; luggage compartment mat plus special engine compartment, hood and interior insulation.