1969 Chevelle Specifications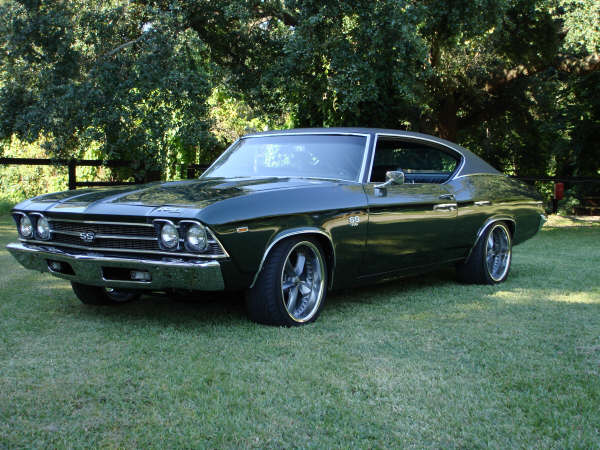 The 1969 Chevelle received some minor revisions from the previous model year. The body was basically the same, but its good looks came from a new grille, tail lights, headlamp bezels, and some other cosmetic adjustments.
The 1969 Chevelle was available in several trim levels including the Chevelle 300, Chevelle Nomad, Chevelle Concourse, Chevelle Malibu, or Chevelle SS396. Each configuration could be ordered with a six cylinder (except SS) or V8 engine. Body style included 2 door sport coupes, 2 door sedans, 2 door convertibles, 4 door sedans, 2 door wagons, or 4 door wagons.
Interiors could be optioned with either bucket seats or bench seats and were available in many colors. The most popular were Black, Dark Blue, Light Green, Dark Metallic Green, Parchment, Red, or Saddle. The buyer could have ordered a number of different exterior colors including Tuxedo Black, Midnight Teal Metallic, Ermine White, Grotto Blue Metallic, Fathom Blue Metallic, Island Teal Metallic, Ash Gold Metallic, Grecian Green Metallic, Autumn Bronze Metallic, Rallye Green Metallic, Tripoli Turquoise Metallic, Teal Blue, Metallic, Burnished Saddle Metallic, Cordovan Maroon Metallic, Corvette Bronze Metallic, Seafrost Green Metallic, Verdoro Green Metallic, Matador Red, Jade Gold Metallic, Palomino Ivory, Lemans Blue Metallic, Sequoia Green Metallic, Silver Beige Mist Metallic, Buckskin, Butternut Yellow, and Inca Silver Mist Metallic.
To complement the wide variety of available colors were the available drive train combinations that could be opted for on the 1969 Chevelle. Base power was had by one of two available six cylinder. Buyers who wanted more power could opt for a V-8. Big block were in abundance with the regular availability of a 396 cubic inch engine which boasted 325 horsepower, 350 horsepower, or 375 horsepower. Manual transmissions were either 3 speeds or 4 speeds and automatic transmissions were either the 2 speed Powerglide or 3 speed Turbo Hydramatics.
About 503,000 1969 Chevelles were produced.
---
---
Model Options:
Available Transmission:
3-Speed Manual
4-Speed Manual
Powerglide
Turbo Hydra-Matic
1969 Chevelle Nomad Wagon Information
Engine Options

230 cubic inch 140 horsepower 6 cylinder (base)
250 cubic inch 155 horsepower 6 cylinder (optional)
307 cubic inch 200 horsepower V-8 (base)
1969 Chevelle 300 Deluxe Information
Body Styles

2 Door Coupe
2 Door Sport Coupe
4 Door Sedan
4 Door Greenbrier
Engine Options

230 cubic inch 140 horsepower 6 cylinder (base)
250 cubic inch 155 horsepower 6 cylinder (optional)
307 cubic inch 200 horsepower V-8 (base)
1969 Chevelle Malibu Information
Body Styles
4 Door Sedan
4 Door Sport Sedan
2 Door Sport Coupe
2 Door Convertible
4 door Concours
Engine Options
230 cubic inch 140 horsepower 6 cylinder (base)
250 cubic inch 155 horsepower 6 cylinder (optional)
307 cubic inch 200 horsepower V-8 (base)
350 cubic inch 255 horsepower V-8 (optional)
350 cubic inch 300 horsepower V-8 (optional)
427 cubic inch 425 horsepower V-8 (optional)
1969 Chevelle Malibu Concours Sport Sedan Information
Engine Options

230 cubic inch 140 horsepower 6 cylinder (base)
250 cubic inch 155 horsepower 6 cylinder (optional)
307 cubic inch 200 horsepower V-8 (base)
350 cubic inch 255 horsepower V-8 (optional)
350 cubic inch 300 horsepower V-8 (optional)
1969 Chevelle Malibu Concours Estate Wagon Information
Engine Options

230 cubic inch 140 horsepower 6 cylinder (base)
250 cubic inch 155 horsepower 6 cylinder (optional)
307 cubic inch 200 horsepower V-8 (base)
350 cubic inch 255 horsepower V-8 (optional)
350 cubic inch 300 horsepower V-8 (optional)
1969 Chevelle SS396 (Super Sport) Information
Body Styles

2 door sport coupe
2 door sedan
2 door convertible
Engine Options

396 cubic inch 325 horsepower V-8 (base)
396 cubic inch 350 horsepower V-8 (optional)
396 cubic inch 375 horsepower V-8 (optional)
Production Numbers: 503,352
Greenbriar: 10,606
300 Deluxe: 41,957
Malibu: 367,118
El Camino & El Camino Custom: 48,385
Concours: 22,134
Nomad: 13,152
---

---
Additional 1969 Chevelle Links: