1968 Camaro Specifications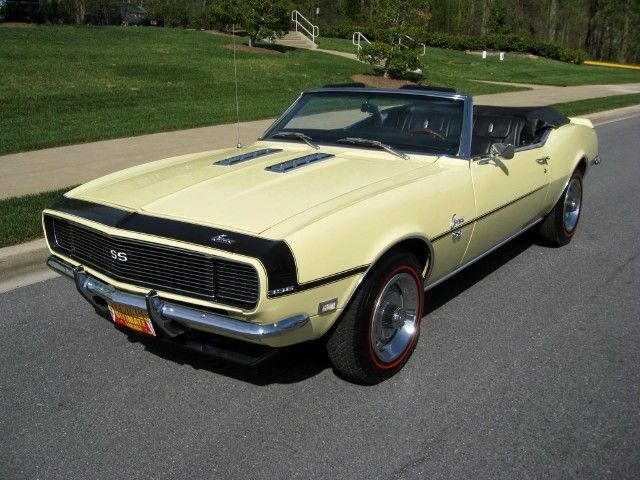 By its second year, the Camaro was already stealing away some of the pony car market. The same basic body style was used for the 1968 Camaro and it is sometimes hard to spot the differences between a 1967 Camaro and a 1968 Camaro.
Upon closer inspection, you will see that the vent windows were deleted and side markers were added (per new federal safety regulations). Rectangular parking lamps replaced the round ones on the grille. Also new for 1968 was a 350 horsepower version of the 396 cubic inch big block V8.
The 1968 Camaro was available in many different configurations. From a plain Jane sport coupe to asphalt eating Super Sport, there was something for everyone! All 1968 Camaros shared the same body unlike the Chevelle and were available in either coupe or convertible. Buyers could choose from the base model Sport Coupe, drag strip ready Super Sport, or road racing Z-28. The Rally Sport option with hidden headlights could be added as a separate packing to any of those models.
Interiors could be optioned with either bucket seats or bench seats and were available in a variety of colors and styles. Standard interiors were available in Black, Blue, Red, White, or Ivy Gold. Buyers who ordered a deluxe interior received unique door panels with molded in arm rests and Comfortweave seats with color choices of Aqua, Black, Blue, Pearl, Red, or Ivy Gold. Even rarer was the deluxe Houndstooth interior with unique pleats in Black, White, or Pearl. A fold down rear seat was available but very rare. An optional console was available with our without gauges on bucket seat cars. The buyer could have ordered a number of different exterior colors including Tuxedo Black, Ermine White, Grotto Blue, Fathom Blue, Island Teal, Ash Gold, Grecian Gold, Rallye Green, Tripoli Turquoise, Teal Blue, Cordovan Maroon, Corvette Bronze, Seafrost Green, Matador Red, Palomino Ivory, LeMans Blue, Sequoia Green, Butternut Yellow, or British Green.
To complement the wide variety of available colors were the available drive train combinations that could be opted for on the 1968 Camaro. Base power was had by one of two available six cylinder engines. Buyers who wanted more power could opt for aV-8. Manual transmissions were either 3 speeds or 4 speeds. The 2 speed Powerglide was the standard transmission and a 3 speed Turbo Hydramatic was optional.
About 235,000 1968 Camaros were produced. 214,707 coupe, 20,440 convertible, 235,147 total.
Total Super Sports = 30,695
Vehicle Identification Example: 123378N300001
* Third digit is engine code: 3 = 6-cylinder, 4 = V8
* Fourth digit is body style: 3 = coupe, 6 = convertible
* Sixth digit is model year: 8 = 1968
* Seventh digit is N for Norwood assembly, L for Van Nuys.
* Last six digits increased one with each car built at each plant.
---
Model Options:
1968 Camaro
Models
1968 Camaro Standard Sport Coupe
1968 Camaro Rally Sport (hidden headlights)
1968 Camaro Super Sport
1968 Camaro Rally Sport Super Sport (RS/SS)
1968 Camaro Z/28
1968 Camaro Rally Sport Z/28 (RS/Z/28)
Body Styles
2 Door Coupe
2 Door Convertible (one Z/28 known to exist)
Engine Options
230 cubic inch 140 horsepower 6 cylinder (base)
250 cubic inch 155 horsepower 6 cylinder (optional)
302 cubic inch 290 horsepower V8 (base Z/28, Z/28 only)
327 cubic inch 210 horsepower V8 (base)
327 cubic inch 250 horsepower V8 (optional)
350 cubic inch 295 horsepower V8 (base Super Sport, SS only)
396 cubic inch 325 horsepower V8 (optional Super Sport, SS only)
396 cubic inch 375 horsepower V8 (optional Super Sport, SS only)
427 cubic inch 425 horsepower V8 (Central Office Production Order COPO)
427 cubic inch 435 horsepower V8 (Central Office Production Order COPO)
Drivetrains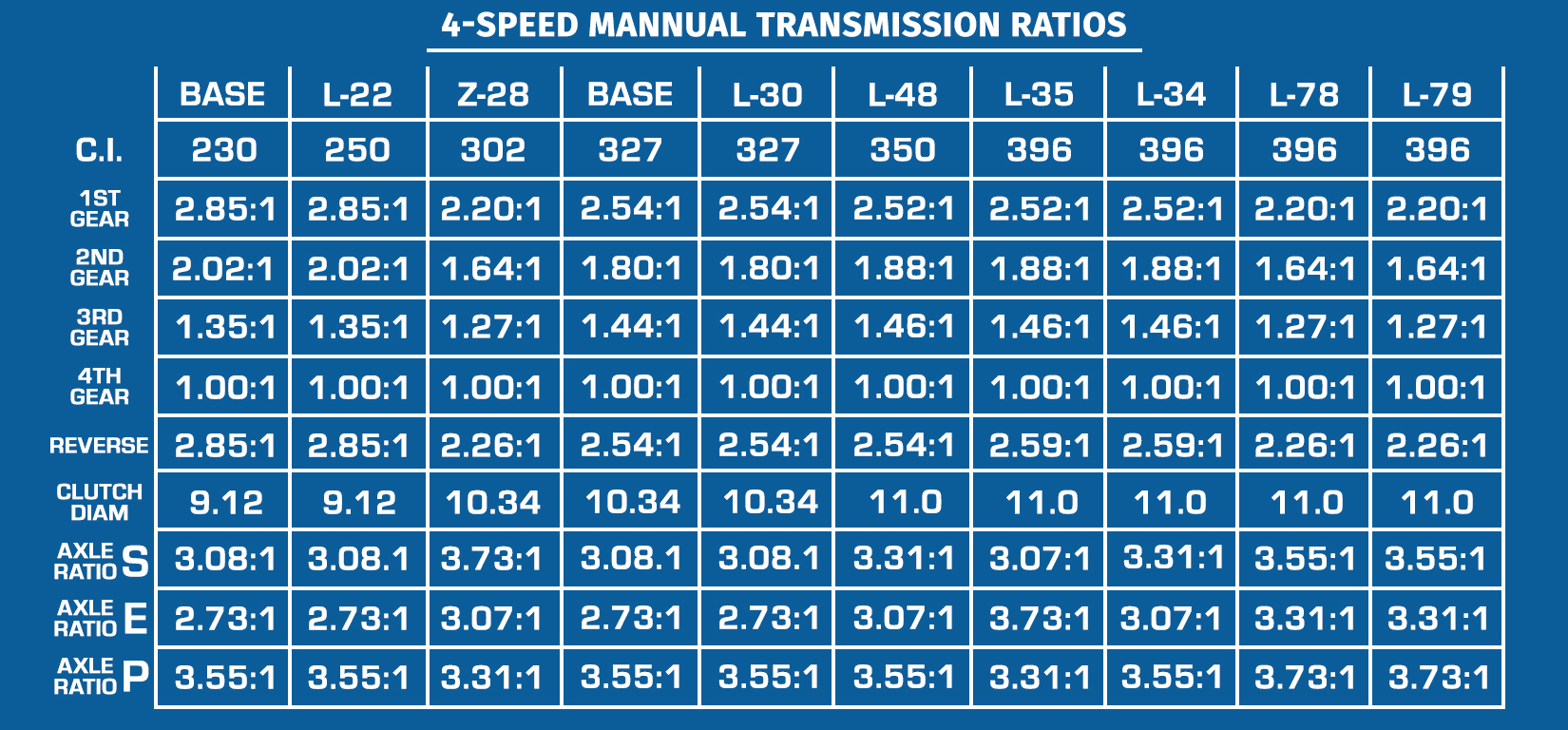 ---
a = Ratios given are for heavy-duty 3-speed; standard 3-speed also available with same ratios as L-30 327 V-8.
b = Certain performance ratios from 3.55:1 to 4.88:1 optional.
c = Alternate close-ratio 4-speed available with ratios identical to L-48 350 V-8, plus heavy-duty 4-speed with same ratios shown.
d = RS came with 3.07 or 3.08:1 axle ratio.
Engine Codes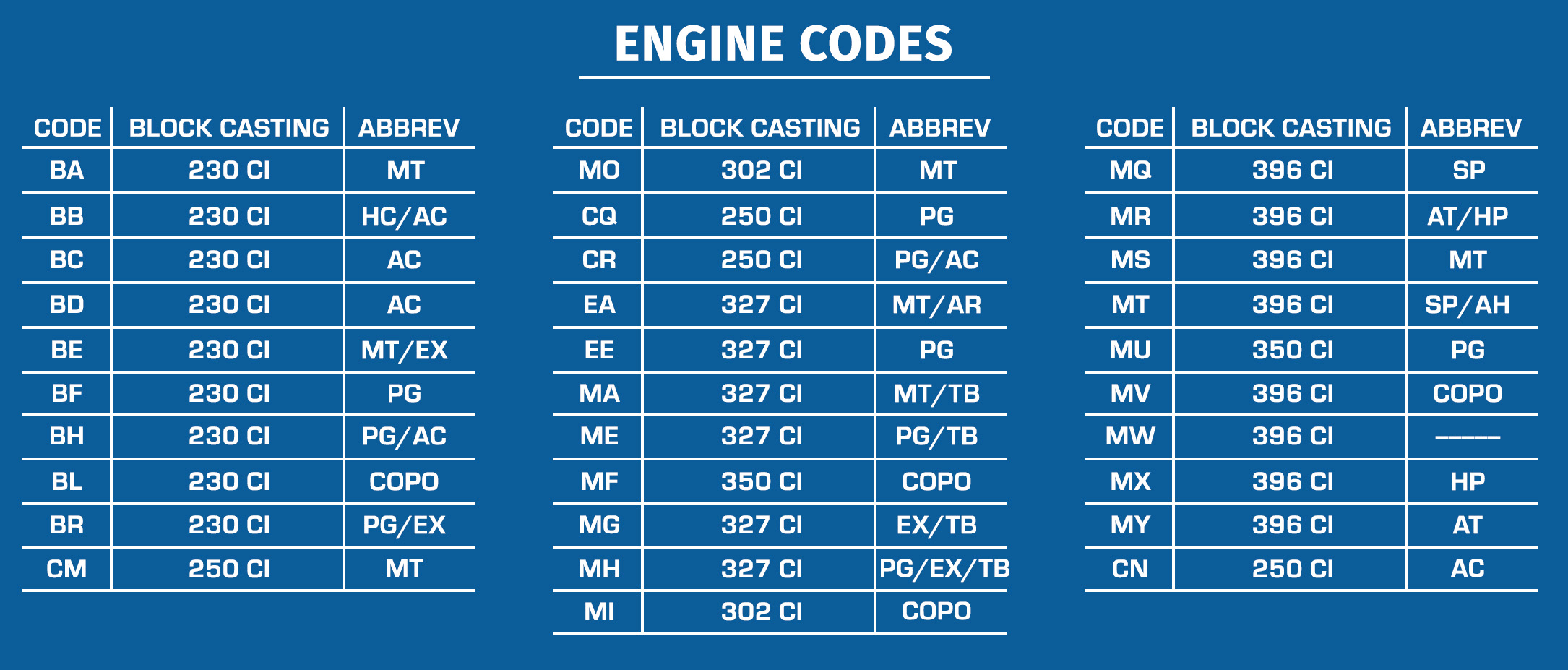 ---

Block Casting
302 ci
327 ci
350 ci: 3914660, 3914678
396 ci: 3916323, 3935440
Abbreviations
ac=air conditioning

ah=aluminum heads

ar=air injection reactor

at=Turbo Hydra-Matic automatic transmission

ci=cubic inch

copo=central office production order

ex=export

hc=heavy-duty clutch

hp=high performance

pg=Powerglide automatic transmission

mt=rnanual transmission

sp=special high performance

tb=two barrel carburetor
---
Transmission Codes
---
Rear Axle Codes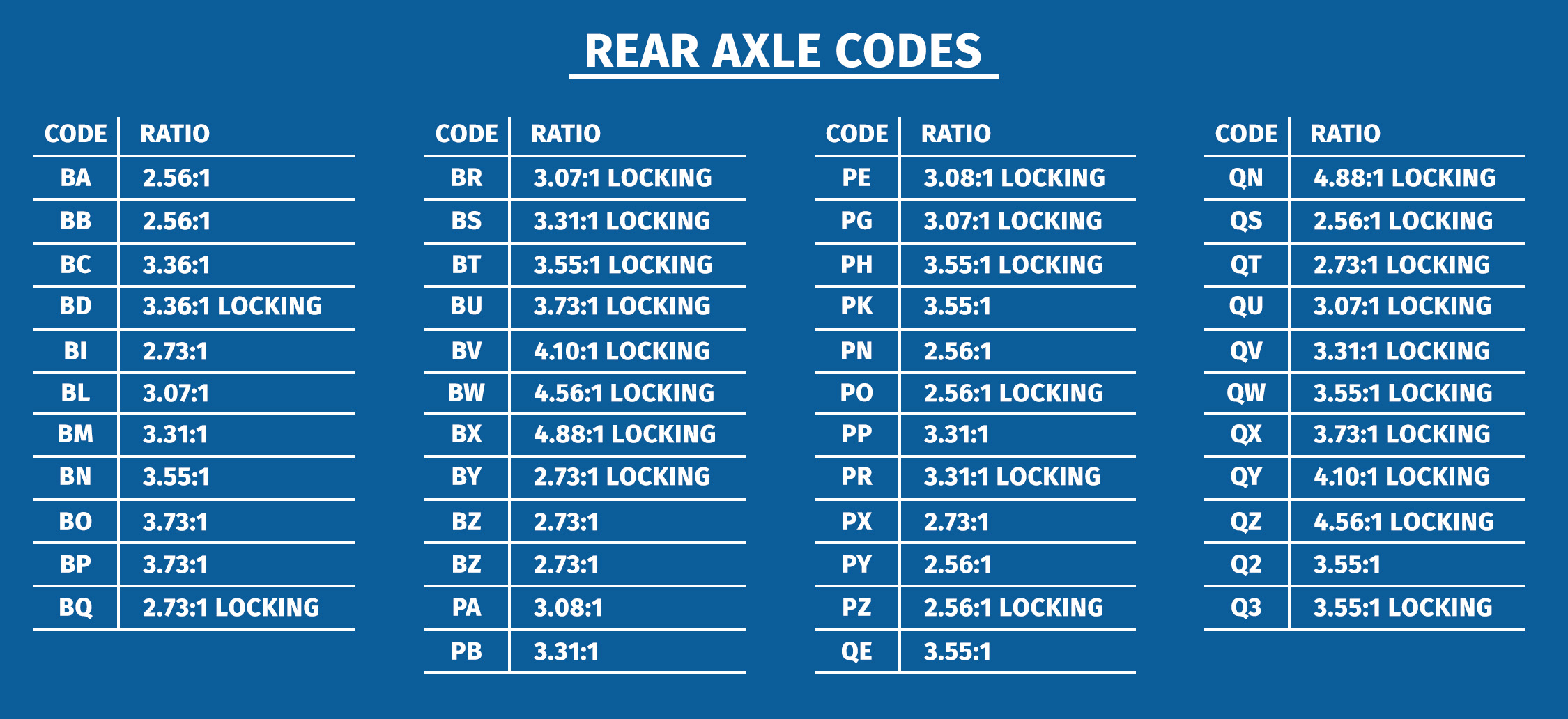 ---
1968 Factory Options
| | | | |
| --- | --- | --- | --- |
| RPO | Description | Quantity | Retail |
| 12337 | Camaro Sport Coupe, 6-cylinder | 47,456 | $2,565.00 |
| 12367 | Camaro Convertible, 6-cylinder | 3,513 | 2,802.00 |
| 12437 | Camaro Sport Coupe, 8-cylinder | 167,251 | 2,670.00 |
| 12467 | Camaro Convertible, 8-cylinder | 16,927 | 2,908.00 |
| AK1 | belts, custom deluxe seat and shoulder (coupe) | 22,988 | 11.10 |
| AL4 | Seat, front Strato-back (coupe) | 4,896 | 32.65 |
| AS1 | Belts, standard type front shoulder (conv) | 70 | 23.20 |
| AS2 | Head Restraints, driver and passenger | 2,234 | 52.70 |
| AS4 | Belts, custom deluxe type rear shoulder | 109 | 26.35 |
| AS5 | Belts. standard type rear shoulder | 24 | 23.20 |
| A01 | Soft Ray Tinted Glass, all windows | 65,329 | 30.55 |
| A02 | Soft Ray Tinted Glass, windshield only | 60,677 | 21.10 |
| A31 | Power Windows | 3,304 | 100.10 |
| A39 | Belts, custom deluxe front and rear (conv) | 3,560 | 7.90 |
| A67 | Folding Rear Seat | | |
| A85 | Belts, custom deluxe front shoulder (conv) | 222 | 26.35 |
| B37 | Floor Mats, color-keyed front and rear | 30,713 | 10.55 |
| B93 | Guards, door edge | 49,395 | 4.25 |
| C06 | Top, power (convertible) | 9,580 | 52.70 |
| C08 | Vinyl Roof Cover (coupe) | 77,065 | 73.75 |
| C50 | Defroster, rear window ($31.60 for conv) | 6,181 | 21.10 |
| C60 | Air Conditioning | 35,866 | 360.20 |
| D33 | Mirror, left outside remote control | 4,740 | 9.50 |
| D55 | Console (includes floor-mount shifter) | 140,530 | 50.60 |
| D80 | Auxiliary Panel and Valance (spoiler) | 15,520 | 32.65 |
| D90 | Striping, sport (included with Super Sport) | 30,541 | 25.30 |
| D91 | Band, front accent | 40,487 | 14.75 |
| D96 | Striping, fender | 19,657 | 13.70 |
| F41 | Suspension, special purpose front and rear | 7,117 | 10.55 |
| GT1 | Rear Axle, 2.56 Ratio | | |
| G31 | Springs, special rear (incl rear bumper guards) | 821 | 20.05 |
| G80 | Positraction Rear Axle | 36,710 | 42.15 |
| – | Rear Axle, optional ratios | – | 2.15 |
| G94 | Rear Axle, 3.31 Ratio | | |
| G96 | Rear Axle, 3.55 Ratio | | |
| G97 | Rear Axle, 2.73 Ratio | | |
| H01 | Rear Axle, 3.07 Ratio | | |
| H05 | Rear Axle, 3.73 Ratio | | |
| J50 | Power Brakes,.front and rear drum | 44,196 | 42.15 |
| J52 | Power Brakes, front disc, rear drum | 20,117 | 100.10 |
| KD5 | Ventilation, engine heavy-duty closed positive | 30 | 6.35 |
| K02 | Fan, temperature controlled (V8 only) | 1,285 | 15.80 |
| K05 | Engine Block Heater | | |
| K30 | Speed and Cruise Control | 327 | 52.70 |
| K76 | Generator, 61-amp Delcotron | 90 | 26.35 |
| K79 | Generator, 42-amp Delcotron | 189 | 10.55 |
| L22 | Engine, 250ci, 155hp Turbo-Thrift 6-cyl | 28,647 | 26.35 |
| L30 | Engine, 327ci, 275hp Turbo-Fire V8 | 21,686 | 92.70 |
| L34 | Super Sport, with 396ci, 350hp engine | 2,579 | 368.65 |
| L35 | Super Sport, with 396ci, 325hp engine | 10,773 | 263.30 |
| L48 | Super Sport, with 350ci, 295hp engine | 12,496 | 210.65 |
| L78 | Super Sport, with 396ci, 375hp engine | 4,575 | 500.30 |
| L89 | Super Sport, 396ci, 375hp, aluminum heads | 272 | 868.95 |
| MB1 | Transmission, Torque-drive (6-cylinder only) | 3,099 | 68.65 |
| M11 | Shift Lever, floor mounted | 30,192 | 10.55 |
| M13 | Transmission, special 3-speed manual | 752 | 79.00 |
| M20 | Transmission, 4-speed wide range manual | 35,161 | 184.35 |
| M21 | Transmission, 4-speed close ratio manual | 11,134 | 184.35 |
| M22 | Transmission, 4-speed close ratio heavy-duty | 1,277 | 310.70 |
| M35 | Transmission, Powerglide automatic | 127,165 | 184.35 |
| M40 | Transmission, Turbo Hydra-Matic automatic | 5,466 | 237.00 |
| NF2 | Exhaust System, dual (deep-tone mufflers) | 9,024 | 27.40 |
| N10 | Exhaust System, dual | 4,462 | 27.40 |
| N30 | Steering Wheel, deluxe | 9,178 | 4.25 |
| N33 | Tilt Steering Column | 5,294 | 42.15 |
| N34 | Steering Wheel, wood-grained plastic rim | 5,649 | 31.60 |
| N40 | Power Steering | 115,280 | 84.30 |
| N44 | Special Steering, quick ratio | 3,090 | 15.80 |
| N65 | Tire, space saver | 1,021 | 19.35 |
| N95 | Wheel Covers, simulated wire | 3,988 | 73.75 |
| N96 | Wheel Covers, mag style | 6,072 | 73.75 |
| PA2 | Wheel Covers, mag-spoke style | 4,085 | 73.75 |
| PW7 | Tires, F70xl4 2-ply white stripe | 26,670 | 64.75 |
| PW8 | Tires, F70xl4 2-ply red stripe | 6,686 | 64.75 |
| PY4 | Tires, F70xl4 fiberglass belt white stripe | – | 26.55 |
| PY5 | Tires, F70xl4 fiberglass belt red stripe | – | 26.55 |
| P01 | Wheel Covers, bright metal | 133,742 | 21.10 |
| P58 | Tires, 7.35xl4 two-ply whitewall | 141,178 | 31.35 |
| T60 | Battery, heavy duty | 8,196 | 7.40 |
| U03 | Horn, tri-volume | 768 | 13.70 |
| U15 | Speed Warning Indicator | 2,344 | 10.55 |
| U17 | Special Instruments (requires V8 & console) | 20,263 | 94.80 |
| U25 | Luggage Compartment Lamp | | |
| U26 | Underhood Lamp | | |
| U27 | Glove Compartment Lamp | | |
| U28 | Ash Tray Lamp | | |
| U29 | Instrument Panel Courtesy Lights | | |
| U35 | Clock, electric (included with RPO U17) | 20,319 | 15.80 |
| U46 | Light Monitoring System | 1,755 | 26.35 |
| U57 | Stereo Tape System | 4,155 | 133.80 |
| U63 | Radio, AM pushbutton | 192,805 | 61.10 |
| U69 | Radio, AM-FM pushbutton | 7,214 | 133.80 |
| U73 | Antenna, manual rear mount | 21,729 | 9.50 |
| U79 | Radio, AM-FM stereo | 1,335 | 239.15 |
| U80 | Speaker, rear seat | 23,198 | 13.20 |
| V01 | Radiator, heavy duty | 4,682 | 13.70 |
| V31 | Guards, front bumper | 19,455 | 12.65 |
| V32 | Guards, rear bumper | 18,628 | 12.65 |
| ZJ7 | Wheels, rally | 8,047 | 31.60 |
| ZJ9 | Auxiliary Lighting Group | 18,099 | 13.70 |
| ZK3 | Deluxe Seat Belts and Front Seat Shoulder Harness | | |
| Z21 | Style Trim Group | 93,235 | 42.15 |
| Z22 | Rally Sport Package | 40,977 | 105.35 |
| Z23 | Interior, special (included with RPO Z87) | 57,098 | 17.95 |
| Z28 | Special Performance Package (coupe) | 7,199 | 400.25 |
| Z87 | Custom Interior | 50,461 | 110.60 |
---
1968 Colors
| | | | | |
| --- | --- | --- | --- | --- |
| Paint Code | Exterior | Soft Top | Stripes | Interiors |
| AA | Tuxedo Black | B-BK-W | W | B-Bh-Bk-G-Ih-Pb-R-T |
| CC | Ermine White | B-BK-W | Bk | B-Bh-Bk-G-Ih-Pb-R-T |
| DD | Grotto Blue | B-BK-W | W | B-Bh-Bk-Ih-Pb |
| EE | Fathom Blue | B-BK-W | W | B-Bh-Bk-Ih-Pb |
| FF | Island Teal | B-BK-W | W | B-Bh-Bk-Ih-Pb |
| GG | Ash Gold | B-BK-W | Bk | Bh-Bk-Ih-G-Pb |
| HH | Grecian Green | B-BK-W | Bk | Bh-Bk-Ih-Pb |
| JJ | Rallye Green | B-BK-W | W | Bh-Bk-Ih-Pb |
| KK | Tripoli Turquoise | B-BK-W | Bk | Bh-Bk-Ih-Pb-T |
| LL | Teal Blue | B-BK-W | W | B-Bh-Bk-Ih-Pb |
| NN | Cordovan Maroon | B-BK-W | W | B-Bh-Bk-Ih-Pb |
| OO | Corvette Bronze | B-BK-W | Bk | Bh-Bk-Ih-Pb |
| pp | Seafrost Green | B-BK-W | Bk | Bh-Bk-Ih-G-Pb |
| RR | Matador Red | B-BK-W | W-Bk | Bh-Bk-Ih-Pb-R |
| TT | Palomino Ivory | B-BK-W | Bk | Bh-Bk-G-Ih-Pb |
| UU | LeMans Blue | B-BK-W | W | B-Bh-Bk-Ih-Pb |
| VV | Sequoia Green | B-BK-W | W | Bh-Bk-G-Ih-Pb |
| YY | Butternut Yellow | B-BK-W | Bk | Bh-Bk-G-Ih-Pb |
| ZZ | British Green | B-BK-W | W | Bh-Bk-G-Ih-Pb |
---
Vinyl Top Colors
White (code=1)
Black (code=2)
Blue (code=3)
Convertible Top Colors
White (code=1)
Black (code=2)
Blue (code=3)
Interior Codes
712=Bk-Sb
713=Bk-Sbh
714=Bk-Cb
715=Bk-Cbh
716=Ih-Cb
717=B-Sb
718=B-Sbh
719=B-Cb
720=B-Cbh
721=G-cb
722=G-Sb
723=G-Sbh
724=R-Sb
725=R-Cb
726=T-Cb
727=T-Cbh
730 (&711)=Pb-Cb
749=Bh-Cb
Interior Code Abbreviations
B = Blue

Bh = Black houndstooth

Bk = Black

G = Gold

Ih = Ivory houndstooth

Pb = Pardunent-black

R = Red, Sb = Standard bucket

Sbh = Standard bench

Cb = Custom bucket

Cbh = Custom bench

T = Turquoise

W = White
---