1968 El Camino Specifications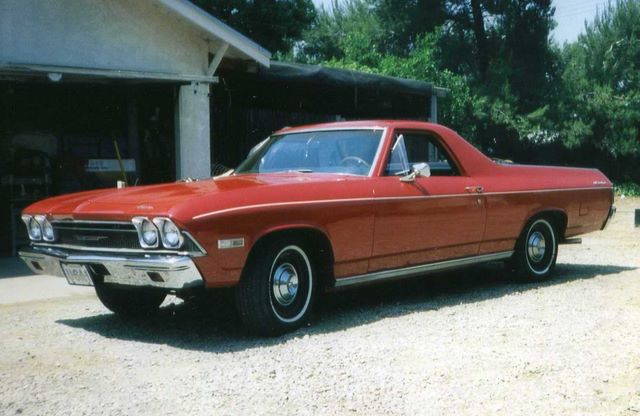 The 1968 Chevrolet El Camino was entirely restyled and featured more of a fastback design.
The overall dimensions of the bed were changed and would remain this way until 1972. 1968 was the first year that the Super Sport model option was available on an El Camino.
The 1968 El Camino trim was available in three model levels including the base model El Camino, the El Camino Custom, and the El Camino SS396. The base model El Camino featured similar styling to the base model 1968 Chevelle. It featured chrome framed side marker lamps, an El Camino rear fender script emblem, a bright tailgate latch, and rear side markers were optional. The 1968 El Camino Custom also featured bright window frames, bed moldings, and wide rocker panel accent moldings. The 1968 El Camino SS396 featured a blacked out grille, domed hood with chrome vent grilles, blacked out lower body paint, chrome lower body moldings, specially styled wheels, and SS396 emblems. Body stripes were optional on SS396 models only.
The buyer could have ordered a number of different El Camino exterior colors including Tuxedo Black, Ermine White, Grotto Blue, Fathom Blue, Island Teal, Ash Gold, Grecian Green, Tripoli Turquoise, Teal Blue, Cordovan Maroon, Seafrost Green, Matador Red, Palomino Ivory, Sequoia Green, and Butternut Yellow.
To complement the wide variety of available colors were the available drive train combinations that could be opted for on the 1968 El Camino. Base power was had by one of two six cylinder engines. Buyers who wanted more power could opt for a V-8.
About 42,000 1968 Chevrolet El Caminos were produced.
---
Model Options:
1968 El Camino Information
Engine Options

230 cubic inch 140 horsepower 6 cylinder (base)
250 cubic inch 155 horsepower 6 cylinder (optional)
307 cubic inch 200 horsepower V-8 (base)
327 cubic inch 250 horsepower V-8 (optional)
327 cubic inch 275 horsepower V-8 (optional)
327 cubic inch 325 horsepower V-8 (optional)
396 cubic inch 325 horsepower V-8 (optional)
396 cubic inch 350 horsepower V-8 (optional)
Additional 1968 El Camino Links: