1967 El Camino Specifications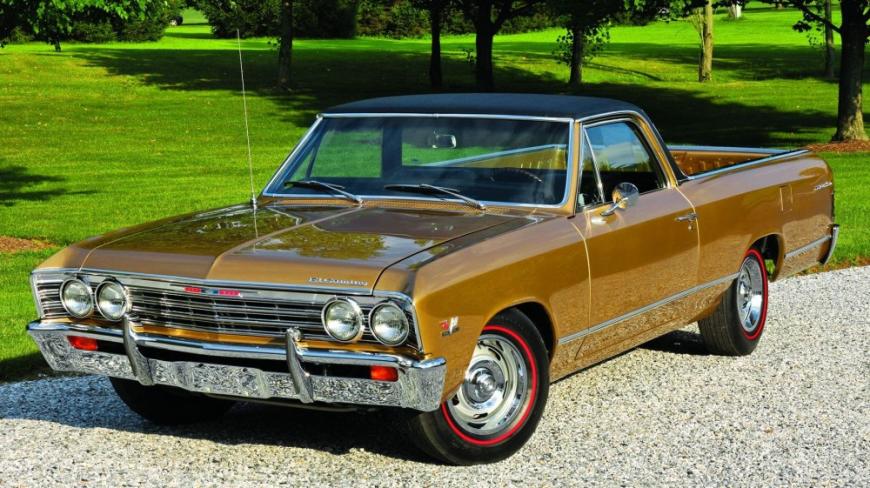 Image: Hemmings
While similar to the previous version, the 1967 El Camino featured a new grille, hood and front bumper.
New fenders and headlamp bezels were also revised on the 1967 El Camino. A dual master cylinder and front power disc brakes were now optional. Although the 396 engine was available, there was no official 1967 El Camino Super Sport option.
The 1967 El Camino trim was available in two levels including the base model El Camino and the El Camino Custom. The El Camino Custom featured a thin lower body molding, wood grain tailgate molding, and hubcaps with the Chevrolet bowtie. Each configuration could be ordered with a six cylinder or V8 engine.
El Camino interior colors were available in Black, Fawn, Blue, or Red. The buyer could have ordered a number of different El Camino exterior colors including Tuxedo Black, Ermine White, Nantucket Blue, Deepwater Blue, Marina Blue, Granada Gold, Mountain Green, Emerald Turquoise, Tahoe Turquoise, Royal Plum, Madeira Maroon, Bolero Red, Sierra Fawn, Capri Cream, and Butternut Yellow.
To complement the wide variety of available colors were the available drive train combinations that could be opted for on the 1967 El Camino. Base power was had by one of two six cylinder engines. Buyers who wanted more power could opt for aV-8. Manual transmissions were either 3 speeds or 4 speeds and the only available automatic transmission was the 2 speed Powerglide.
About 35,000 1967 Chevrolet El Caminos were produced.
---
Model Options:
1967 El Camino Base Model Information
Engine Options

230 cubic inch 140 horsepower 6 cylinder (base)
250 cubic inch 155 horsepower 6 cylinder (optional)
283 cubic inch 195 horsepower V-8 (base)
327 cubic inch 275 horsepower V-8 (optional)
327 cubic inch 325 horsepower V-8 (optional)
396 cubic inch 325 horsepower V-8 (optional)
396 cubic inch 350 horsepower V-8 (optional)
1967 Chevelle Custom Information
Engine Options

230 cubic inch 140 horsepower 6 cylinder (base)
250 cubic inch 155 horsepower 6 cylinder (optional)
283 cubic inch 195 horsepower V-8 (base)
327 cubic inch 275 horsepower V-8 (optional)
327 cubic inch 325 horsepower V-8 (optional)
396 cubic inch 325 horsepower V-8 (optional)
396 cubic inch 350 horsepower V-8 (optional)
Additional 1967 El Camino Links: