1967 Chevelle Specifications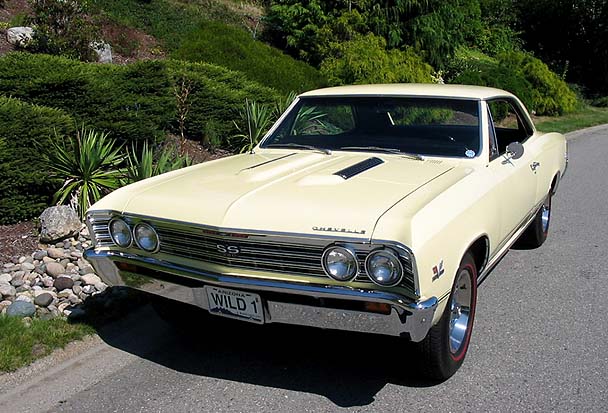 The 1967 Chevelle shared the same body style and many of the advanced features of the previous year, but went a step further with the addition of optional front disc brakes and a new three speed automatic transmission known as the Turbo 400 (or TH400).
Federal mandated safety laws forced Chevrolet to design a new energy absorbing steering column, smooth contoured control knobs and levers, four-way hazard warning flasher, dual master cylinder, and folding seat back latches. A newly designed three spoke steering wheel and larger power brake booster were also included on the 1967 Chevelle Super Sport.
The 1967 Chevelle was available in several trim levels including the Chevelle 300, Chevelle 300 Deluxe, Chevelle Malibu, or Chevelle SS396. Each configuration could be ordered with a six cylinder (except SS) or V8 engine. Body style included 2 door sport coupes, 2 door sedans, 2 door convertibles, 4 door sedans, 2 door wagons, or 4 door wagons.
Interiors could be optioned with either bucket seats or bench seats and were available in a variety of colors. The most popular were Aqua, Black, Light Blue, Bright Blue, Red, White, or Gold. The buyer could have ordered a number of different exterior colors including Tuxedo Black, Ermine White, Nantucket Blue, Deepwater Blue, Marina Blue, Granada Gold, Mountain Green, Emerald Turquoise, Tahoe Turquoise, Royal Plum, Madeira Maroon, Bolero Red, Sierra Fawn, Capri Cream, or Butternut Yellow. If those choices weren't enough, the buyer could also opt for a two tone paint scheme. Convertible tops came from the factory in Black, White, or Blue. Vinyl tops were available in Black or Beige.
To complement the wide variety of available colors were the available drive train combinations that could be opted for on the 1967 Chevelle. Base power was had by one of two available six cylinder engines. Buyers who wanted more power could V-8. Big blocks were in abundance with the regular availability of a 396 cubic inch engine which boasted 325 horsepower, 360 horsepower, or 375 horsepower. Manual transmissions were either 3 speeds or 4 speeds and automatic transmissions were either the 2 speed Powerglide or 3 speed TH400.
About 404,000 1967 Chevelles were produced.
---
Model Options:
1967 Chevelle 300 Information
Body Styles

2 Door Sedan
4 Door Sedan
Engine Options

230 cubic inch 140 horsepower 6 cylinder (base)
250 cubic inch 155 horsepower 6 cylinder (optional)
283 cubic inch 195 horsepower V-8 (base)
327 cubic inch 275 horsepower V-8 (optional)
327 cubic inch 325 horsepower V-8 (optional)
1967 Chevelle 300 Deluxe Information
Body Styles

2 Door Sedan
4 door sedan
4 Door Wagon
Engine Options

230 cubic inch 140 horsepower 6 cylinder (base)
250 cubic inch 155 horsepower 6 cylinder (optional)
283 cubic inch 195 horsepower V-8 (base)
327 cubic inch 275 horsepower V-8 (optional)
327 cubic inch 325 horsepower V-8 (optional)
1967 Chevelle Malibu Information
Body Styles

4 Door Sedan
4 Door Sport Sedan
2 Door Sport Coupe
2 Door Convertible
4 Door Wagon
Engine Options

230 cubic inch 140 horsepower 6 cylinder (base)
250 cubic inch 155 horsepower 6 cylinder (optional)
283 cubic inch 195 horsepower V-8 (base)
327 cubic inch 275 horsepower V-8 (optional)
327 cubic inch 325 horsepower V-8 (optional)
1967 Chevelle Concours Custom Information
Engine Options

283 cubic inch 195 horsepower V-8 (base)
327 cubic inch 275 horsepower V-8 (optional)
327 cubic inch 325 horsepower V-8 (optional)
1967 Chevelle SS396 (Super Sport) Information
Body Styles

2 door sport coupe
2 door convertible
Engine Options

396 cubic inch 325 horsepower V-8 (base)
396 cubic inch 350 horsepower V-8 (optional)
396 cubic inch 375 horsepower V-8 (optional)
Additional 1967 Chevelle Links: