1966 El Camino Specifications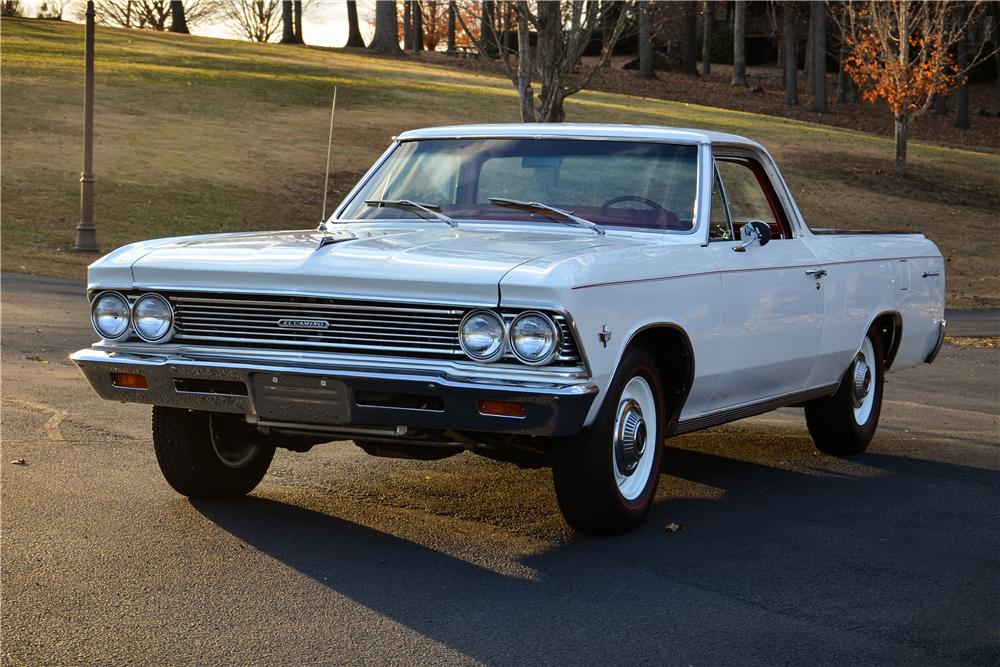 Image: Barrett-Jackson
The 1966 Chevrolet El Camino kept the same bed design as 1964 El Camino and the 1965 El Camino, but the end sheet metal received numerous updates. The fenders of this El Camino featured a wrap around design and the grille was wider and lower.
A 1966 El Camino 396 big block engine was now available as well. Although the 396 engine was available, there was no official 1966 El Camino Super Sport option.
The 1966 El Camino trim was available in two levels including the base model El Camino and the El Camino Custom. The base level El Camino featured more trim than the previous year including a bright tailgate latch, bright windshield molding, and chrome hood molding.
The El Camino Custom featured the same trim pieces as the base model but also included bright body sill moldings, wheel opening moldings, roof drip moldings, windshield pillar moldings, and door frame moldings. Each configuration could be ordered with a six cylinder or V8 engine.
Base model El Camino interior colors were available in Fawn, Blue, or Red. El Camino Custom interiors could be had in Black, Fawn, or Red. The buyer could have ordered a number of different El Camino exterior colors including Tuxedo Black, Ermine White, Mist Blue Metallic, Danube Blue Metallic, Marina Blue Metallic, Willow Green Metallic, Artesian Turquoise Metallic, Tropic Turquoise Metallic, Aztec Bronze Metallic, Madeira Maroon Metallic, Cameo Beige, Chateau Slate Metallic, and Lemonwood Metallic.
To complement the wide variety of available colors were the available drive train combinations that could be opted for on the 1966 El Camino. Base power was had by one of two six cylinder engines. Buyers who wanted more power could opt for aV-8. Manual transmissions were either 3 speeds or 4 speeds and the only available automatic transmission was the 2 speed Powerglide.
About 35,000 1966 Chevrolet El Caminos were produced.
---
Model Options:
1966 El Camino Base Model Information
Engine Options

194 cubic inch 120 horsepower 6 cylinder (base)
230 cubic inch 140 horsepower 6 cylinder (optional)
283 cubic inch 195 horsepower V-8 (base)
283 cubic inch 220 horsepower V-8 (optional)
327 cubic inch 275 horsepower V-8 (optional)
396 cubic inch 325 horsepower V-8 (optional)
396 cubic inch 360 horsepower V-8 (optional)
1966 Chevelle Custom Information
Engine Options

194 cubic inch 120 horsepower 6 cylinder (base)
230 cubic inch 140 horsepower 6 cylinder (optional)
283 cubic inch 195 horsepower V-8 (base)
327 cubic inch 250 horsepower V-8 (optional)
327 cubic inch 300 horsepower V-8 (optional)
Additional 1966 El Camino Links: