1965 El Camino Specifications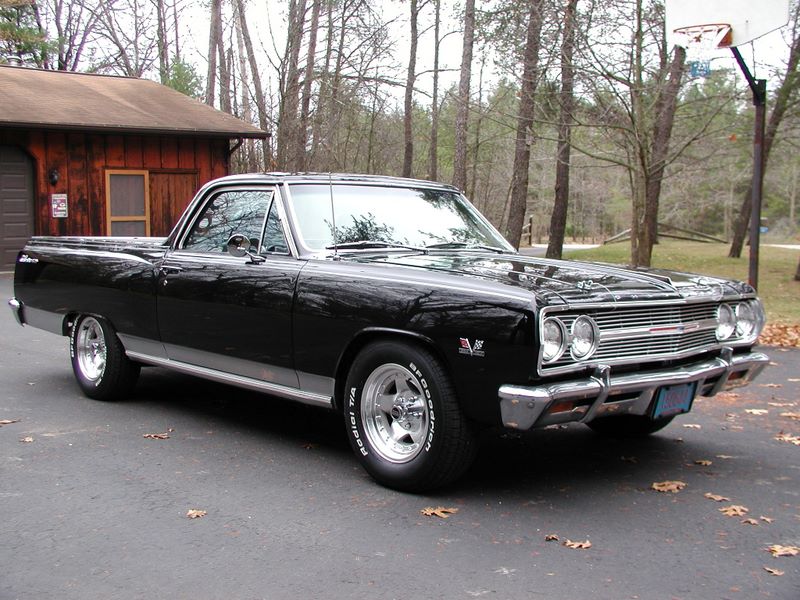 The 1965 Chevrolet El Camino didn't differ that much from the previous year, but the El Camino grille, bumper, parking lamps, and fenders were restyled.
The 1965 El Camino trim was available in two levels including the base model El Camino and the El Camino Custom. The base level El Camino was similar in trim to a 1965 Chevelle 300 and lacked body side moldings.
The El Camino Custom was similar in trim to a 1965 Chevelle Malibu. It featured classier trim such as bright body sill moldings, wheel opening moldings, bright roof drip moldings, windshield pillar moldings, door frame moldings, and chrome hood molding. Each configuration could be ordered with a six cylinder or V8 engine.
El Camino interior colors were Aqua, Red, or Light Fawn. The buyer could have ordered a number of different El Camino exterior colors including Tuxedo Black, Ermine White, Mist Blue, Danube Blue, Willow Green, Cypress Green, Artesian Turquoise, Tahitian Turquoise, Madeira Maroon, Evening Orchid, Regal Red, Sierra Tan, Cameo Beige, and Crocus Yellow.
To complement the wide variety of available colors were the available drive train combinations that could be opted for on the 1965 El Camino. Base power was had by one of two six cylinder engines. Buyers who wanted more power could opt for a V8. Manual transmissions were either 3 speeds or 4 speeds and the only available automatic transmission was the 2 speed Powerglide.
About 34,700 1964 Chevrolet El Caminos were produced.
---
1965 El Camino Advertisements
---
Model Options:
1965 El Camino Base Model Information
Engine Options

194 cubic inch 120 horsepower 6 cylinder (base)
230 cubic inch 140 horsepower 6 cylinder (optional)
283 cubic inch 195 horsepower V8 (base)
327 cubic inch 250 horsepower V8 (optional)
327 cubic inch 300 horsepower V8 (optional)
1965 Chevelle Custom Information
Engine Options

194 cubic inch 120 horsepower 6 cylinder (base)
230 cubic inch 140 horsepower 6 cylinder (optional)
283 cubic inch 195 horsepower V8 (base)
327 cubic inch 250 horsepower V8 (optional)
327 cubic inch 300 horsepower V8 (optional)
Additional 1965 El Camino Links: