1962 Nova Specifications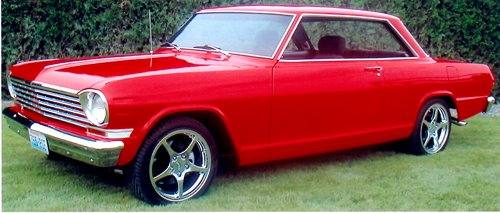 Introduced in 1962, the 1st generation Chevy Nova was made available as a convertible, wagon, 4 door, as well as a the popular, two door sports coupe.
The 62′ Nova was built not only to replace Chevrolets Corvair, but also to compete with the Ford Falcon. The car was advertised at the time as a sporty yet conventional car that came stock with a new inline 4-cylinder efficient engine, which provided the Nova with 90 HP and great fuel efficiency. An optional V8 was a dealer only option and due to the Nova's lightweight setup the early models were often popular as drag cars. While the Nova was more successful then the Corvair during its debut it wasn't able to beat Fords Falcon model.
---
Images provided by My Classic Garage
---
Model Options:
4-Door Wagon
Sport Hardtop Coupe
2-Door Sedan
4-Door Sedan
Convertible Coupe
Engine Options
Super-Thrift 153 I-4 | 153ci | 90hp
Hi-Thrift 194 | 194ci | 120hp
Available Transmissions:
3-Speed Manual
Powerglide
Additional 1962 Nova Links: