Part Details
Vehicle Fitment
Reviews
Dakota Digital Series III instrument systems offer the latest technologies and features for your custom vehicle. High brightness vacuum fluorescent displays provide a lifetime of trouble free use while offering increased accuracy and features! Displays included with this instrument system: Speedometer (0-255 MPH or KPH), Tachometer, Oil Pressure, Water Temp, Voltmeter, Fuel Level. Also shown is: Odometer, Trip Odometer, Resettable Service Odometer and Hourmeter.Several performance calculations include: 0-60 MPH (0-100 KPH) timer, ¼ mile timer, ¼ mile speed display, High Speed recall and High RPM recall.Various Indicators can also be displayed such as: Turn Signals, High Beam, Check Engine, Parking Brake, Cruise Control, 4x4 (when equipped), Wait to Start (when equipped).Automatic Transmission gear indicator is also included which will display the full name (ie: Park, Overdrive, etc.) of the current gear. Utilizing the gear position indicator will require the use of a Dakota Digital GSS-2000 sending unit.Dakota Digital instruments systems also include a Demonstration Mode which will cycle the instrument readouts while the vehicle is standing still. This is especially popular while the vehicle is on display at a show, event or simply displaying the instrument system.Full Metric conversions will cycle between MPH or KPH with the press of a button. If full (Celsius & KPH) metric instrument systems are required, please specify upon ordering.Necessary sensors included for oil pressure (1/8" NPT), Water Temp (1/8" with bushings for 1/4", 3/8", 1/2" NPT) and speedometer pulse generator. For LS engine packages a 12mm 12x 1.5 sender is included along with the 1/8" NPT oil pressure with bushings to adapt to metric threads as well as a mechanical > electrical pulse generator for older mechanical transmissions.Fuel level gauge can read either OEM sensor, or any aftermarket style currently available. A universal fuel level sender, SEN-06-1, can be purchased from Dakota Digital if necessary.Fully programmable speedometer for various tire sizes, rear-end gearing combinations, etc.Built-in dimmer will reduce the display intensity as headlights/ parking lights are activated.Fully adjustable warning points alert the user of potential vehicle problems.Dakota Digital Instrument systems are normally shipped from the factory with "0" miles on the odometer and offer a one-time user adjustable odometer. Within the first 100 miles of operation, the odometer can be preset by the installer to whatever mileage they prefer. Once this has been set, or 100 miles have been logged on the odometer, this functionality goes away. This can always be reset at the factory and lessens the potential for tampering down the road.
Manufacturer Part Number : VFD3-69C-NOV-N-B
Part Notes:
Fits directly into existing bezel. Rear housing is included.
WARNING: Cancer & Reproductive Harm - P65Warnings.ca.gov
Brand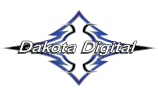 Additional Information
Ground Up Part #: VFD3-69C-NOV-B
Brand: Dakota Digital
Manufacturer Part #: VFD3-69C-NOV-N-B
Sold As: Kit
Shipping Details: This item ships UPS Ground.
Customers Also Bought These With VFD3-69C-NOV-B
Vehicle Fitment
| Make | Model | Year | Body Style |
| --- | --- | --- | --- |
| Chevrolet | Nova | 1969 | - |
| Chevrolet | Nova | 1970 | - |
| Chevrolet | Nova | 1971 | - |
| Chevrolet | Nova | 1972 | - |
| Chevrolet | Nova | 1973 | - |
| Chevrolet | Nova | 1974 | - |
| Chevrolet | Nova | 1975 | - |
| Chevrolet | Nova | 1976 | - |

Installation Time:
Info Unavailable

Installation Difficulty:
Info Unavailable

Have a Question About This
Product ?
Our knowledgeable team is standing by to help you with your restoration needs!
Monday-Thursday: 9-5 | Friday: 9-3 | Saturday : 9-1 ET* | Sunday: CLOSED

Get updates and special offers from SS396.com

Stay up-to-date on our promotions, flash sales and all things built from the Ground Up! Let us know the car your working on so we can tailor emails to the car you're shopping for!