91 Great Hill Road
Naugatuck, CT 06770 US
U.S. & Canada: (866) 358-2277
Email: info@ss396.com
1964-1972 GM A-Body UMI Tubular Upper & Lower Front A-Arm Kit, All Delrin, Red: 403233-R

Product May Vary From Above Listed Image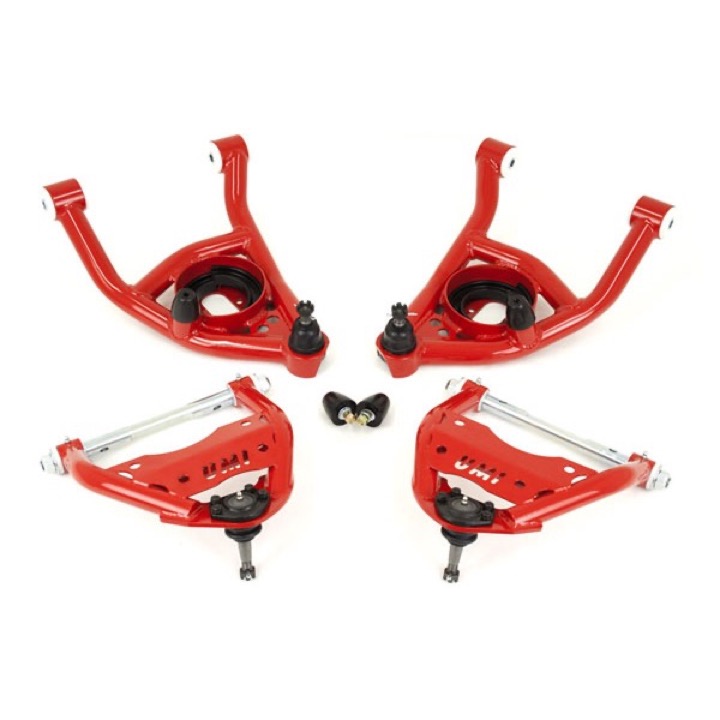 Improve performance and make your classic 1964-1972 GM A-Body feel like a modern day muscle car with a complete set of fabricated tubular a-arms from UMI Performance. UMI's P/N 403233 upper and lower a-arm kit replaces the worn out, stock stamped a-arms with high-strength tubular construction and a host of premium features. The stock geometry lower a-arms feature tough tubular construction with polyurethane spring isolators for ride comfort and greaseable Delrin bushings for precise handling and smooth suspension motion. We build the Delrin bushings in-house to ensure the ultimate in quality and smooth suspension action. The ball joint mount is angled slightly from stock to permit usage with lowered vehicles and to offer additional wheel and tire clearance. The tubular upper a-arms are assembled with smooth operating, low deflection UMI designed and manufactured Delrin bushings as well as UMI-built billet chromoly cross shafts. They feature a relocated mounting pad to increase caster without excessive shims. Both upper and lower a-arms are jig built to maintain accuracy for a perfect fit every time and come preloaded with premium ball joints. Critical areas are TIG welded for superior strength and a clean look. UMI's extensive testing on the street, drag strip and skid pad ensures a quality product able to with stand all types of conditions. The P/N 403233 a-arm kit will work with factory springs, lowering springs and coil over kits such as the popular QA1 coil over set up. For the best handling and tire life from the UMI designed a-arms, included with each kit are recommended alignment specs along with detailed installation instructions. UMI Performance a-arm kit P/N 403233 is shipped fully assembled and ready for installation. Manufactured with pride in Philipsburg, PA - USA.

Features:

New premium ball joints installed.
Relocated upper ball joint mounting pad for improved caster angle & better steering feel.
Upper a-arms assembled with UMI manufactured greaseable & fluted CNC machined zero deflection Delrin bushings.
4140 chromoly cross shafts, CNC machined & zinc plated
CNC machined ball joint holders & tubing radiuses.
TIG welded DOM tubing for superior strength & clean looks.
UMI designed & manufactured Delrin bushings in upper & lower a-arms for precision handling & the ultimate smooth suspension action.
Polyurethane bump stops, & new premium ball joints installed.
Durable glossy red powder coat finish.
Fits factory spindle & works with factory springs, lowering springs & coil over kits.
Package includes recommended alignment specs and detailed installation instructions.
Simply bolt-on & go.
Designed & manufactured with pride in Philipsburg, PA - USA.