91 Great Hill Road
Naugatuck, CT 06770 US
U.S. & Canada: (866) 358-2277
Email: info@ss396.com
1968-1974 Chevrolet Detroit Speed QuadraLink Kit with Coilover Shocks: 041704

Product May Vary From Above Listed Image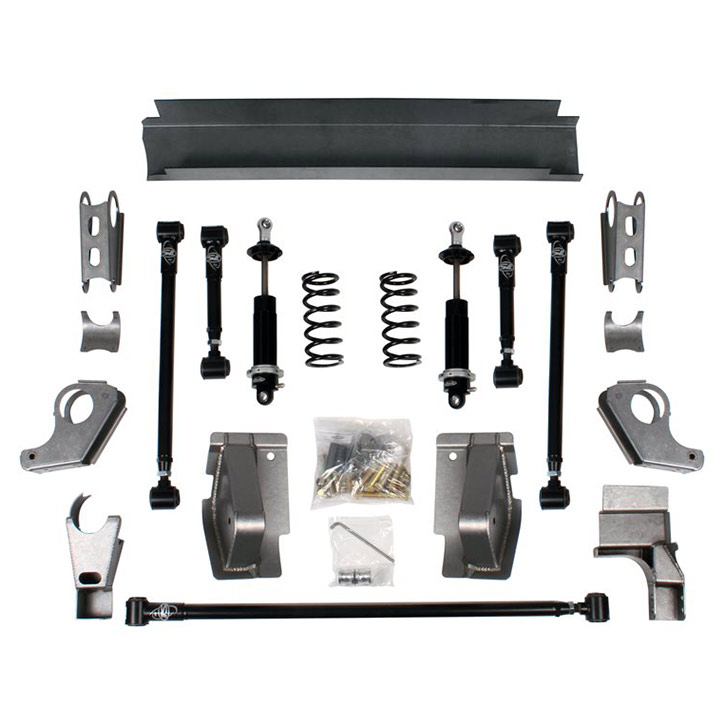 Detroit Speed and Engineering's QUADRALink rear suspension kit is a great way to upgrade from original leaf spring suspension. Unlike our competitors, DSE's exclusive new 4-link geometry design is uncompromised to achieve the best possible handling. The new DSE 'Swivel-Link' (Patent No. 7,398,984) allows the suspension to fully articulate with smooth solid motion and no binding. The best feature is that this is achieved without heim-joints. Heim-joints are noisy and prone to short-term life. The DSE QUADRALink utilizes tuned high-durometer rubber bushings in place of heim-joints or squeaky urethane bushings. The long upper links provide great pinion and u-joint angle control. Contrary to competitors' kits, our kit utilizes a panhard rod that provides precise and effective rear axle lateral location during hard cornering. The panhard rod is adjustable as ride height changes for roll center control. The rear upper shock crossmember strengthens the rear body and frame section. Don't settle for anything less than DSE's QUADRALink rear suspension!

QUADRALink Features:

No compromises in suspension geometry
Designed to work with DSE Deep Tubs or stock tubs (specify)
Great ride
DSE exclusive no-bind 'Swivel Link' (patented) technology
High durometer rubber bushings, no heim-joints to wear out and make noise
Long upper arms for pinion angle control
Improved anti-squat geometry
Long panhard rod for rear axle lateral control during hard cornering
Stock back seat can still be used
DSE/JRi aluminum body coilover shocks with 'Detroit Tuned' valving
Coilover springs
Lower links are offset inboard for additional tire clearance
Spanner tool for easy shock adjustments
All links are powdercoated black
Base Shock:
The DSE/JRi 'Detroit Tuned' base shock is a pure blood pedigree racing shock in its most efficient form as a non-adjustable unit. Although non-adjustable, it shares all the increased dynamic responses of all the JRi adjustable models while providing excellent ride quality on the street.