Product May Vary From Above Listed Image
1964-1977 Chevelle Earls Vapor Gaurd EFI Fuel Hose 3/8 ID 20 Feet
This product is eligible for free shipping with a promotional code.
You're only $299 away from qualifying for free shipping with promotional code F299!
Part Details
Vehicle Fitment
Reviews
1964-1977 Chevelle Earls Vapor Guard EFI fuel hose 3/8 inch black. Modern fuels are at war with your fuel system. Modern fuels (more than 40 EPA-approved fuel blends in the US alone) include additives that break down traditional rubber hose. This breakdown leads to potentially dangerous leaks and weeping as well as vapors that waste fuel and leave unwanted odors in your shop. Once fuel lines are degraded, hose particles can contaminate and obstruct fuel injectors and carburetor passages. Earl's Vapor Guard hose and hose ends provide a complete, economical solution that virtually eliminates these fuel permeation issues common with most rubber fuel lines. The secret to Earl's Vapor Guard hose is in its layers. The innermost Primary Barrier Layer offers high resistance to heat and aggressive fuels. The middle Earl's Vapor Guard Barrier is a Thermoplastic layer that provides superior fuel isolation and virtually eliminates vapors from escaping through the hose. The Exterior Cover Barrier provides extreme tolerance to heat and ozone giving Earl's Vapor Guard a three way shield against hose deterioration.
Features:
Multi-layer rubber hose designed to withstand the corrosive properties of modern fuels
Multi-fuel compatible: Approved for use with leaded and unleaded Gasoline, Diesel, Biodiesel, E-85, 100% Methanol, ETHANOL, and Gasohol fuels
A two foot section of Earls Vapor Guard saves one gallon of gas each year as compared to traditional rubber hose from permeation alone
Primary Barrier Liner initial layer offers high resistance to heat and aggressive fuels
Vapor Guard Barrier Thermoplastic layer provides superior fuel isolation significantly reducing vapors from escaping through the hose
Reinforcement braid-aramid material (EFI hose only) is used to provide the higher pressure rating that is required with fuel injection
Exterior cover provides extreme tolerance of heat and ozone
Fuel Injection Hose Rated Maximum 225 PSI
Temperature Range -40degF to 275degF
Specs:
Diameter: .625 inch
Hose size: 3/8 inch
Fluid Types: Bio-Fuels, Coolant, Diesel, E85, Pump Gas, Race Gas
Length: 20 Feet
Part Notes:
Vapor Guard hose must be used with Vapor Guard hose ends and clamps (other hose barb style fittings or hose ends may damage the inner liner on the hose). This part is legal for sale or use on Emissions Controlled Vehicles, Uncontrolled (Non-Emissions Controlled) Vehicles, and Racing Use Only Vehicles because it does not affect vehicle emissions and is not covered by emissions regulations.
WARNING: Cancer & Reproductive Harm - P65Warnings.ca.gov
Brand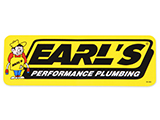 Additional Information
Ground Up Part #: EARLS-752066ERL
Manufacturer Part #: 752066ERL
Sold As: Each
Shipping Details: This item ships UPS Ground.
Customers Also Bought These With EARLS-752066ERL
Vehicle Fitment
| Make | Model | Year | Body Style |
| --- | --- | --- | --- |
| Chevrolet | Chevelle | 1964 | - |
| Chevrolet | Chevelle | 1965 | - |
| Chevrolet | Chevelle | 1966 | - |
| Chevrolet | Chevelle | 1967 | - |
| Chevrolet | Chevelle | 1968 | - |
| Chevrolet | Chevelle | 1969 | - |
| Chevrolet | Chevelle | 1970 | - |
| Chevrolet | Chevelle | 1971 | - |
| Chevrolet | Chevelle | 1972 | - |
| Chevrolet | Chevelle | 1973 | - |
| Chevrolet | Chevelle | 1974 | - |
| Chevrolet | Chevelle | 1975 | - |
| Chevrolet | Chevelle | 1976 | - |
| Chevrolet | Chevelle | 1977 | - |

Installation Time:
Info Unavailable

Installation Difficulty:
Info Unavailable

Have a Question About This
Product ?
Our knowledgeable team is standing by to help you with your restoration needs!
Monday-Thursday: 9-5 | Friday: 9-3 | Saturday : 9-1 ET* | Sunday: CLOSED

Get updates and special offers from SS396.com

Stay up-to-date on our promotions, flash sales and all things built from the Ground Up! Let us know the car your working on so we can tailor emails to the car you're shopping for!