Tim Munyer's 1967 Chevelle Super Sport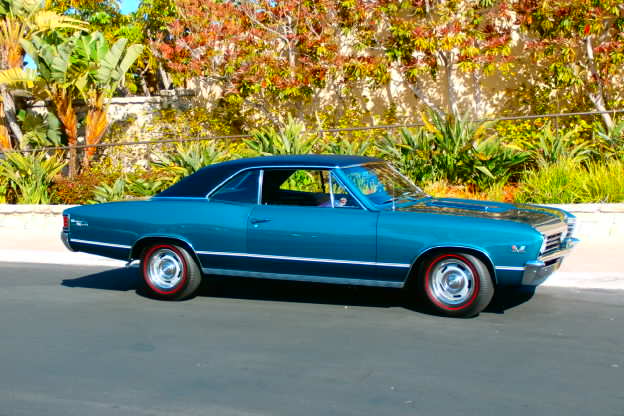 Tim Munyer's 1967 Chevelle Super Sport – An All Original Chevelle
Tim Munyer's is the original owner of this 1967 Chevelle Super Sport 396 California car. Tim bought this 1967 Chevelle SS396 on April 13, 1967 fresh from a local Chevrolet dealer. It came equipped with a factory a/c and power steering delivering a modest 325 horsepower with its California regulated smog powertrain.
When Tim originally bought this Chevelle he worked for Ford and drove it to work once, Tim Says
"They told me to never drive the car back so they sold me a 1964 1/2 Mustang for $500.00 to drive to work."
In 1969 Tim put his car into storage where it sat for a long 35 years… It wasn't until Tim's father needed some extra garage space that Tim took the car back. In 2004, Tim brought the 67′ Chevelle back to his house where it sat for another 3 years. After 3 more long years, Tim took it into a mechanic to get the engine worked on. When Tim originally put it away in storage it had only 17,000 miles on it. To this day Tim has a little over 41,000 miles on it.
Tim has this all original 1967 Chevelle insured by Grundy for over $225,000. Tim has had a lot of people that want to buy his car but he refuses to sell it. Tim says;
"Just driving the Chevelle makes me feel like a kid again (even though I was 21 when I bought it). I am now 73 years old and don't drive it too much since I was told to keep it clean and keep the miles off it. So when I go to car shows I trailer it there. The last major car show was San Marino Car Show. I received the best Muscle Car in attendance… Against all cars, Chevys, Fords, Dodges, All cars!"
---
Check out these photos taken by Tim!
---

1967 Chevelle Front Door Panels, Pre-Assembled, Black

Ground Up Part #: IPA-67

Price: $171.99
---
1967 Chevelle AMK Master Body Hardware Kit

Ground Up Part #: 67AB

Price: $223.99 (Save 13% buying this kit)
---
1964-1972 Chevelle 55 Amp Alternator

Ground Up Part #: AIT-6963

Price: $89.95 (Save 18% buying this kit)
---
1966-1967 Chevelle Rear Window Molding Kit

Ground Up Part #: KX-66R

Price: $169.95 (Save 11% buying this kit)
---
1967 Chevelle Rear Panel Molding Kit Complete

Ground Up Part #: KRM-67K

Price: $110.81 (Save 14% buying this kit)
---
1966-1967 Chevelle Roof Drip Molding Kit

Ground Up Part #: KDX-67K

Price: $64.95 (Save 11% buying this kit)
---
1966-1967 Chevelle Windshield Molding Kit Coupe

Ground Up Part #: KX-67R

Price: $159.95 (Save 11% buying this kit)
---
1966-1967 Chevelle Coupe Deluxe Weatherstrip Kit, 8 Piece Felts

Ground Up Part #: JDX-66K8

Price: $204.53 (Save 25% buying this kit)
---

---