Steve McPhee's 1966 Chevelle Malibu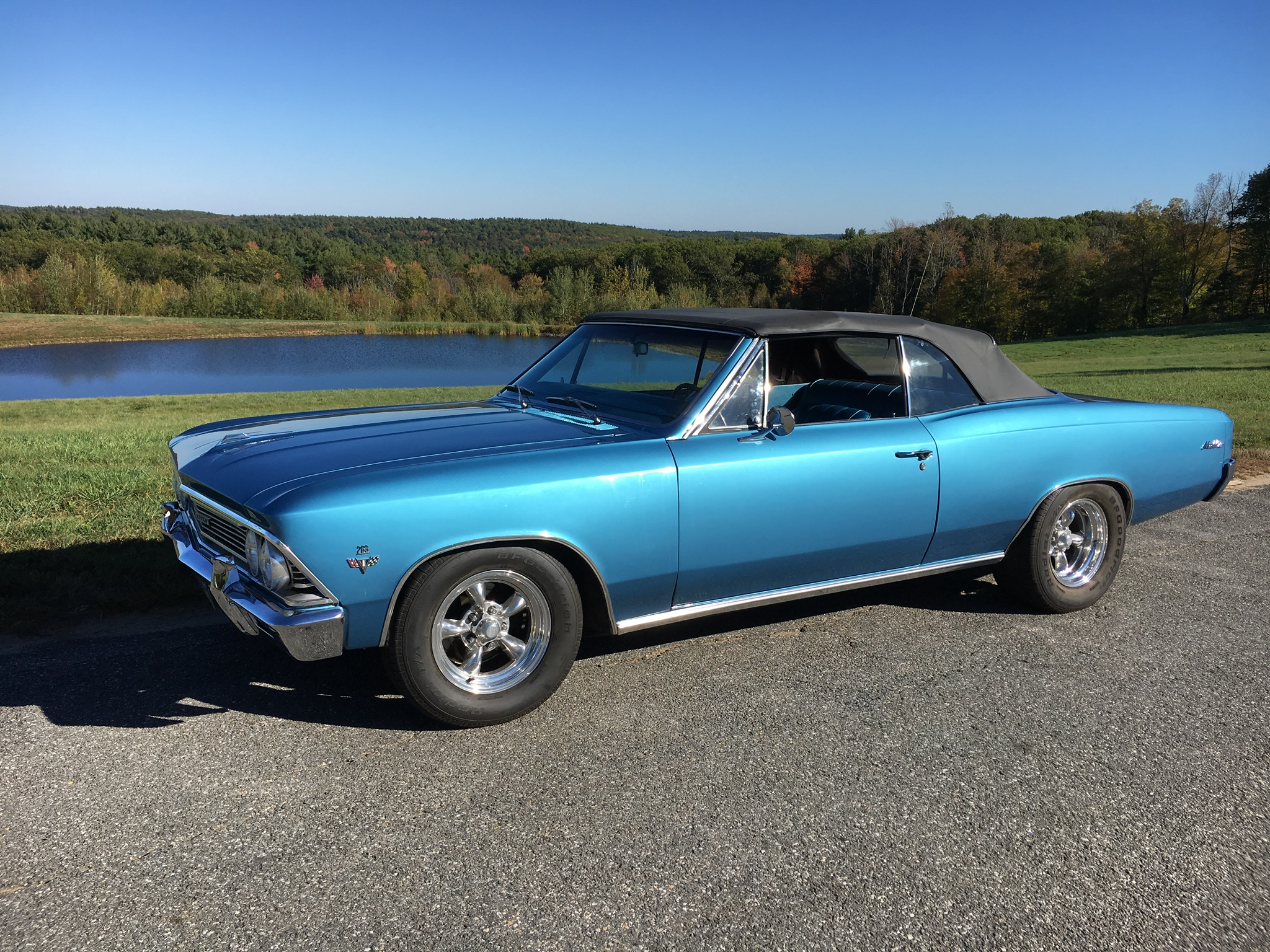 Steve McPhee's 1967 Chevelle Malibu – For The Love Of Convertibles
Steve McPhee car is a 1966 Chevelle Malibu convertible. He bought the car in 1993 because he had one just like it in 1974 when he was attending high school. Steve say
"I have owned convertibles all my life and absolutely love this car!"
Steve's 1966 Chevelle is not an all original car, originally it was maroon with an automatic transmission. Steve repainted the Chevelle Malibu 2 years ago to features a stunning Marina Blue exterior paint coupled with a matching blue PUI interior purchased from Ground Up SS396.com. Through the years Steve has had multiple engines in the Chevelle, including a 454 and 1969 427. Two years ago Steve rebuilt the original 283 power plant and had it bored 30 over with an aluminum intake and Holley 650 carb. In the rear this Chevelle features a 10 bolt positraction rear-end with 3.73 gears. It has headers and a Flowmaster exhaust to give it a breathtaking sound, a Griffin aluminum radiator to keep everything cool, and Steve installed a set of front disc brakes to give the Chevelle some added stopping power. Steve also just finished equipping both a Hotchkis front and rear suspension to bring the cars handling into the 21st century!
Currently, Steve's 1967 Chevelle has 71,000 original miles on it and Steve says
"I love this car and plan on owning it forever!"

1966 Chevelle Convertible Super Interior Kit For Bucket Seats, Black

Ground Up Part #: SUKIT-66V

Price: $944.70 (SAVE 15% With This Kit)
---
1964-1972 Chevelle Convertible Top Motor, 3 Hole

Ground Up Part #: MTM-101

Price: $239.95
---
1966-1967 Chevelle Console Clock

Ground Up Part #: ICLK-66

Price: $124.95
---
1966 Chevelle Grille Kit Malibu

Ground Up Part #: GRILLEKIT-66M

Price: $396.19 (SAVE 16% With This Kit)
---
Check out these photos taken by Steve!
---

---