Russ Panneton's 1966 Chevelle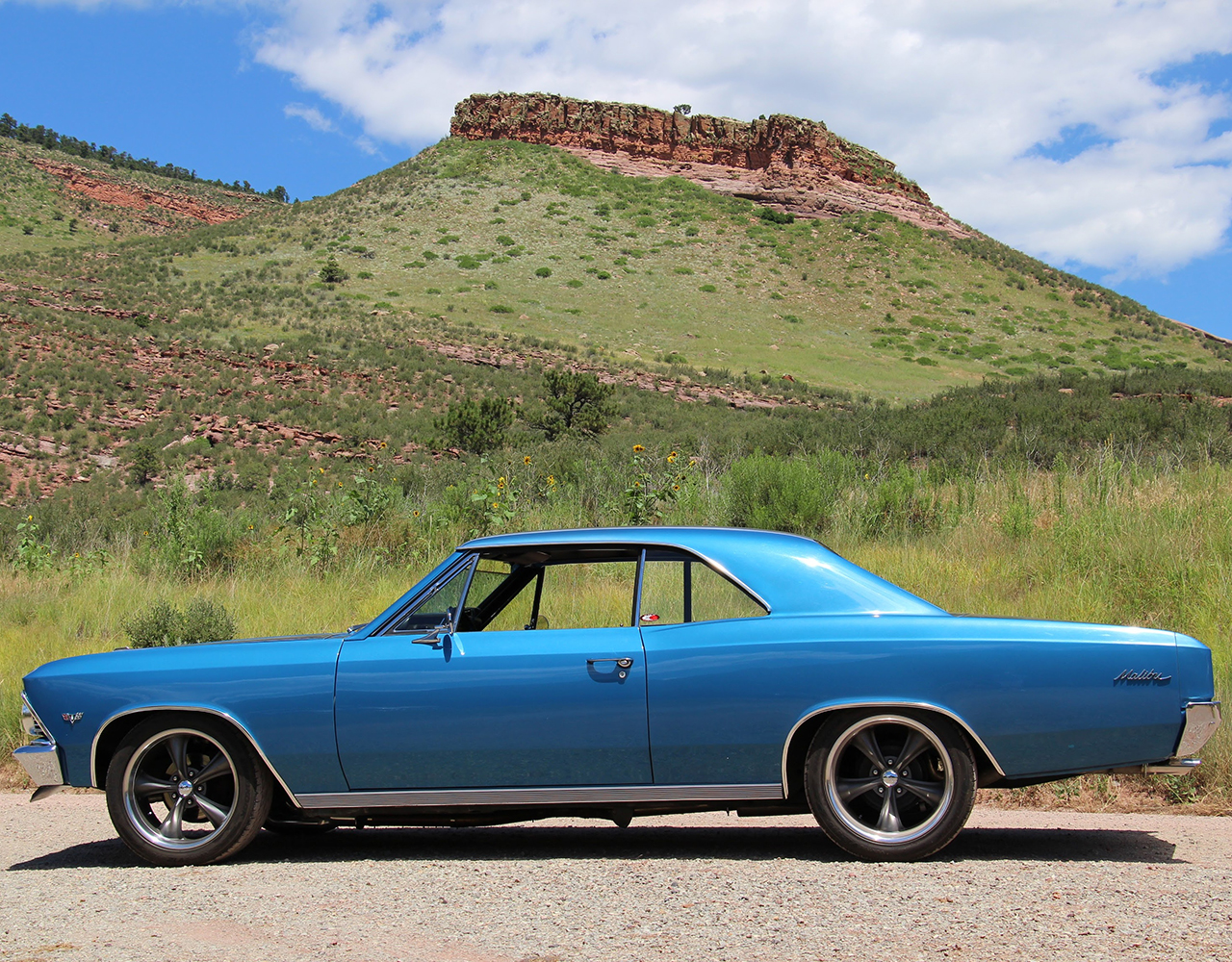 Russ Panneton's 1966 Chevelle – Love For The Mid-'60s
When he was just 16 years old, Russ Panneton fell in love with the brand new 1967 Chevelle and from then on, he knew he had to have a mid-'60s Chevelle. He spent a few years hunting for his dream '67 Chevelle online, and finally about four years ago he found something. One day Russ stumbled upon this 1966 Chevelle Malibu sport coupe on eBay, and he decided this would be the one he would take home. Despite the '67 being his dream Chevelle, he opted to settle for the '66 because "they have cooler front fenders."
The rule of cool is a great way to describe this Malibu. Russ wouldn't be content just driving the car in its stock form, so he began modifications to suit his needs. First the Malibu would need a worthy power plant, which Russ supplied in the form of a "home-built and tuned" Gen IV LS with LSA block, heads, and crank, LPE GT9 cams, Morel tie-bar lifters, Manton Series 5 pushrods, Yella Terra roller rockers, custom 9.5:1 CP pistons, Carrillo rods, and E67 ECU, and last but not least an Edelbrock E Force supercharger to "boost" performance. To use all the available power on tap, Russ opted to utilize the robust Tremec T56 Magnum transmission. A Mark Williams 9" rear end is planned for the near future.
Next on the list would be to bring the Malibu's handling characteristics up to the performance levels he set with the drivetrain. Russ chose to integrate a full Detroit Speed and Engineering Speed Kit 3 Coilover system to keep the Chevelle Malibu planted and give it a more aggressive modern stance.
Continuing to the interior of the car, the stock seats needed to be replaced as they did not offer enough support for the spirited driving this Malibu would come to deliver. Russ integrated Procar Elite bucket seats to help keep himself and his passengers safe and in a proper position, while a Grant steering wheel helps dial in the road feel. Autometer gauges relay all the necessary information to the driver position, a huge improvement over the stock instrumentation package from '66. Russ also intends to add some comfort as well, with a Vintage Air A/C system in his sights for a future upgrade. Overall, Russ has successfully transformed a once mild Malibu into one wild dream ride. In Russ's words,
"I've wanted a mid 60's Chevelle since I was 16 and now I can enjoy driving one that runs and handles as well as a new muscle car."
---
Check out these photos taken by Russ!
---

1964-1972 Chevelle Clutch Fork

Ground Up Part #: FEH-397

Price: $52.99
---
1964-1972 Chevelle Clutch Fork Ball

Ground Up Part #: FTE-9000

Price: $13.95
---
1968-1972 Chevelle Accelerator Cable & Bracket Kit – All BB/SB with SHP Holley

Ground Up Part #: ATH-3369KIT-H

Price: $41.27 (Save 10% buying this kit)
---
*Due to increased costs of manufacturing, materials, etc., prices can change. For current pricing, please visit our web site, or contact a Ground Up sales representative*
---

---