---
We all love a super-sanitary engine bay where all the clutter has been relocated, covered, or otherwise hidden.
Until recently, the options regarding the wiper motor were to either live with the bulky, unsightly motor stuck to the firewall or forego running wipers altogether. Unfortunately, running without windshield wipers can cause you to run afoul of the law.
The Raingear Wiper System from Pacific Western Design lets you have your proverbial cake and dine on it as well. It locates the wiper motor in the unused—and more importantly, the unseen—void of the cowl area. In this location you get all the functionality of wipers and a super-clean, clutter-free firewall.
Read more: https://www.superchevy.com/how-to/additional-tech/1401-raingear-wiper-sstem-outta-sight/
---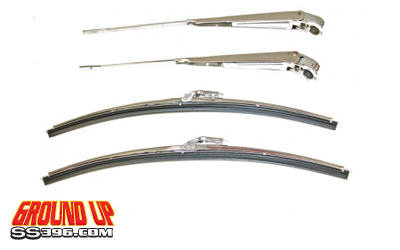 1967-1969 Camaro Coupe Windshield Wiper Arm And Blade Kit Chrome
Ground Up Part #: WIPERKIT-15
---